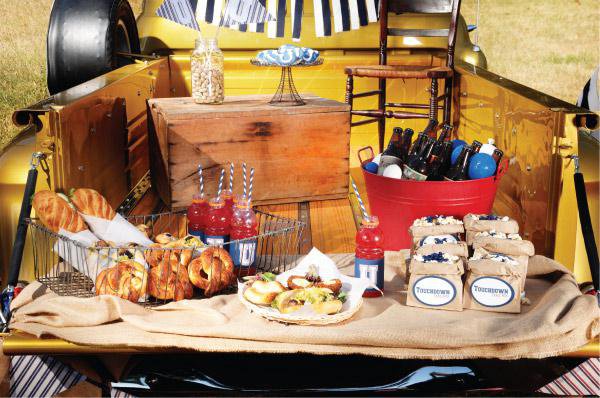 Double-Duty: Your truck can do more than haul your stuff to the game, it can also play a role in your décor! Flinn used a chair and an old wooden crate to add height to this tailgate display, and the crate also stowed away extra plates, napkins and dry snacks. 
In the Game: Flinn suggests adding style to your tailgate party with homemade garland and bunting, created from twine, fabric, ribbon and craft paper. 
Styled by Nici Flinn of Nici Flinn Events; truck courtesy Steven and Natalie McNish of Rogersville; food and drinks provided by Springfield Brewing Company; cookies courtesy Beth's Bake Shoppe; fabric courtesy FM Fabric of Springfield; Mini Green Egg courtesy Outdoor Home; antiques courtesy The Avant Garde'n, Ozark.
Host-It Tips:
1. Rather than using ice, buy balloons in your team's colors, fill them with water and freeze them. 
2. Create a colorful snack by making trail mix from popcorn, peanuts and M&M's in your team's colors.
3. Make your food a part of your tailgate décor by displaying items in Mason jars, crates and bins.
Winner's Dinner: Springfield Brewing Company provided a massive tailgate meal for this tailgate party, including Scotch eggs, sub sandwiches, bratwursts, German potato salad and beer, and they even carved a custom beer tap handle out of a watermelon! Hand-held, portable food items are suggested for serving at tailgates, as they're easier to serve and clean up. 
Activity Suggestions  by Nici Flinn
• Play Catch. When you're packing for your tailgate party, don't forget the football. People will toss it around in between food and drinks.
• Get Your Game On. Take a tailgate friendly game, such as washers, for people to play.
•  Put a Label On It. Make custom drink labels for sodas or Gatorade bottles that say "Quarterback," "Cheerleader," "Fan in the Stands" and so on. Then, ask guests to grab the label that displays who they would most likely be. 
Click through for a sample tailgate party menu, and a recipe for spicy marinated skirt steak.
THE WINNING SERVE:
Bryan Bevel of Springfield Brewing Company provided a sample tailgate party menu, and a recipe for spicy marinated skirt steak. 
Sample menu 

(by Springfield Brewing Company): 
Spicy marinated skirt steak

Beer bratwursts
Sub sandwiches
German potato salad
Trail mix
Chips and make-ahead dips
Scotch eggs
Beer
Spicy Marinated Skirt Steak:
Ingredients:
1/4 cup olive oil
1/4 cup fresh lime juice
4 cloves garlic, finely chopped
1 tablespoon ground cumin
1 tablespoon ground coriander
2 skirt steaks, about 3 pounds total, cut in half
1 red onion, thinly sliced
1 red bell pepper, cored, seeded, and thinly sliced
1/4 cup chopped fresh cilantro
3 limes, cut in half
2 tablespoons Tapatio sauce
1 teaspoon salt
To prepare at home:
One hour before packing, mix together the olive oil, lime juice, garlic, cumin and coriander. Place the steaks in a re-sealable freezer bag and pour in the marinade, making sure the steaks are completely coated. Refrigerate.
To prepare at the tailgate:
Prepare coals for a hot fire. When the coals are ready, transfer the skirt steaks directly from the marinade to the grill and cook for 8 to 9 minutes, turning once, for medium-rare, 9 to 10 minutes for medium. Transfer the steaks to a cutting board and let rest for 5 minutes. While the steaks are resting, transfer sliced onion, pepper and cilantro to a medium serving bowl. Place the limes, cut side down, on the grill until they brown slightly, about 4 minutes. Set aside. Cut the steaks into 1/2-inch strips, then add them to the bowl with the onion mixture. Season with the hot sauce and salt, then squeeze the grilled limes over everything. Toss together and serve.