Explore Fleur
Tucked away in east Springfield, Fleur offers 417-land shoppers a wide variety of home décor, furniture and accessories.
By Savannah Waszczuk | Photos by Kevin O'Riley
Sep 2013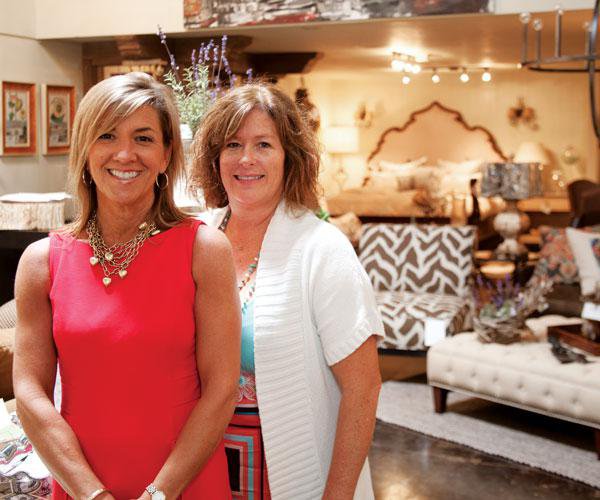 The Shop: Fleur, 3170 E. Sunshine St., Ste. B, Springfield, 417-883-4100, kimwooddesigns.com. Open Mon.–Fri., 10 a.m.–5 p.m., Sat., 10 a.m.–4 p.m.
The Setting
Located just seconds from the hustle and bustle of East Sunshine Street, Fleur is Springfield's newest furniture and home décor showroom. Once you walk into the cozy space, there's plenty to see: light fixtures hanging from the ceiling, art lining the walls, picture frames and other accessories neatly arranged on various furnishings. From the stained concrete floors to the plush sofa, throw pillows and luxurious bedding, the store is warm and welcoming. After just one visit, I knew it was a joy to explore. It's loosely separated into several areas, and you'll find yourself wondering what's waiting for you around the corner, which is truly alluring. Upstairs is where design consultations take place, and you'll find a cozy seating area and a room filled with fabric samples.
The Owners
Kim Wood and Lisa Clary became friends when their sons, who are now 17, were in first grade together. At that time, Kim was helping her husband, who is a homebuilder, choose hardware, flooring and other permanent items for houses. She wanted someone who could help her with interior furnishings and décor, and she thought Lisa was the perfect candidate. "She was always impeccably dressed, she had a beautiful home, and all of the restaurants she worked on were beautiful," Wood says. "I knew she would be good at it." Not long after that, the two moved into a house on Sunshine Street and started working under the name Kim Wood Designs, with Wood specializing in architectural design and Clary specializing in interior design. "I handle all the permanent items, and she handles all the removable items," Wood says. The two have worked great together ever since, and they opened their first storefront, Fleur, at the end of January 2013. Thanks to the help of assistant designer Britny Wilczewski and store manager Sarah Looney, the two are able to own and operate the retail store and still work as designers.
The Stuff for Sale
Fleur sells everything from candles, picture frames, pillows and case goods to light fixtures, coffee tables, sofas and upholstered furniture. But that's not all it sells, and that's the beauty of the place. "We're almost more of a showroom," Clary says. "For example, if someone sees a piece of furniture they like on the floor but they want it in a different finish or stain, we can do that. If they like a hutch but they want it to be two inches taller and three inches wider, we can do that, too." Wood and Clary work with several local craftsmen and vendors who make customization possible. Working as both interior designers and store owners has its benefits for the two. "If someone sees something in a magazine or a catalog that they like, we can usually find someone who can build it for them, or find it for them at market," Wood says. 
The Summary
With an often-changing inventory of modern, traditional and everything in between, Fleur is a much-appreciated addition to 417-land's home décor and furniture stores.