Sweet Potato Recipes
Sweet potatoes are all you need to tie a fall meal together, and it doesn't take much to grow them yourself over the summer. Learn how to grow the spuds, then enjoy them at your next meal.
By Harrison Keegan | Photos by Kevin O'Riley, courtesy The Food Channel
Sep 2014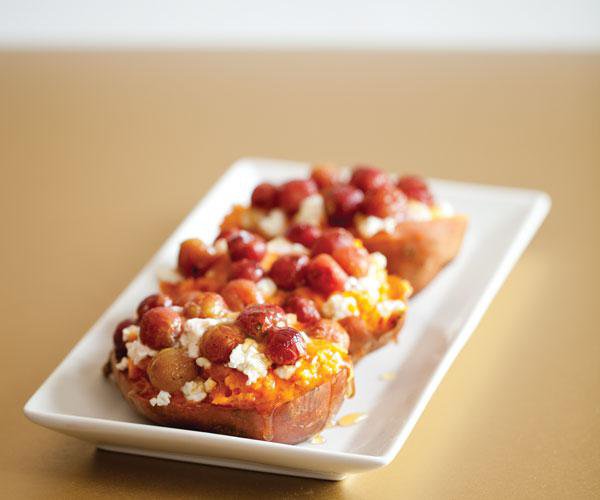 Roland Netzer is a pro when it comes to growing sweet potatoes. Netzer is currently the president and owner of Netzer Farms (417-831-1868, netzerfarm@sbcglobal.net, Springfield), and he's been at it for about 40 years.
Netzer says Beauregard is the best variety to grow in 417-land, and the process is fairly simple. To get started, put a full-size sweet potato in some soil in a greenhouse in the early spring, and slips will start to sprout out of the potato. Remove those slips, and use them to grow your potatoes.
Netzer says sometime between May and early July, you should take those slips and plant them in the middle of gradual mounds of soil that are about 4 feet in diameter and 10 inches at their highest point.
The plants like hot conditions and lots of sunshine, and they will grow quickly and sprout long runners. Sweet potatoes require virtually no watering if they are planted in good soil with lots of organic matter and rainfall is normal. Each slip will produce between five and 10 potatoes.
September and October is harvest time for sweet potatoes, but be sure to cut all of the vines loose before the first frost. And after harvesting the sweet potatoes, let them dry out in the sun for 24 hours, then in the shade for at least a week. Netzer says they should last through the winter if they're stored in a mild environment like a garage or a basement.
After you grow your harvest (or after you load up on several sweet potatoes at the farmers' market), give these recipes a try. One is a favorite of 417 Home editor Savannah Waszczuk, who adapted a recipe she found online for a roasted grape and honey sweet potato, and the other two were developed in the Springfield-based Food Channel test kitchens.
Roasted Grape and Honey Sweet Potatoes
Serves 4
Ingredients: 
4 sweet potatoes
3 cups red seedless grapes
1 teaspoon grapeseed oil (or another high heat oil)
¼ teaspoon salt
¼ teaspoon pepper
5­ ounces goat cheese, divided
Pinch of cinnamon
3 tablespoons honey, plus more for drizzling
To prepare: 
Preheat oven to 350°F. Poke holes in the sweet potato with a fork, then wrap each tightly in aluminum foil. Bake for 45 to 60 minutes or until potatoes are tender to the touch. Unwrap foil, and cut a slit down the middle of each sweet potato. Let sit until they're cool enough to touch. Increase oven temperature to 450°F. Place grapes on a nonstick baking sheet, and drizzle with grapeseed oil and a pinch each of salt and pepper, then toss to coat. Roast for 20 to 25 minutes, or until grapes begin to burst. Remove from the oven, and let cool. Once sweet potatoes are somewhat cool, gently remove the flesh with a spoon, trying to keep the potato intact. Add the sweet potato to a large bowl, then mash with 3 ounces of goat cheese, cinnamon, salt, pepper and honey. Taste, and adjust seasonings if desired, then scoop flesh back into the potato skins. At this point you can re-warm the potatoes (if you let them cool completely) in the oven, then top with remaining goat cheese. Add grapes on top, and serve with additional drizzled honey.
Sweet potato gratins with ginger-pecan streusel (minis)
Serves 12
Ingredients:
4 medium-large sweet potatoes, scrubbed clean
4 tablespoons butter, melted
¼ cup maple syrup
Coarse-ground salt and black pepper to taste
4 tablespoons flour
¼ cup brown sugar
½ cup pecans, coarsely chopped
2 teaspoons crystalized ginger, finely chopped
¼ cup butter, melted
To prepare:
Preheat oven to 400°F. Butter 12 small individual baking dishes. Pierce sweet potatoes with a fork. Transfer potatoes to a baking sheet. Bake uncovered for about 60 to 90 minutes or until very tender. Slice cooked sweet potatoes in half. Scoop out the filling. Transfer the filling to a food processor. Add butter and maple syrup. Process until completely smooth. Add salt and black pepper. Taste, and adjust flavor. Reduce oven temperature to 350°F. Transfer whipped sweet potatoes to buttered baking dishes. Combine flour, brown sugar, pecans and ginger in a small bowl. Add melted butter. Stir until mixture resembles coarse crumbs. Sprinkle evenly over the top of each baking dish. Arrange baking dishes on sheet pans. Bake for 15 minutes or until streusel topping is lightly browned.
Sweet Potato Pecan Pie
Serves 8
Ingredients:
1 refrigerated 9-inch pie crust, unbaked
1 cup sweet potatoes, cooked and peeled (about 3 sweet potatoes)
1 tablespoon butter, melted
2 tablespoons heavy cream
¼ cup brown sugar, packed
2 tablespoons white sugar
1 medium egg, slightly beaten
1 tablespoon vanilla extract
¼ teaspoon kosher salt
¼ teaspoon ground cinnamon
1/8teaspoon ground nutmeg
¾ cup sugar
¾ cup light corn syrup
2 medium eggs
2 tablespoons butter, melted
1 tablespoon vanilla extract
1 cup pecan halves
To Prepare:
Preheat oven to 325°F. Unroll pie crust. Press crust into an 8-inch pie pan, and crimp edges. Refrigerate for 15 minutes. Mash sweet potatoes with butter and cream; set aside. Combine brown sugar, white sugar, egg, vanilla extract, salt, cinnamon and nutmeg in electric mixer with sweet potato mixture. Beat on medium speed for 2 to 3 minutes, or until smooth. Set aside. Combine ¾ cup white sugar, corn syrup, 2 eggs, 2 tablespoons melted butter and 1 tablespoon vanilla extract in electric mixer. Blend on low speed for 1 minute or until completely blended. Add pecans. Stir to blend. Set aside. To assemble pie: Spoon sweet potato mixture evenly over the chilled pie crust. Carefully pour pecan mixture over sweet potato mixture. Bake for 1 hour and 45 minutes or until filling is set and crust is golden brown. Cool before slicing.