Fill Your Walls With Local Art
Art should be a focal point of your home, a conversation piece. It's also an investment, and comes from the artist's heart. Meet five artists–for all different tastes–whose work would make a great addition to any 417-land home.
By Matt Lemmon | Photos courtesy Meganne Rosen O'Neal, Shelly Forbes, Jim Mayfield, Linda Passeri and Mary Hamilton
Sep 2015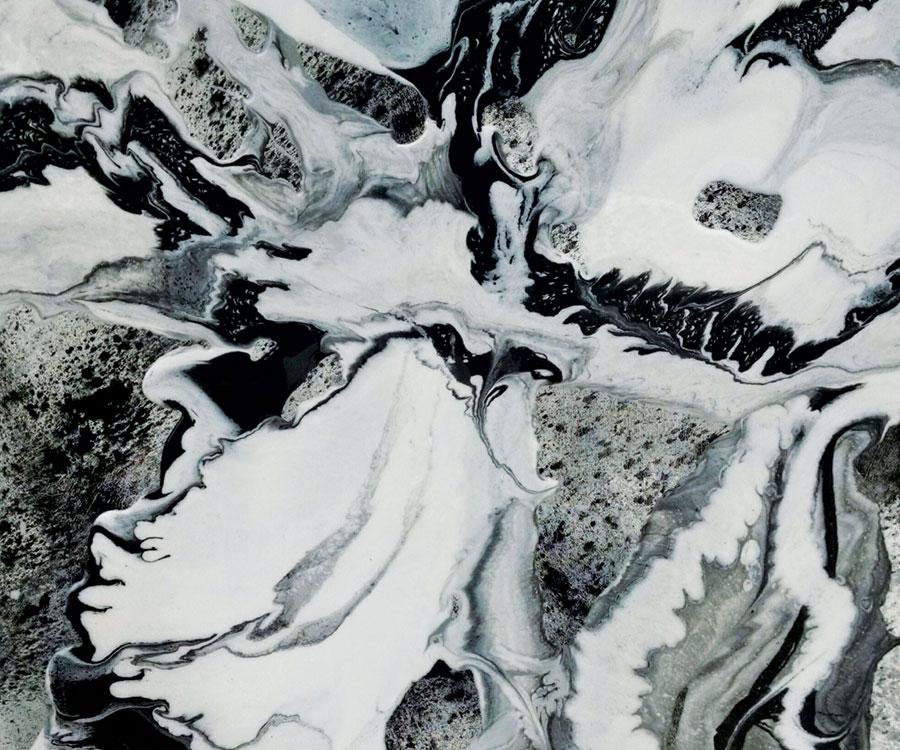 Shelly Forbes
Shelly Forbes owns a concrete company, so thick, formable stonework was a medium for her long before she began incorporating it into her artwork. "I took what I do on a daily basis and figured out a way to turn it into art," says Forbes, a Branson area resident who draws the inspiration for her colorful pieces from the outdoors (though they aren't landscapes).
Forbes builds her own hardboard base and then applies a thin layer of concrete texturing, which she colors with acrylic stain and paints, followed by an epoxy resin so the color pops. Then she manipulates the paints and resins with a torch, which creates a 3-D sense of movement on the finish. 
Forbes's works are big and heavy—the biggest weighs in at 65 pounds—and they are a perfect centerpiece for a prominent wall in your home or office.  A 36-by-96-inch piece by Forbes hangs in a conference room at the new Hotel Vandivort in downtown Springfield. A Gallery Artist for Obelisk Home, Forbes's work can be viewed online at obeliskhome.com/shelly-forbes. 
​Meganne Rosen O'Neal
Meganne Rosen O'Neal is an award-winning Springfield artist and art teacher who specializes in large-scale acrylic-on-canvas abstract paintings. Color is O'Neal's inspiration, and her method is what she understatedly refers to as "active." She works on several pieces simultaneously, called a series, arranging the unstretched canvases on her workshop floor. She mixes her own colors, incorporating lots of water to create a watercolor-like effect in her work. She usually paints with her hands as well as brushes, with music blaring.
You can find O'Neal's work at Arts & Letters (214 S. Campbell Ave., 417-830-8186), the boutique she co-owns in downtown Springfield. She will have an exhibit opening at Drury's Pool Arts Center in spring 2016.
Linda Passeri
If you don't believe Linda Passeri is one of the most unique artists in 417-land, we have three words for you: steampunk cat sculptures. Specializing in ceramic, Passeri started with mushrooms. Today she is known for felines, but also sculpts fairy gardens and birds in her trademark fantasy-industrial steampunk style. Sometimes her sculptures have found objects or mechanical pieces attached. She also paints, creating pieces to accompany a particular sculpture she's made, or vice-versa.
"Most of my pieces have a smile on them, and people who have bought them have told me that it always puts a smile on their face," Passeri says. 
Passeri's work can be found at the Fresh Gallery (400 W. Walnut St., 862-9300) downtown, or online at mooncityarts.com.
Mary Hamilton
Springfield painter Mary Hamilton focuses on a single subject that is meaningful to her in her acrylic-on-canvas paintings.
The inspiration for her current series, "Paradigms," was a period of her life when much of her time was spent taking care of her ailing parents. She calls her series "allegorical," although that doesn't mean one-note. Some pieces are abstract, others are full of symbols and others focus on the human body.  
When she's not working on a long-term project, Hamilton paints on commission, often working from photographs of things like favorite vacation spots or historic family homes.
You can find Hamilton's work online at obeliskhome.com/mary-hamilton or mhamiltonart.com. 
Jim Mayfield
Best known for his work for the Ozark Mountain Daredevils in the late 1970s, photographer Jim Mayfield estimates he's taken "maybe a million" images in his 40-plus year career. Some are iconic, and the cover images for the Daredevils' albums "Men From Earth" and "It'll Shine When It Shines" are probably his best known. A lot of his work features nature, and some of his recent work has focused on Springfield's historic architecture and buildings that are quickly being razed for new development.  But that's not to say Mayfield's work is all throwback: He embraces modern editing software. 
For prints of Mayfield's work, contact Pelican Gallery or view digital images at
jimmayfieldphotography.zenfolio.com.