Inspiration
Build Your Best Bar
Making your own at-home bar might seem daunting, but these tips from designers Sharon Taylor and Rachel Owens will get your creativity flowing.
By Claire Porter | Photo by Brandon Alms
Sep 2016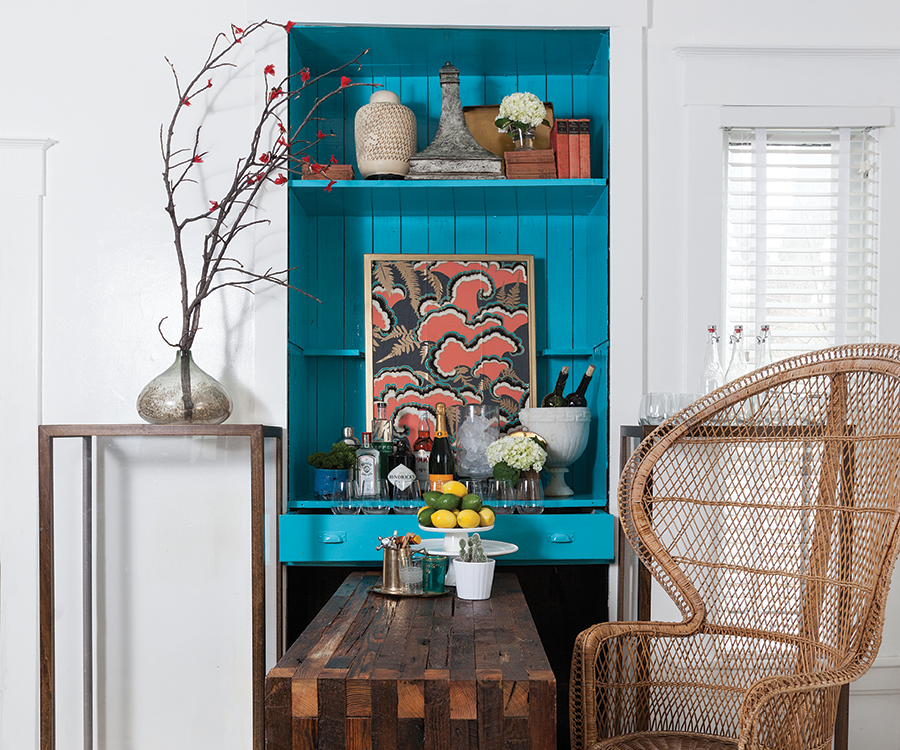 D
esigner Sharon Taylor and Rachel Owens pooled their design eyes to revamp Taylor's built-in to form a party-ready bar for the brightest of fêtes, and now they're sharing their knowledge with you.

Start with a focal point
Taylor found this wallpaper sample from make like and decided to frame it as the bar's centerpiece. The duo pulled out the turquoise in the pattern by painting the built-in Cool Aqua by Benjamin Moore, and they used coral books on the top shelf to tie in the pattern's bright color.
 
Mix it up
Taylor suggests mixing more than just your drinks by weaving in complementary colors and various textures. "It's a balance of warm wood tones with warm, Old World accessories that give it that eclectic feel," she says. Taylor and Owens added gold and silver elements throughout the vases, frames and accessories, and mixed old, vintage elements, such as the marble urn, with crisp, new ones like the glassware, bottles and vase. 


Think like an artist
Creating visual interest means thinking about symmetry, balance, depth and texture. The two created symmetry by framing the bar with two large glass cases. They balanced the full bottom shelf with accessories in coordinating colors up top. With a table in front of the bar and glasses lined up in the open drawer, the bar gains depth (and usable workspace), and it's all topped off with floral and natural elements for an added textile touch. 


Keep it fresh
Taylor says every bar needs a fresh element to it, whether it's produce like lemons and limes showcased on a cake stand or flowers and plants like hydrangeas and succulents scattered throughout the setup. Owens says she also often includes bottles stuffed with herbs or jars filled with olives and raspberries to serve double duty as decoration. 


Simplicity is key
You don't have to stick to an in-the-box bar set for the perfect bar. Taylor notes that all you really need are a few beautiful bottles of your necessary mixers and liquors, fun or collected bar tools, some pretty glassware and an ice bucket—or in this case, an ice vase—to get the bubbly flowing. Plus, this adds to the eclectic feel.


Remember: It's a bar!
Ultimately, you want to have fun decorating and make it a welcome spot for guests. "Part of designing is inviting people in to help themselves," Taylor says. Have wines open and ready to pour and keep bottles reachable and mixes in an easy-to-access spot so guests can spend less time trying to mix a drink and more time admiring your handiwork.