Featured Homes
Small But Mighty
Embracing the tiny-house movement, Justin and Ashton Luter built a mobile, micro-sized space perfect for new adventures.
By Stephanie Towne Benoit | Photography by Terry Sweeney
Sep 2016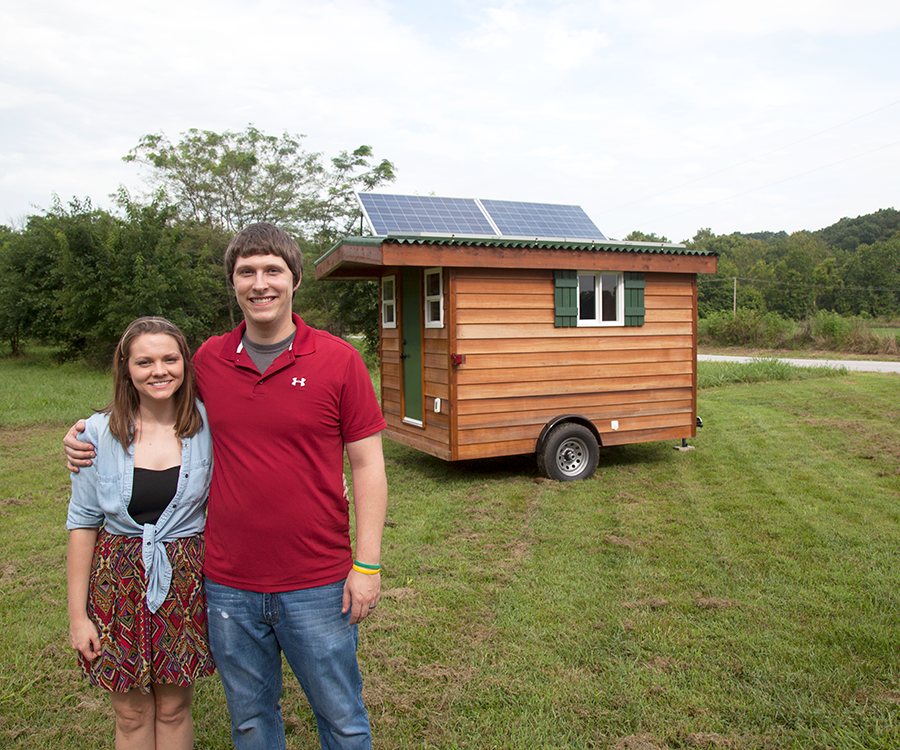 For years, 417-landers Justin and Ashton Luter dreamed of exploring the country. "We had talked about moving somewhere new, somewhere fun," Justin says, ultimately realizing what they desired was mobility. "We figured out that what we really wanted to do was travel and see a bunch of things."
They researched their options and were drawn to the tiny houses popularized by shows like Tiny House Nation for their practicality and customizability. Their wanderlust was also fueled by blogs and social media about others traveling the country with their tiny houses. "That's when we started thinking, 'We can do this; if they can do it, we can do it,'" Ashton says.
They scoured Pinterest and blogs for ideas for their pocket-sized abode, which they kept as small as possible to minimize construction costs—about $10,000—and future travel expenses. "I thought maybe we could build a tiny house on a small enough scale that it wouldn't cost us an insane amount of money to drag all over the country but at the same time a big enough one that we could live comfortably and have all of the necessities we need," Justin says.
The first step was selecting a trailer, so they headed to Stag Trailers (stagtrailers.com), which made a custom single-axle trailer. Then they began constructing the house's cedar frame, quickly realizing how lucky they were to have the help of Justin's father, Harold, a former contractor. With his expertise, they found cost-effective solutions to challenges that popped up, like finding a narrow enough door. In that and many other instances, they built their own fixes rather than buying or having them made. "It just took labor and elbow grease on that," Harold says. "We saved a bunch by making the door ourselves. That's what we tried to do on a lot of the stuff."
Given the space's diminutive size—merely 60 square feet—maximizing space was essential. They did so by downsizing significantly and crafting efficient features like a four-foot-wide futon bed that can slide up and out of the way. "I am about 6-foot-1, so as long as I can sleep comfortably I think we will be fine," Justin says of the bed's snug dimensions.
As for style, they used rustic materials like cedar siding and corrugated metal to create a woodsy, cabin-like feel, a natural fit given their plans to visit numerous national parks and campgrounds over the next year or so. 
On the precipice of that cross-country adventure, the Luters are excited to move into their cozy home and head out on the road. "Getting to realize a dream that we have, [it's] something that lots of people enjoy talking about but never do," Justin says. "It's one of those things like, 'Oh yeah, that would be fun. That would be cool.' But for us to actually do it, that's been really cool."



Catch Some Rays 
The Luters installed solar panels from Seymour's Missouri Wind and Solar on the structure's ONDURA roof. "I feel like I have taken a college course in solar just from all of the information that we've had to look up and study," Justin says. The panels have hinges on the edge facing the peak of the roof, allowing them to be adjusted to the appropriate angle to absorb the most sunlight.   
1. It takes four hours of full sun for the home's battery bank to be fully charged and run appliances. The inverter converts the power from the solar panels. They can also use an extension cord to charge the batteries with an external power source. 2. With the small size, finding proportional features was tough. But the Luters took matters into their own hands and built solutions like the roughly 6-by-3-and-a-half-foot front door made from two glued-together sheets of plywood. 3. In keeping with the home's cabin feel, the windows are adorned with rustic handmade cedar shutters, giving the exterior a woodsy touch. The Luters applied boat lacquer to many parts of the home to protect it from the elements.  

Cool Counters
It wasn't easy to find the right countertop material. The Luters selected lightweight Formica Laminate, which they custom ordered from Lowe's and installed themselves. It also needed to be custom sized to the right depth to fit the kitchen area's tight dimensions. 

Bare Necessities
One of the challenges of designing and building the house was determining how to allocate space for necessities and storage in a way that was functional but still attractive. For example, they will install a bed that will slide up out of the way to free up a significant area of the house during the day.

Comfy Cabin
The Luters chose laminate flooring for its lightweight, durability and cost-effectiveness. They chose a laminate resembling wood to complement the cedar used throughout the structure. Another rustic touch is the thin metal flashing affixed to the front of the cabinet doors, with which they plan to make cute, homey designs.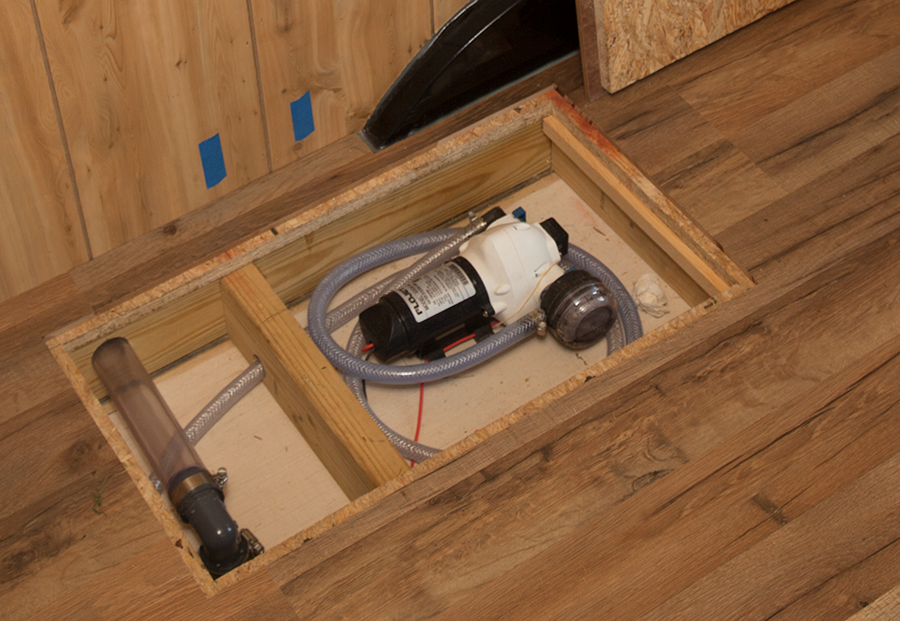 Pumped up
Another space-efficient idea was tucking the 12-volt water pump into the floor beneath a removable panel. "We were trying to figure out the best ways to have as much storage inside and all the functional stuff be in places that it wasn't going to hinder us," Justin says. 

In Hot Water
Located in a box attached to the back of the structure, the water heater was a challenge. "It has to be vented when it's running, so we can't leave it inside that box, but we knew we wanted it somewhere permanent so that we wouldn't have to dig it out of somewhere, lug it around and connect all the hoses and everything," Justin says. The solution? Fastening the heater to drawer slides so it can glide in and out.