Food
Get Cookin' With Eggplant This Fall
Bring the autumnal color scheme of creamy whites and deep purples to your dinner table with eggplants. We've rounded up recipes for eggplant Parmesan, Baba Ganoush, Ratatouille and Grilled Eggplant.
By Claire Porter
Sep 2017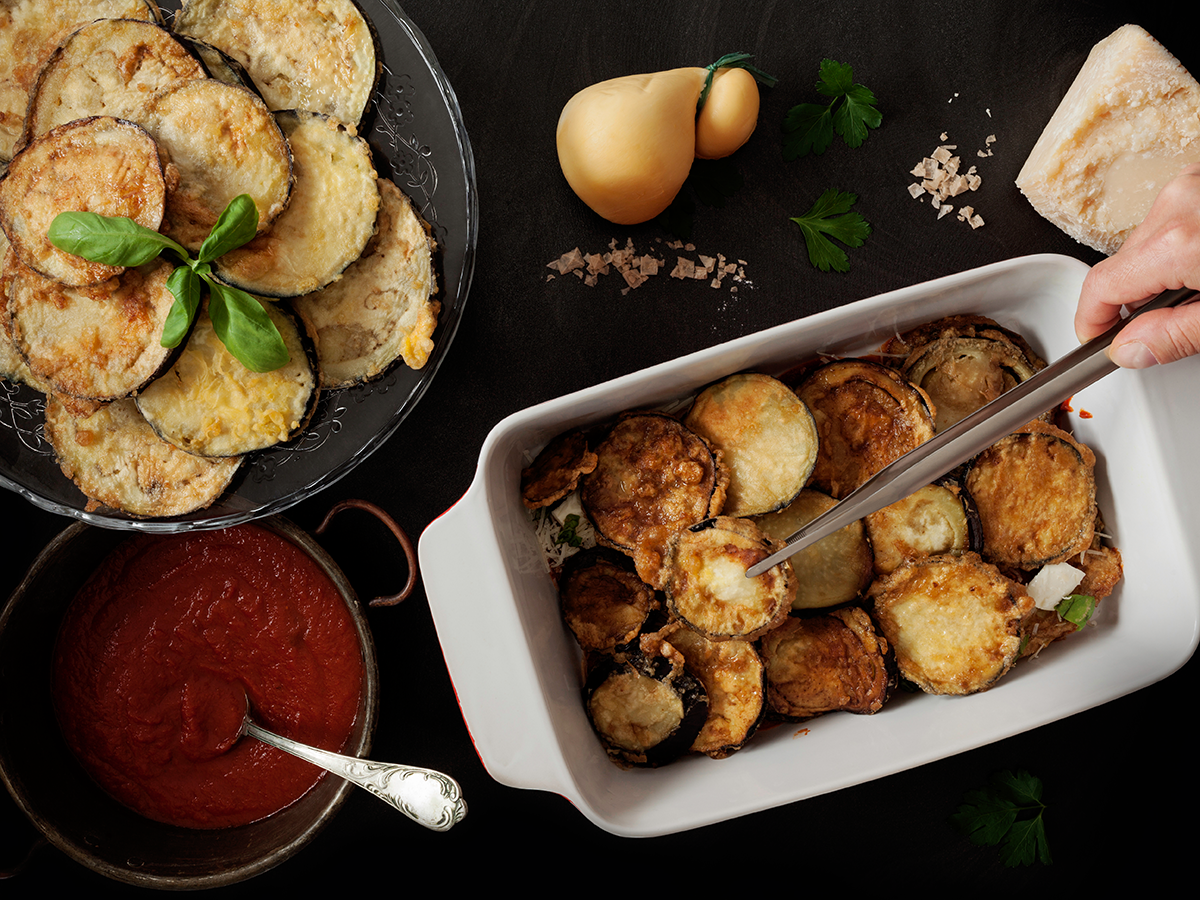 Instead of lamenting the loss of summer squash and plentiful peppers with the changing season, dry your tears on an eggplant. Not only are these garden veggies perfectly on-trend for a fall color scheme, but they're also perfectly delicious. 
Eggplants are known for their beautiful purple color and long shape, but they come in many varieties. They were named for the white variety, whose creamy color and shorter shape resembles chicken eggs. Tao Zang, of Hamilton Farm, sells five varieties at Farmers Market of the Ozarks and at the Greater Springfield Farmers Market. In addition to classic eggplants, Zang, her husband Hamilton Lor, and their son Tim Lor grow green Thai, long Japanese and bitter Asian eggplants.
In a raw state, eggplant's tough flesh and bitter skin make it a hard veggie to love as-is, but with a little TLC in the kitchen, eggplants can be a great addition to many dishes. To counteract the eggplant's natural bitterness, many recipes recommend rinsing, salting or draining before cooking to soften the flesh and make the veggie more palatable. Zang says she likes to saute Thai eggplants, which are less bitter, or even to eat them raw dipped in salt. Because of their heft and thickness, eggplants are often substituted for meat in vegetarian dishes. The thick flesh absorbs fats and oils, so this hearty vegetable is best used in rich dishes made with heavy sauces. If you want to sweeten up your eggplants without adding calories, try grilling them—this holds their shape while softening them enough to eliminate any bitterness. 
When picking an eggplant, look for glossy skin that doesn't bounce back when you press it—this means it's tender and ready to eat. And with eggplants, wetter is better. Rainy, overcast weather means the veggie soaks up more moisture and is less bitter. Zang says when wrapped in plastic and refrigerated, eggplants will keep for several weeks, but we've gathered enough eggplanty recipes to use up your stash in four dinners' time.