Home Profiles
Heather Kane's Minimalist-Boho Remodel
Creative Director Heather Kane turned one dated diamond-in-the-rough into the shiny magazine-worthy home she's always dreamed of, and she's spilling her transformation trade secrets.
By Heather Kane | Photos by Brandon Alms
Sep 2017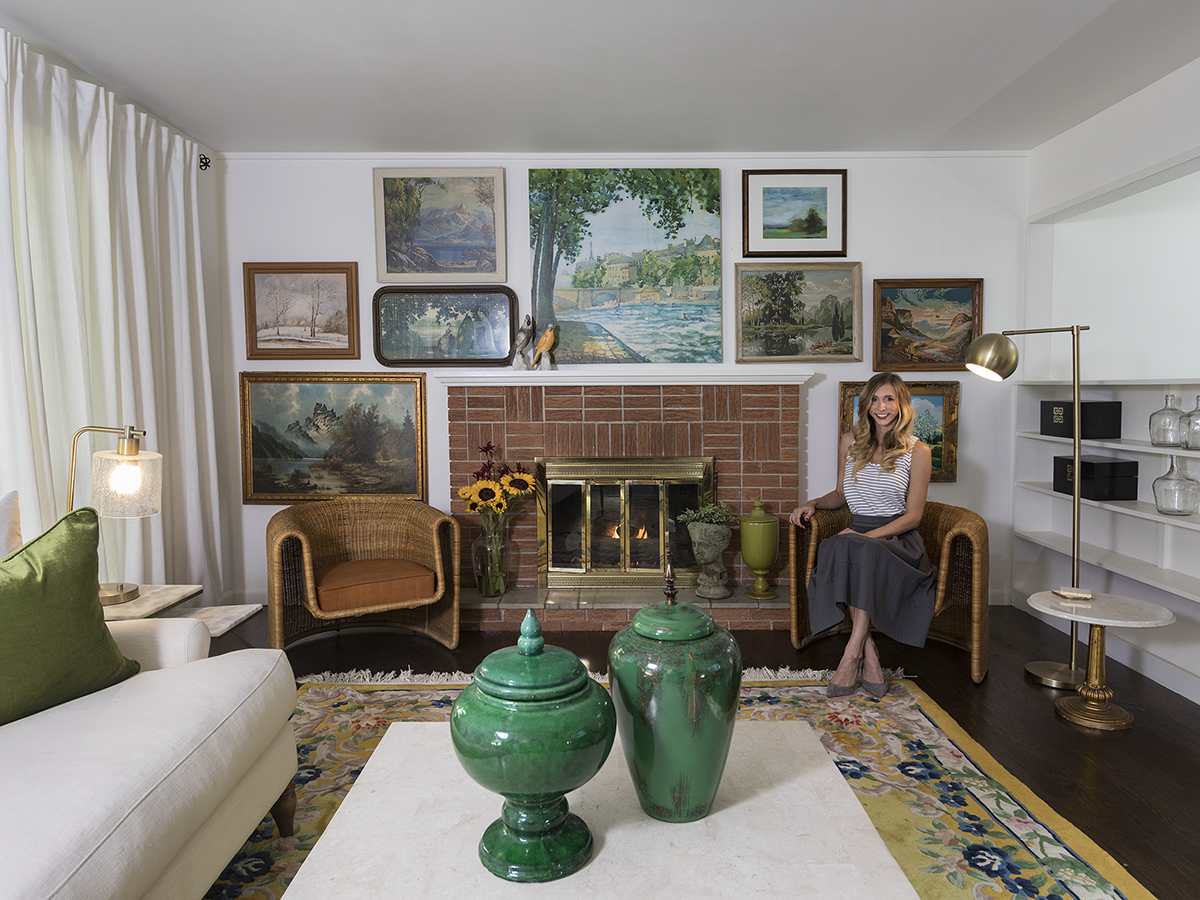 It was last summer that I decided to purchase my first home. I was working at my dream job, staying pretty busy with the community art scene and living the single life when I had an epiphany. What was I waiting for? A husband? Someone to share the financial burden of a mortgage? I wasn't really sure, but I did know that waiting for those things before I purchased a home just wasn't an option anymore. I wanted a home that was all mine. No creepy landlords or not knowing if you will be forced to move for some unknown reason. In the past, I've gotten to live in some really interesting spaces, like the Wilshire historic building, a rock house in Meadowmere Place and even an adorable pink bungalow in Rountree. All of which have prepped me to have free rein of the design of my own home where I knew I could do a lot with just a little imagination. 
So, I embarked on my house search, looking for the bachelorette pad of my dreams. The search did not go as I thought. I knew I wanted a home that I could put my own spin on with some smart but simple updates. This led me down a path of viewing fixer-upper houses that were pretty frightening. One house kept getting broken into as it sat empty, a few snakes hid in another, and one house had its own pack of dogs and a smell to match. It was an emotional rollercoaster of self-doubt. What was I getting myself into, and could I pull this off? After what seemed like an eternity, I found a little gem in an older neighborhood close to my childhood stomping grounds in center city. It was in excellent condition, was on a quiet street and had everything on my checklist. Honestly, it was just really dated. It had brown carpet, yellow walls and old fixtures, but the bones were great, and I was sold.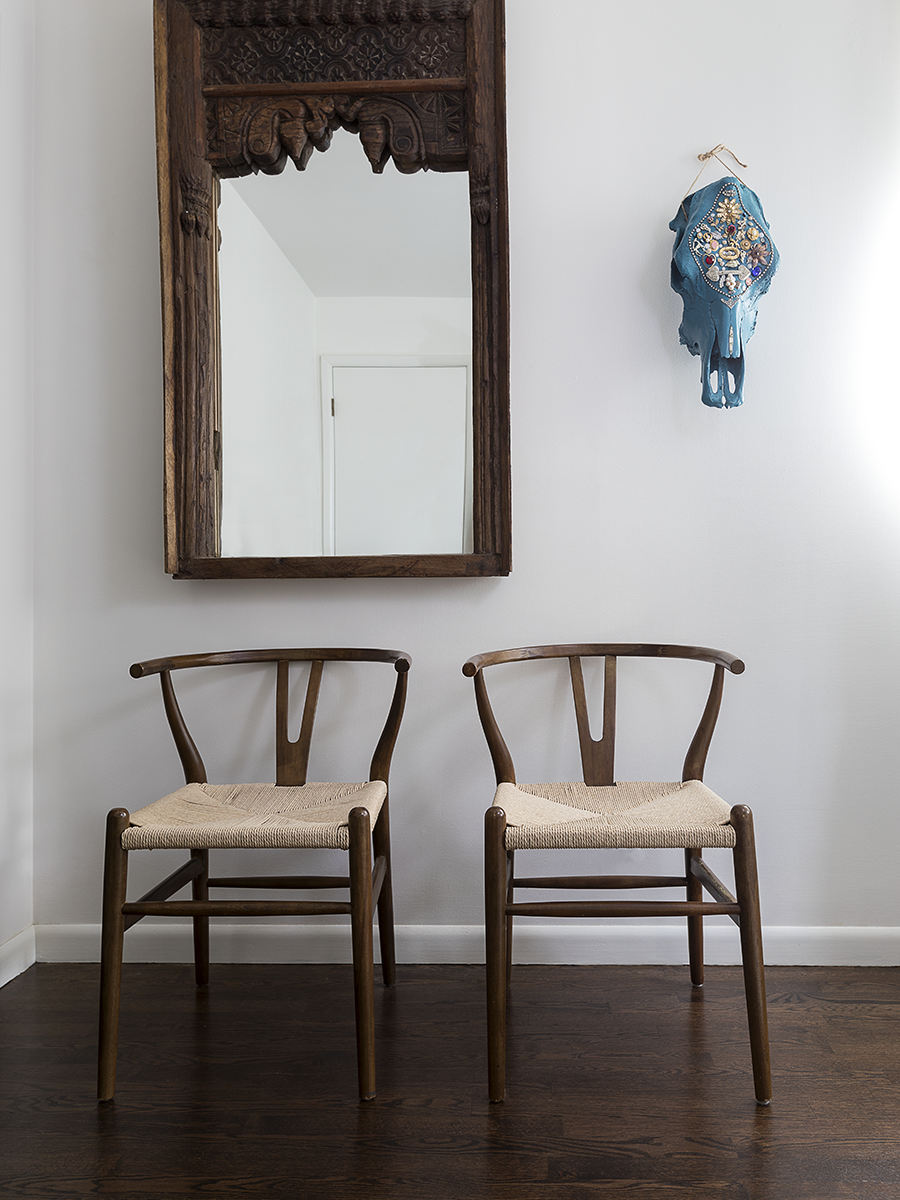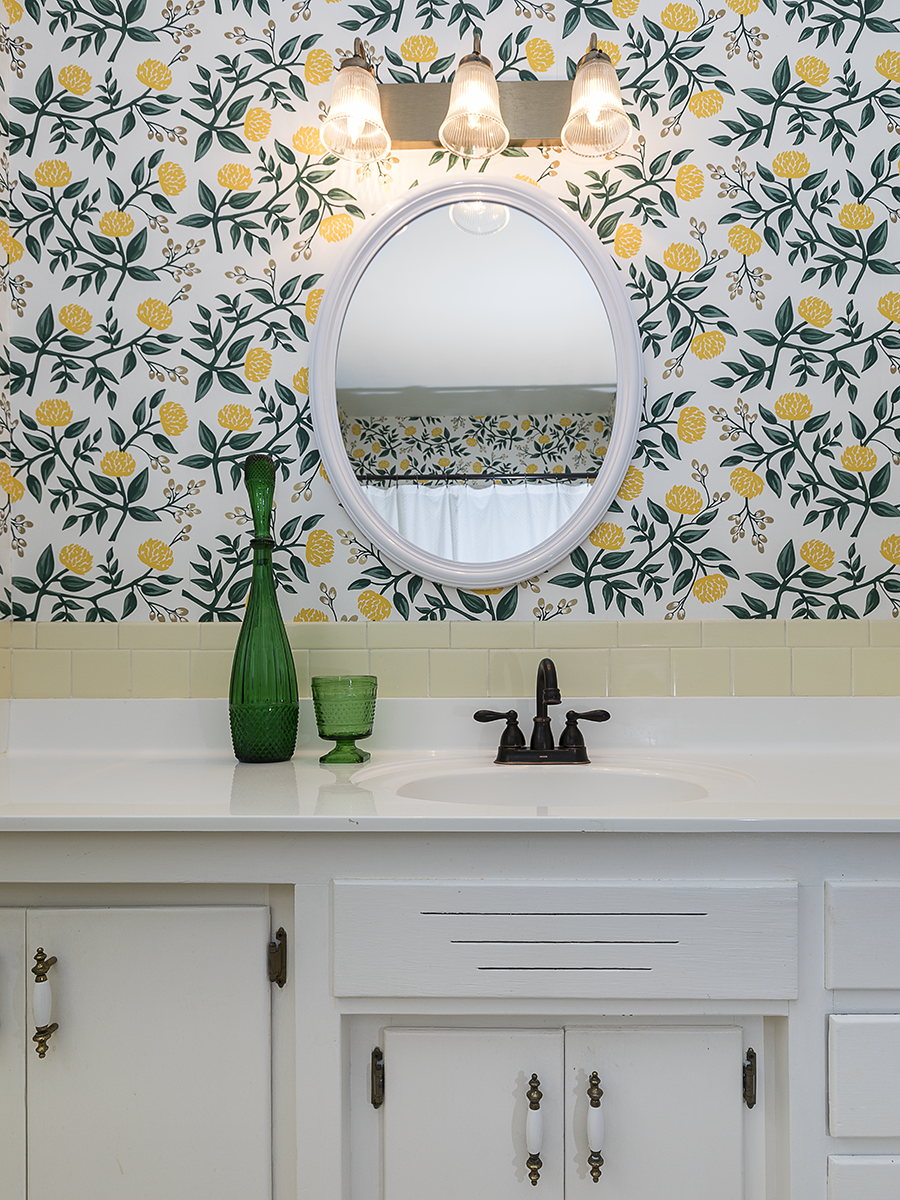 (Left) Well Traveled Wood: Creative Director Heather Kane's DIY remodel includes a bedroom that marries minimal decor and a bohemian vibe. The mirror is from India, and the cow skull was created by her friend and local artist Tommi Clark. (Right) Paper Perfect: The wallpaper is the perfect match. In the powder room, wallpaper featuring large yellow peonies creates drama and ties into the original yellow tile.
I stayed with my sister while I spent two months on the remodel. I began by painting every square inch of the house. My family showed up a lot to help me, and I was definitely humbled by them wanting to be part of the process. I'll never forget them being there for me so much during that time. I wanted the interior walls and trim to be white—a blank canvas so I could keep my design style transitional and ever-changing. I went with Simply White by Benjamin Moore. It's my absolute favorite creamy white that looks great in any lighting. I painted the trim White Dove, also by Benjamin Moore, for contrast. Signature Wood Floors installed new hardwood floors throughout my house. They stained them a dark espresso to match my traditional style. 
For my kitchen, I was inspired by my grandmother's Blue Willow dishes that she had passed down to me, so I wanted them to be the focal point of the room. I ripped out a row of kitchen cabinets and covered the walls in Ashford Toile wallpaper from Seminole Decor Center Inc. that matched the Blue Willow dishes almost exactly. Then I had John Groves, my contractor, build me open shelving to display the dishes. I was so obsessed with the kitchen transformation, I just had to wallpaper the main bathroom, too. I chose the Yellow Peonies wallpaper from Rifle Paper Co. that had similar colors to the original yellow bathroom tile. After that, it was just new fixtures, lighting and a few more cosmetic improvements, and I was ready to move in.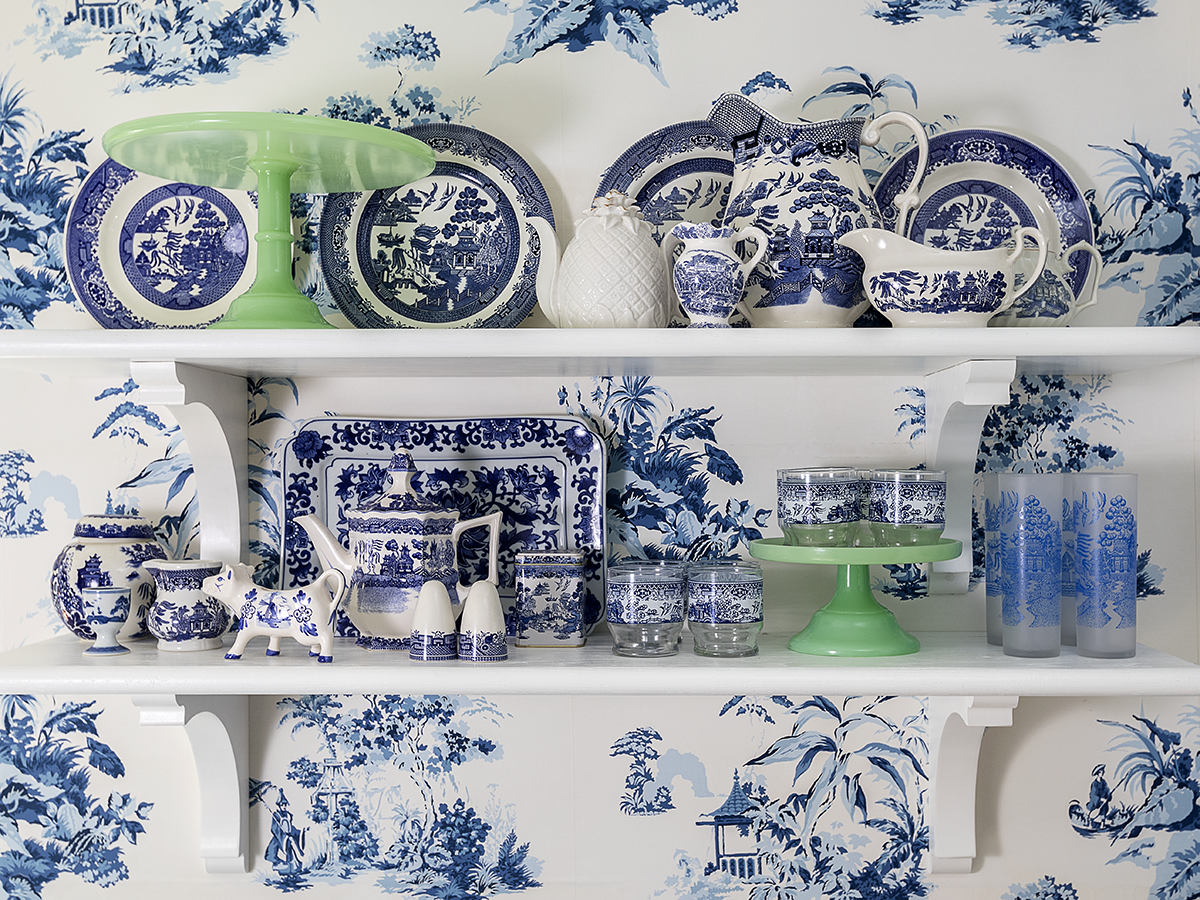 It turns out, according to the National Association of Realtors, one-fifth of all home buyers are single women. As a group, we are second in home purchases to married couples and number twice what single male buyers represent. I find this pretty inspiring. It's not easy taking on a remodel on your own, no matter what your gender or budget. I did get some crazy looks by electricians and contractors who questioned some of my unorthodox ways. They told me that I should never, ever do my trim a darker shade than my walls. One gentleman installing a faucet felt inclined to comment on my husbandless remodel project, which prompted me to remind him what decade it was. Still, I wasn't giving up that easy. I was forced to stand my ground, demand the things I wanted or constructively complain when a job wasn't done to my satisfaction. 
I'm still slowly updating things. A few weeks ago, I painted my laundry room yellow and added a new mirror and hanging baskets as a weekend DIY project. All in all, my little remodel experience was absolutely heartwarming thanks to my family and friends who helped me every step of the way. I was challenged to learn how to do home projects on YouTube and just give it a go. Now I have a house that through my own sweat—and some tears—I've made into a home, and I'm truly grateful that I got the chance to do it my way, which turned out to be the best way.


Little Budget, Big Impact

A few lessons I learned along the way can make a remodel seem a little less scary and a lot more pocketbook friendly.

Create Wow Walls
Try using wallpapers or painting statement accent walls to draw the eye where you want it and away from where you don't. Wallpapers can be pricey but are a lot less expensive than a whole kitchen remodel. Try pulling the colors of the materials in your space into the color of wallpaper, and go for large patterns and bold colors for a modern, graphic spin.


Use Open Shelving for Function and Style
Buying open floating shelves from stores can be very expensive. Instead, commission a contractor to make you custom shelves. Order already-cut brackets of your choosing and ask to sand and paint them yourself to cut down costs. Have your contractor hang them to ensure sturdiness. The finished product will make your space feel more open than having cabinets or bulky storage and will act as a nice visual display. 


Group Your Favorite Things
Take things you love and showcase them in interesting ways. Strategically grouping similar items together will create a statement in your space and will cut down on visual clutter. I created a wall of landscape paintings around my fireplace to draw the eye to the fireplace, setting an earthy and masculine tone for the living room.


---

Resources
Wallpaper and Paint: Seminole Decor Center Inc., 417-881-5559
Hardwood Flooring: Signature Wood Floors, 417-987-8574
Custom Shelving: John Groves Construction, 417-773-0550