Featured Homes
Peek Inside Three of Springfield's Most Luxurious Kitchens
Explore three of the hottest kitchens in 417-land, all combining the latest and greatest features with a jaw-dropping look.
By Savannah Waszczuk and Jennifer Johnmeyer | Photos by Brandon Alms
Sep 2017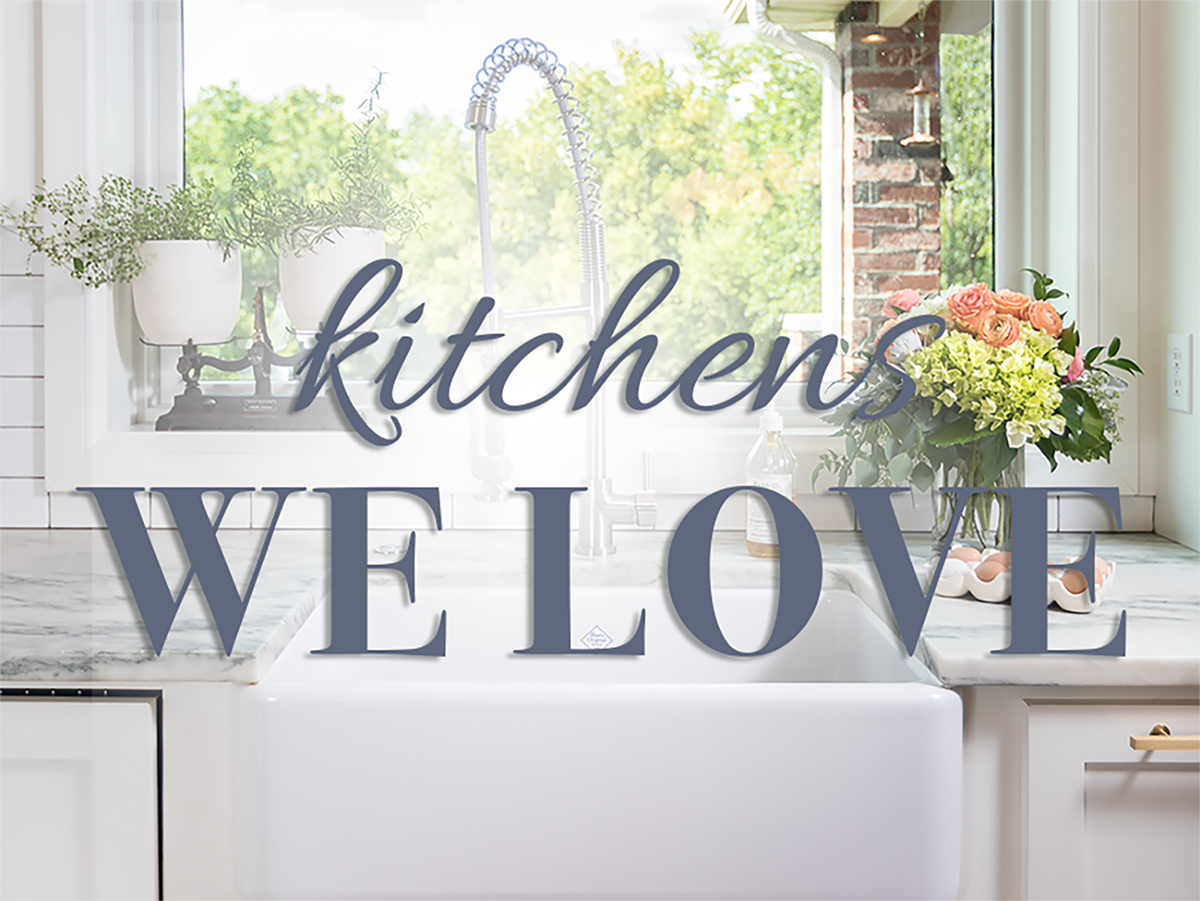 The Taussig Kitchen
Dr. Jacob and Trisha Taussig's kitchen doesn't speak to one particular style. Instead, it's a melding of two. "It has traditional bones with an eclectic flare," Trisha says. The Taussigs worked with custom home builder Adrian Rhoads of Rhoads Design & Construction to plan every last detail of the space, which includes customized cabinetry dressed with brass hardware, an oversized pantry full of built-in storage and luxurious finishes at every turn. The family often gathers around the room's island, which is painted a slate blue color and lined with cozy seating dressed with removable, washable seat covers. Overall, the space serves as the perfect hub for Jacob, Trisha and their four sons: Creed, Cannon, Colton and Curtis. "My absolute favorite view is the one from the sink," Trisha says. The window (opposite) offers a view of the 150-acre property and the Finley River.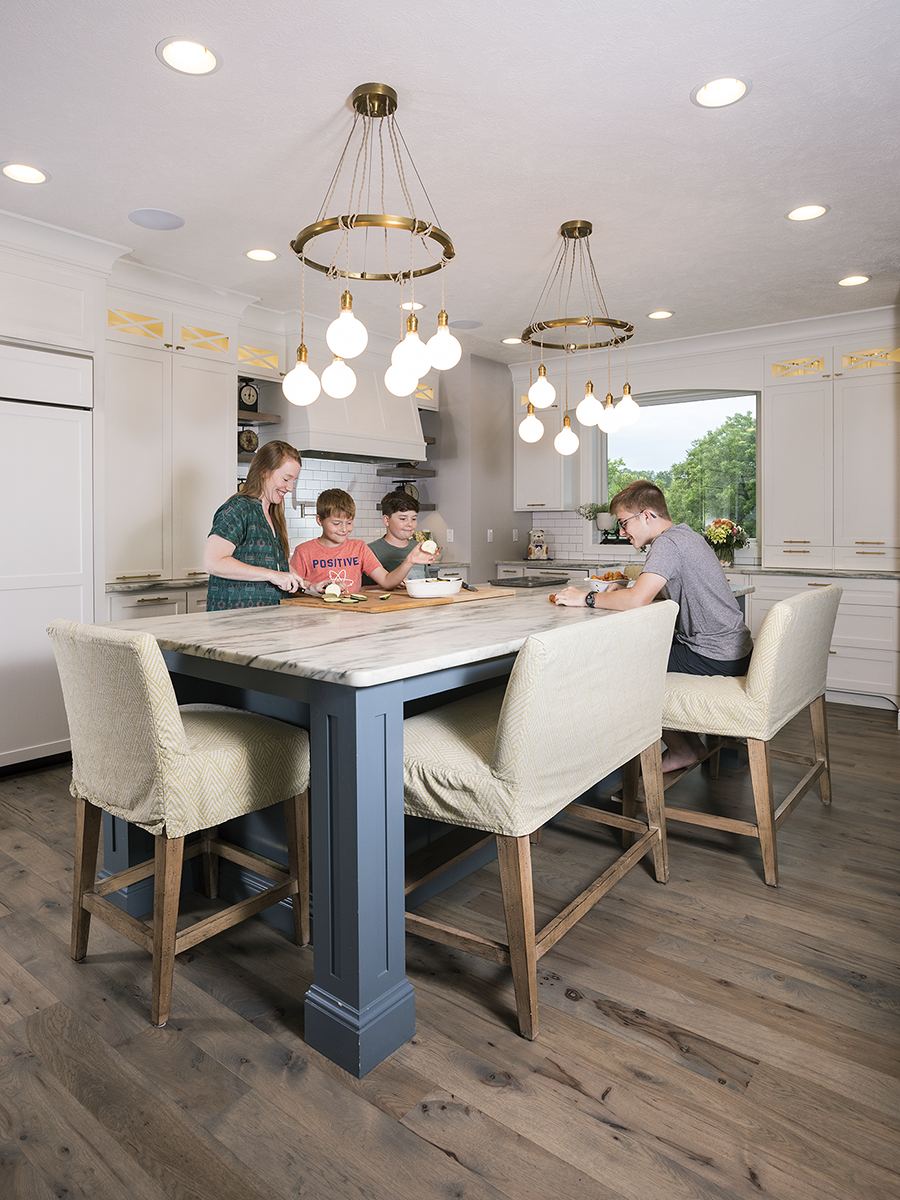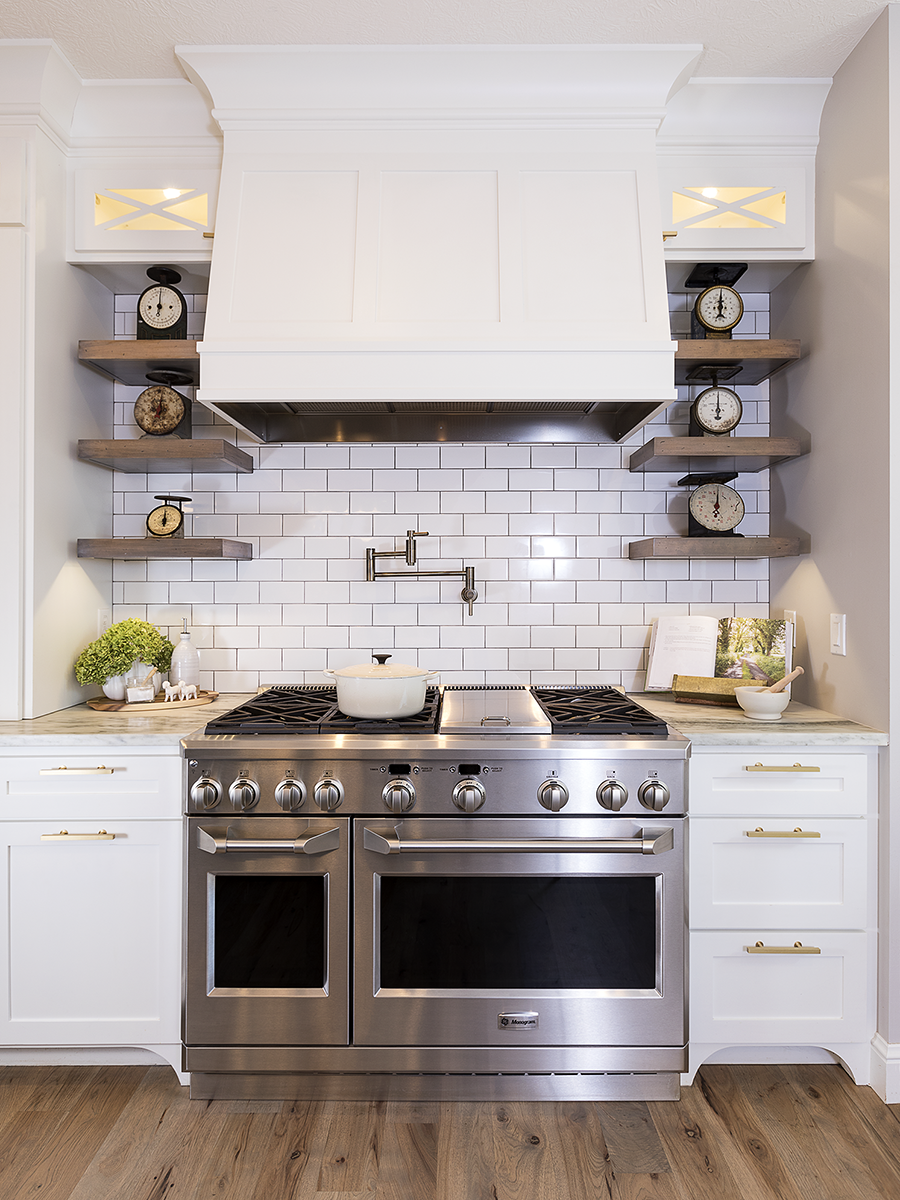 (Left) BIGGER IS BETTER: A marble-topped island takes center stage in the Taussig kitchen. "I said, 'I want the biggest island you can give me,'" Trisha Taussig says. The oversized piece works great for the family of six, especially when it's time for Trisha to cook with her sons. "It's really great when we're making Christmas cookies," Trisha says. (Right) ON DISPLAY: The backsplash behind the stove features white subway tile lined with gray grout, and the open wooden shelving displays Trisha's collection of kitchen scales.
It's All in the Details
The kitchen's Vermont Danby Marble countertops have a subtle honed finish, and the custom shaker-style cabinetry boasts a crisscross detail that's carried throughout the house. The interior of the cabinetry is also detail-oriented, with custom-designed drawers and pull-outs built specifically to Trisha's cooking needs. "I love that there's a place for everything," Trisha says. "We took the time to work closely with Adrian and build it out." The room also features high-end stainless appliances, including a GE Monogram stove with six burners and a griddle. The flooring is a five-inch-plank hickory wood and runs throughout the home.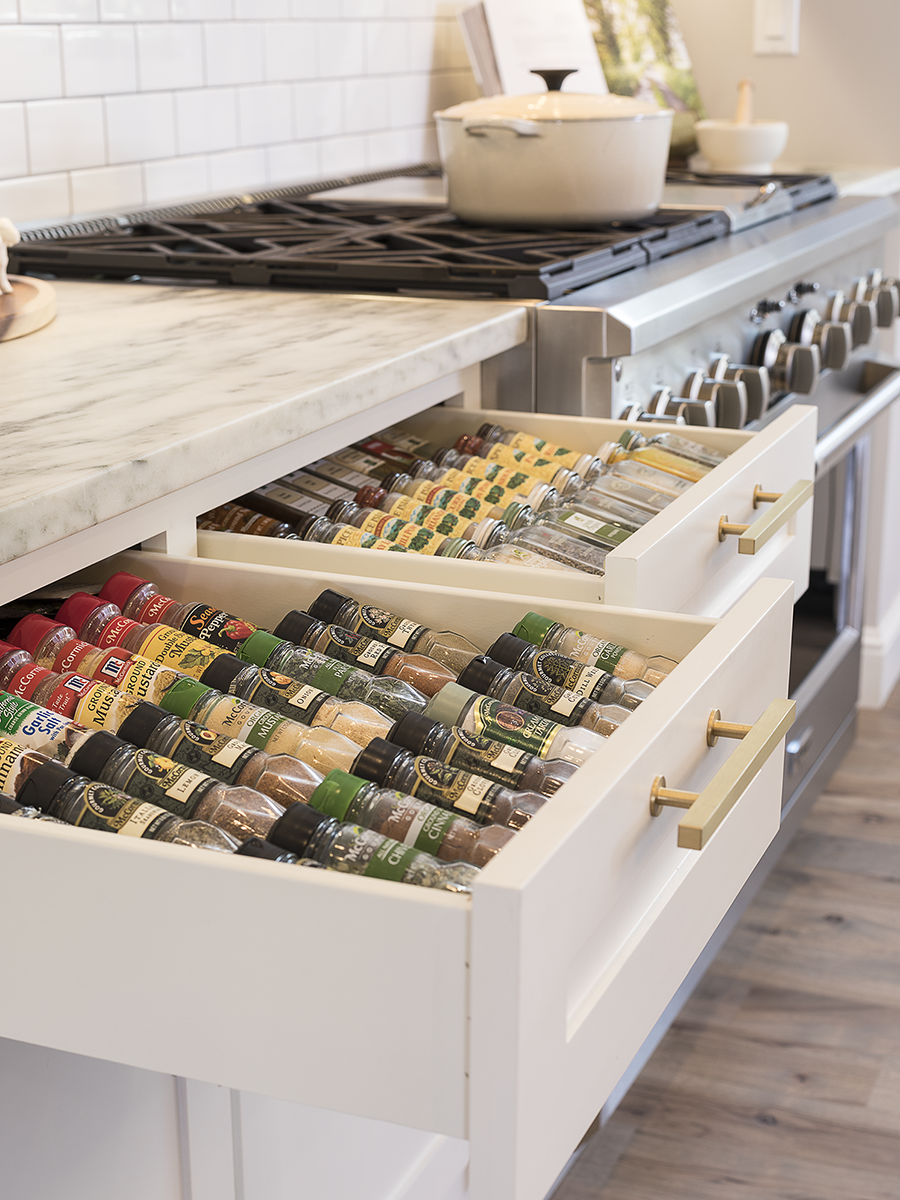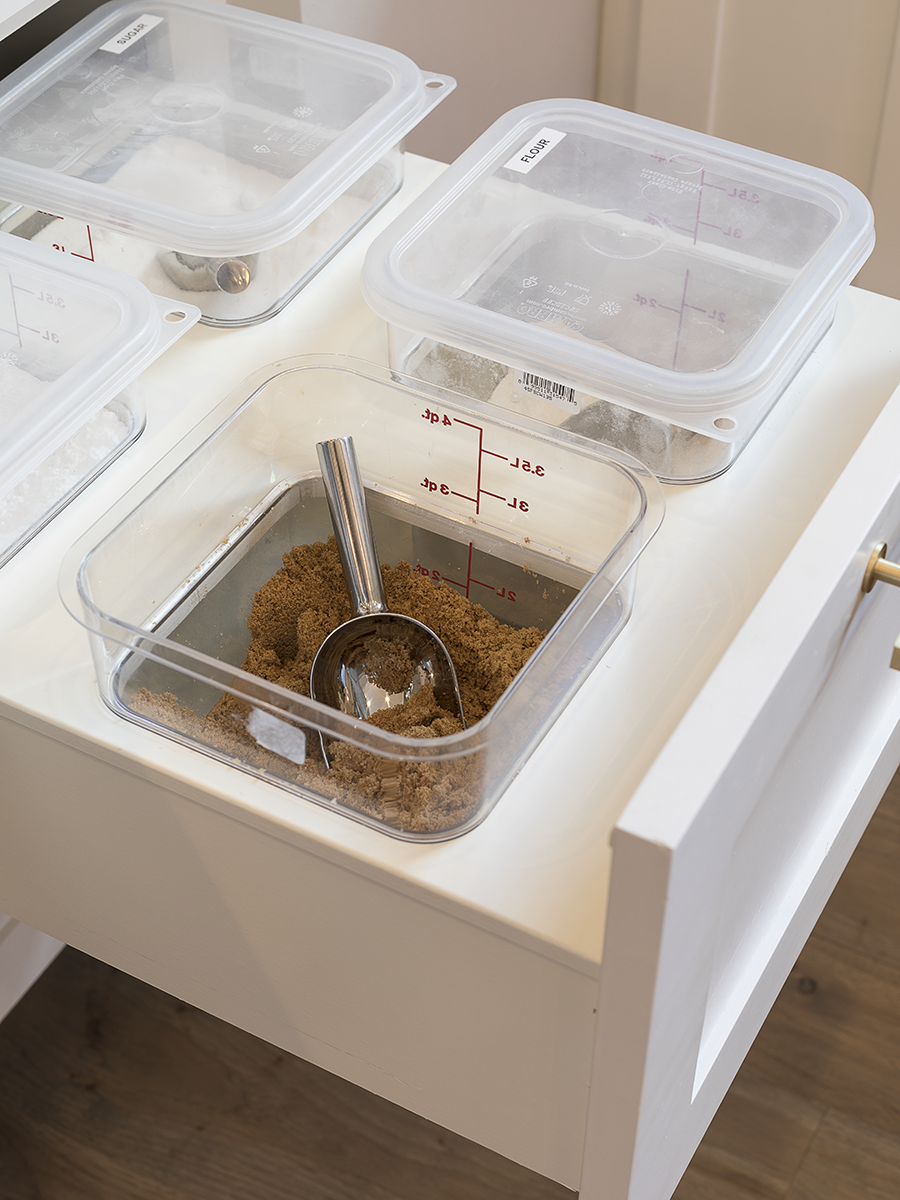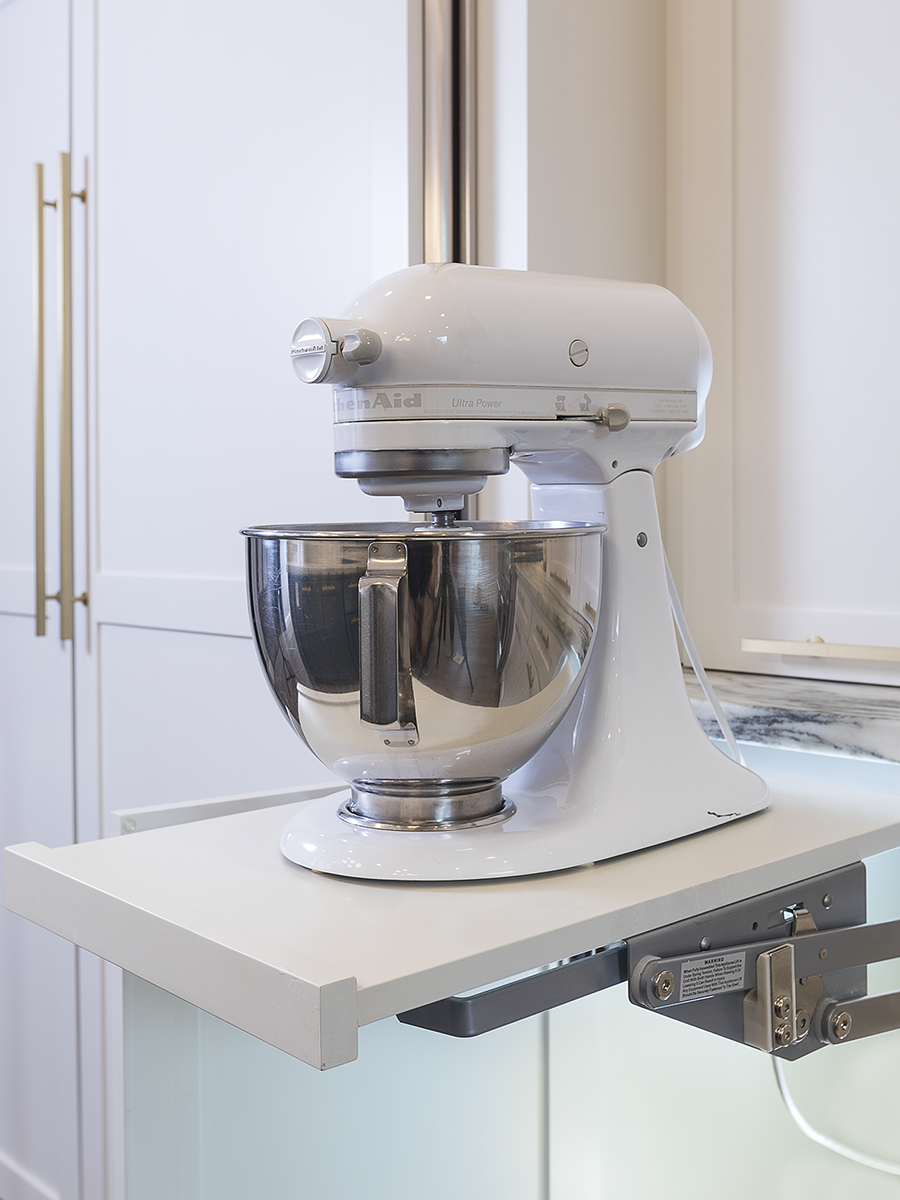 (Left) SPICING THINGS UP: Trisha's custom spice drawers have a spot for every seasoning you could imagine with built-in slanted shelves for easy access. (Middle) A drawer that holds pantry staples, like flour and sugar, is super convenient. (Right) BUILT FOR BAKING: Trisha regularly cooks for her family of six, but baking has her heart. That's why she planned a custom drawer for her baking staples and a pull-out, pull-up shelf for her KitchenAid stand mixer.
"I said, 'I want the biggest island you can give me.'"
— Trisha Taussig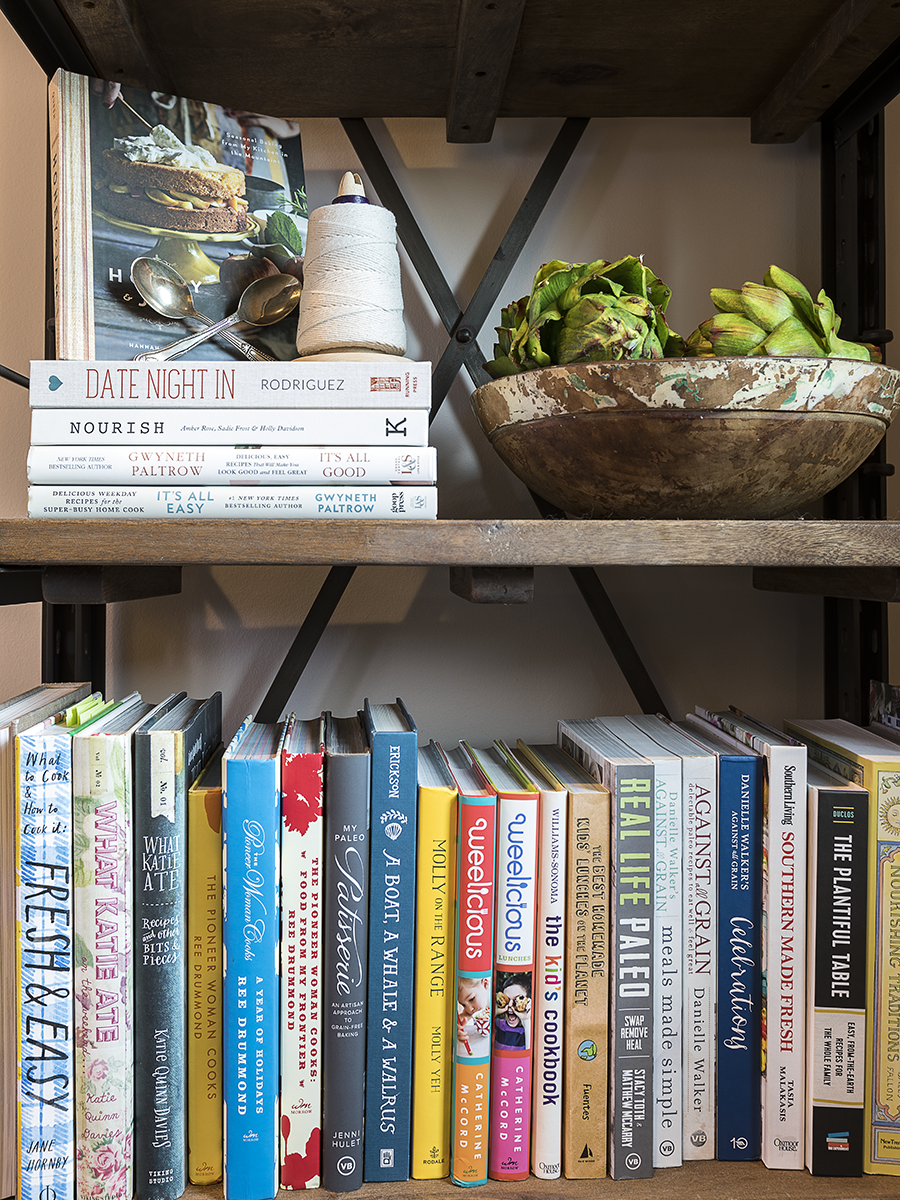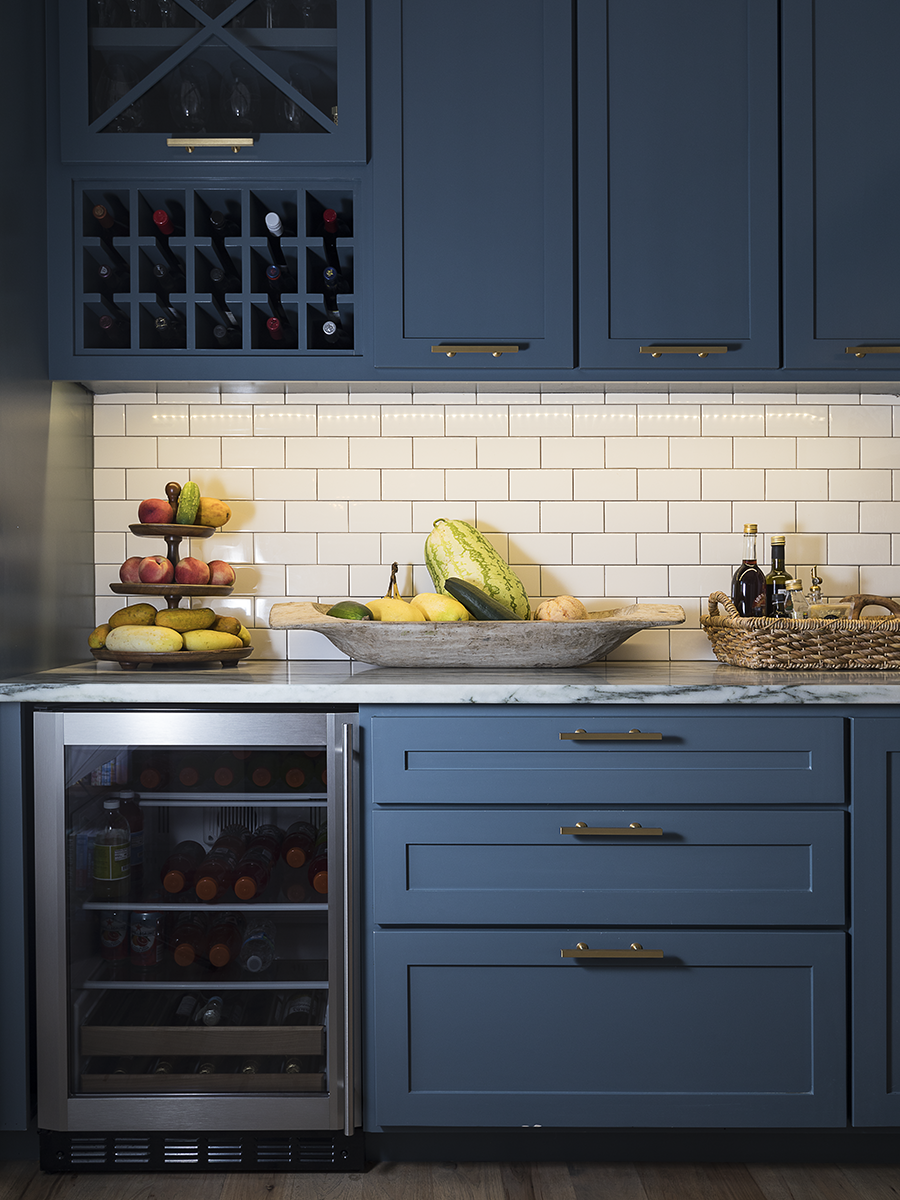 (Left) BOOKS ON DISPLAY: Trisha's cookbooks are arranged on shelving in the pantry adjacent to the kitchen. (Right) A CUSTOM-DESIGNED PANTRY: The home's pantry sits adjacent to the kitchen and houses plenty of additional storage. The cabinetry is painted the same slate blue color as the kitchen's island, and in it the Taussigs tuck away snacks and various dry goods. The room also features a beverage fridge and additional countertop space.

The Nesbitt Kitchen
When Michael Nesbitt and Andrea Deckard purchased their five-bedroom, three-and-a-half-bathroom home in east Springfield two years ago, they knew they had a lot of work ahead of them. "It had a great bone structure, but it was outdated," Deckard says. But for her, an interior designer, and Nesbitt, a general contractor, it was a welcome project. In search of an open, airy and bright kitchen with clean lines and a modern finish, the two got to work planning—then doing—to create the ideal space for their family of four. After removing two walls, reconfiguring other walls, adding more cabinetry and updating nearly all surfaces and appliances, they now have a space they love to call their own. "This is the room we live in," she says.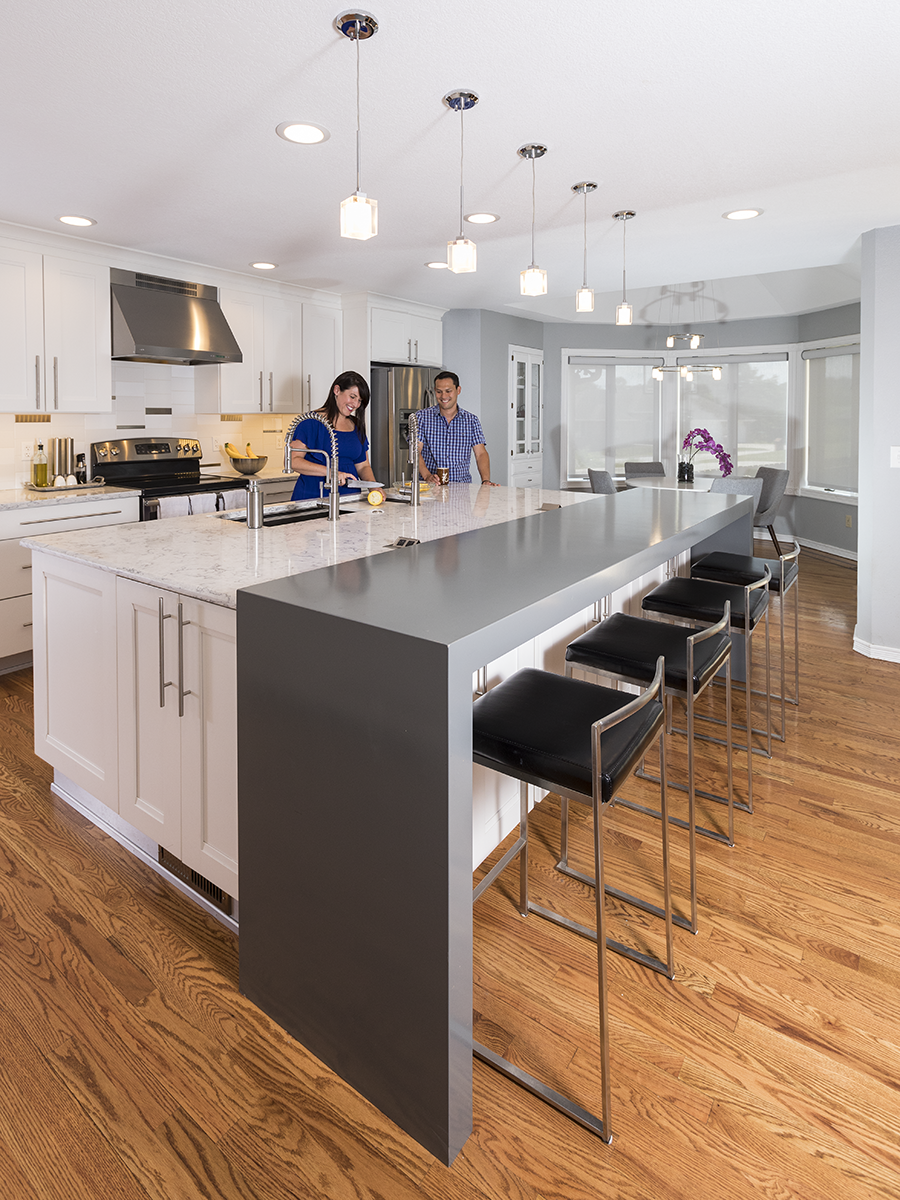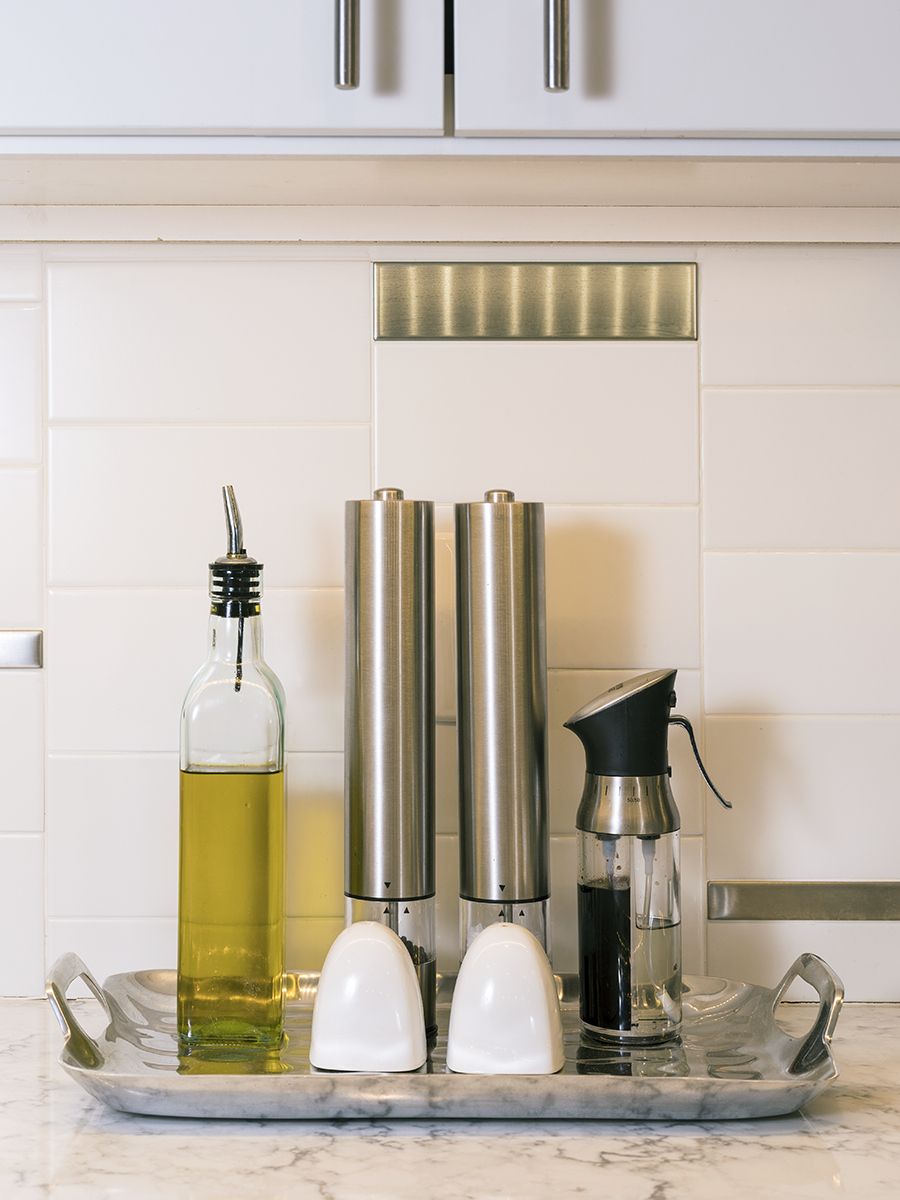 (Left) ROOM TO MOVE: Because the family often gathers in the kitchen, Andrea Deckard and Michael Nesbitt planned a space that allows for movement. (Right) KEEP IT SIMPLE: Only essentials are stored on the kitchen's countertops to keep with the room's clean and open feel.
Light, Bright and Airy
The kitchen's large island is outfitted with an oversized, custom-built sink, and quartz countertops add to the room's modern appeal. The home's original oak flooring shines thanks to a refinish, and new maple cabinetry was painted white and dressed with large-scale stainless hardware for a more dramatic finish. This hardware matches the appliances as well as the room's stainless toe kick—a fun feature the couple added to tie everything together. When they're not all gathering in the breakfast nook, Deckard's children—12-year-old Calvin and 8-year-old Abraham—can often be found eating a quick meal at the kitchen's custom-made bar. This piece was painted dark gray and stands out among the room's many light surfaces. "To me it was about how the space would feel," Deckard says. "I wanted it to feel open, airy and light."
"To me it was about how the space would feel. I wanted it to feel open, airy and light."
— Andrea Deckard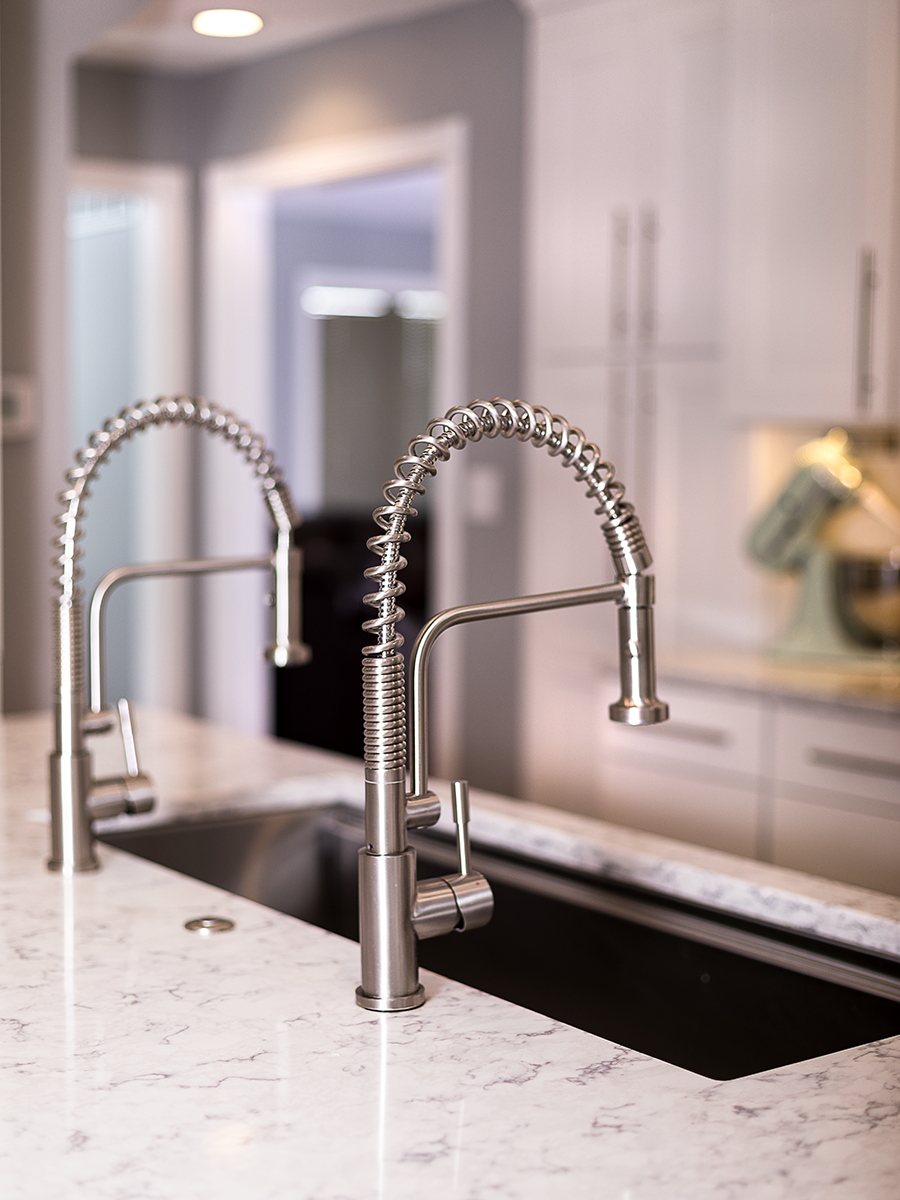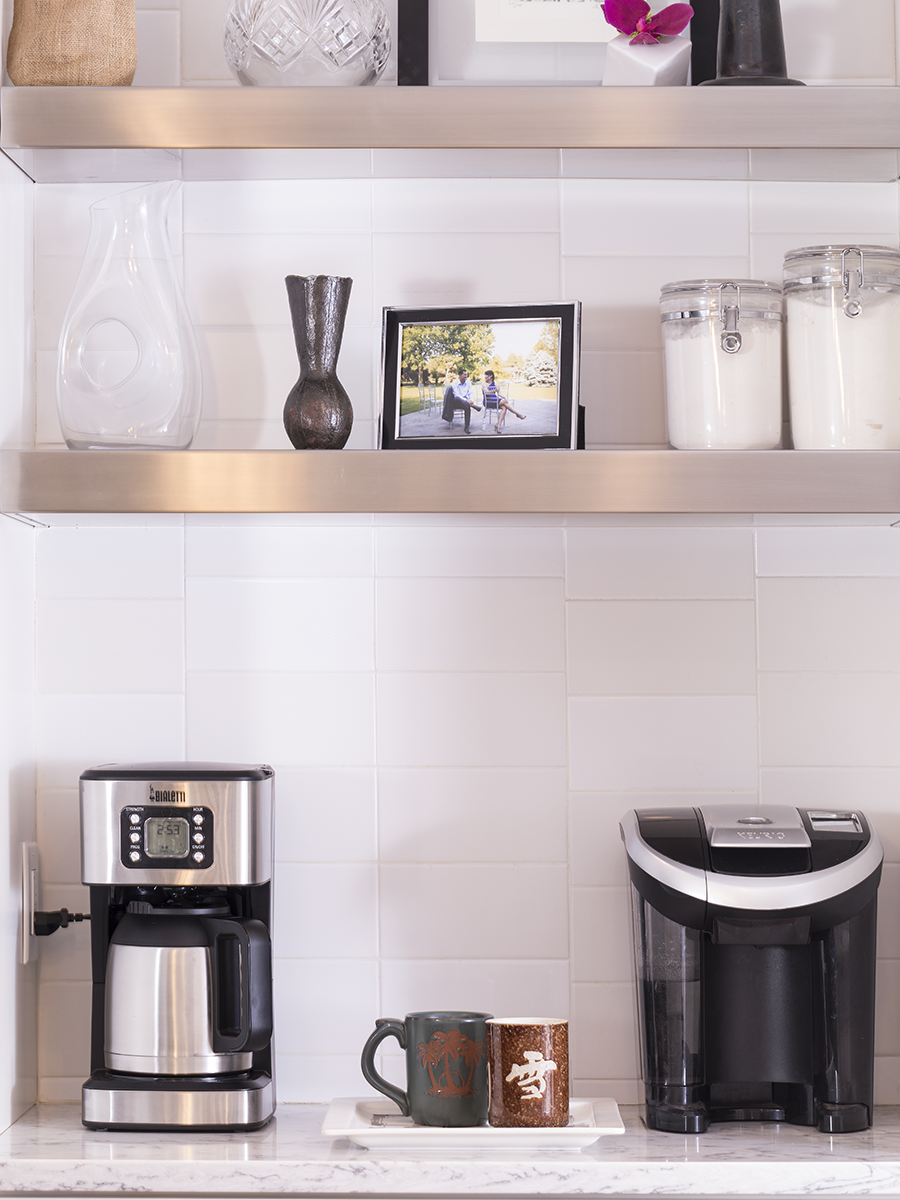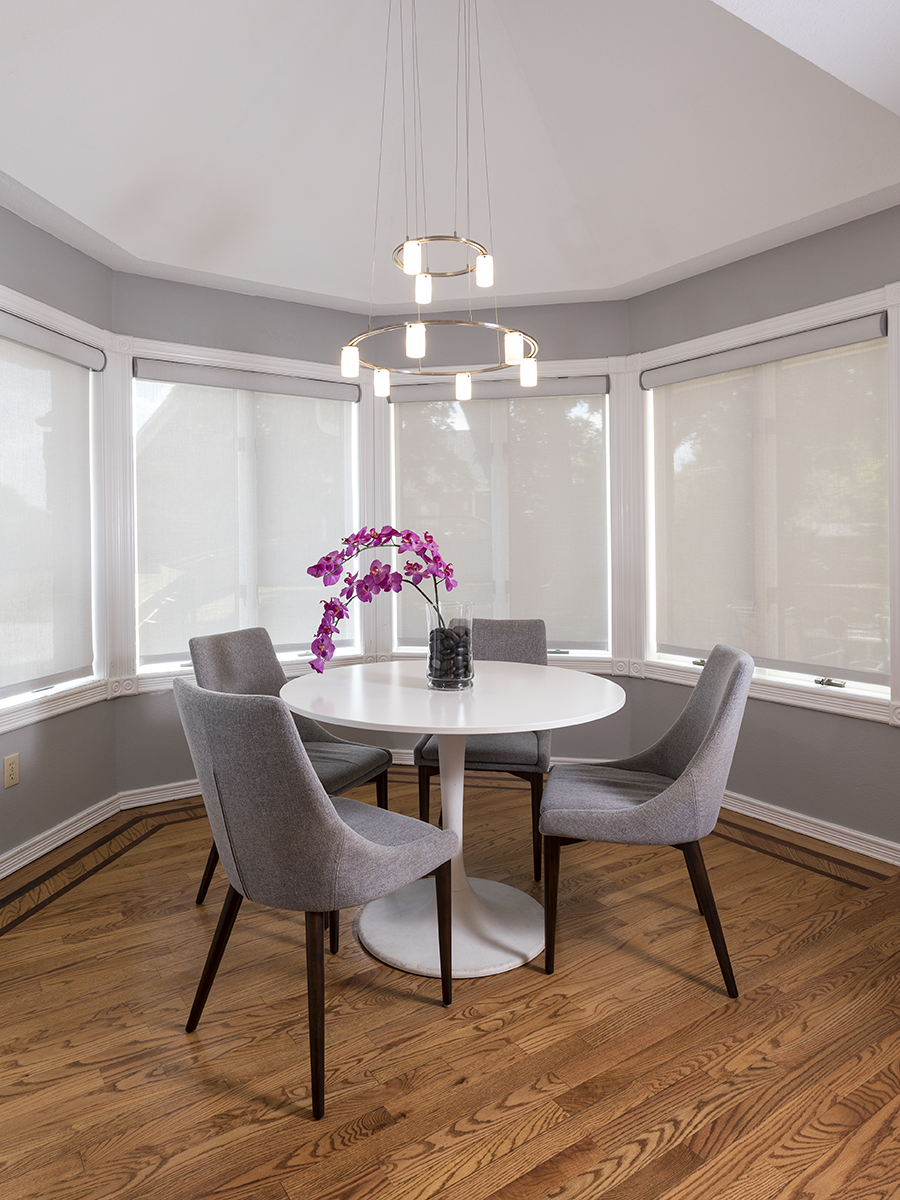 (Left) SINK SPACE: One of Deckard's favorite features is the kitchen's custom-designed, oversized sink. It has two faucets, which is great for the family: Deckard can use one faucet as a kiddo pops in to wash his hands. (Middle) COFFEE BAR : Stainless steel shelving adds edge to the kitchen's custom coffee bar. (Right) PARTY OF FOUR: A small breakfast nook sits just off the kitchen and provides the perfect spot for the family of four to enjoy a meal.

The Lear Kitchen
When it was time to downsize, Andy and Cindy Lear left Highland Springs and went home to Southern Hills. "I grew up at the top of this hill about two-tenths of a mile from here, and Cindy grew up down the street about four-tenths of a mile from here," Andy says. "I used to drive down this street every day to pick her up." Although the neighborhood comes with many old memories, the home itself boasts a brand-new look thanks to a full remodel. A well designed, functional kitchen is a highlight of the renovated space, and it perfectly fits the needs of Cindy, who makes most of the meals. "She does the cooking, and I do the eating," Andy says.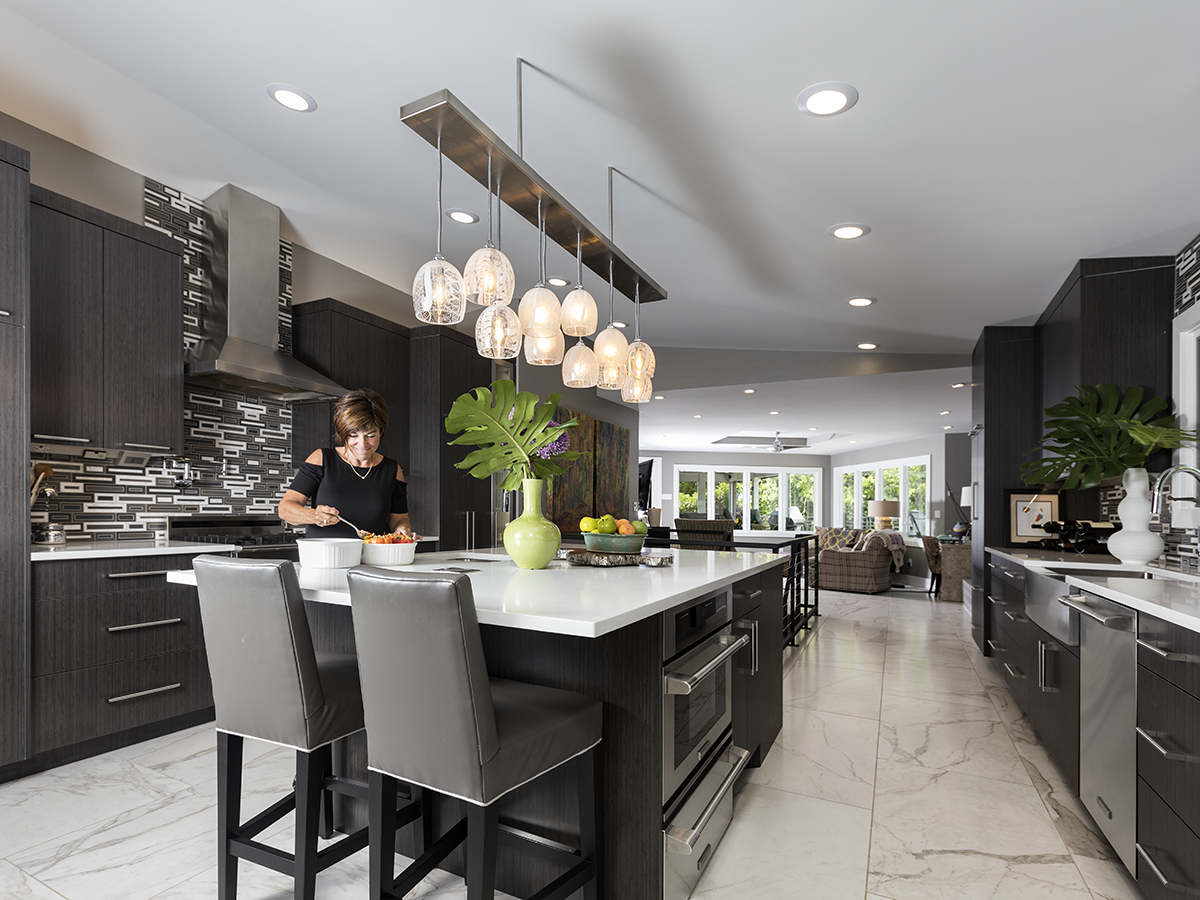 Form Meets Function
The Lears worked with interior designer Nathan Taylor of Obelisk Home to design the space, and the construction work was finished by builder Michael D. Smith. "They were key to helping us execute our vision," Andy says. This vision included a form-meets-function kitchen dressed with 24-by-48-inch porcelain tile, quartz countertops, a glass and marble mosaic tile backsplash and a custom light fixture created by Springfield Hot Glass. The island has a prep sink per Cindy's request, and the room's ample cabinetry provides her plenty of room for storage. Custom details like a pot filler, a lighted glass cabinet and pop-up electrical receptacles make the space a joy to use. "My favorite thing about it all is that it's very bright and open," Cindy says. 
"My favorite thing about it all is that it's very bright and open."
— Cindy Lear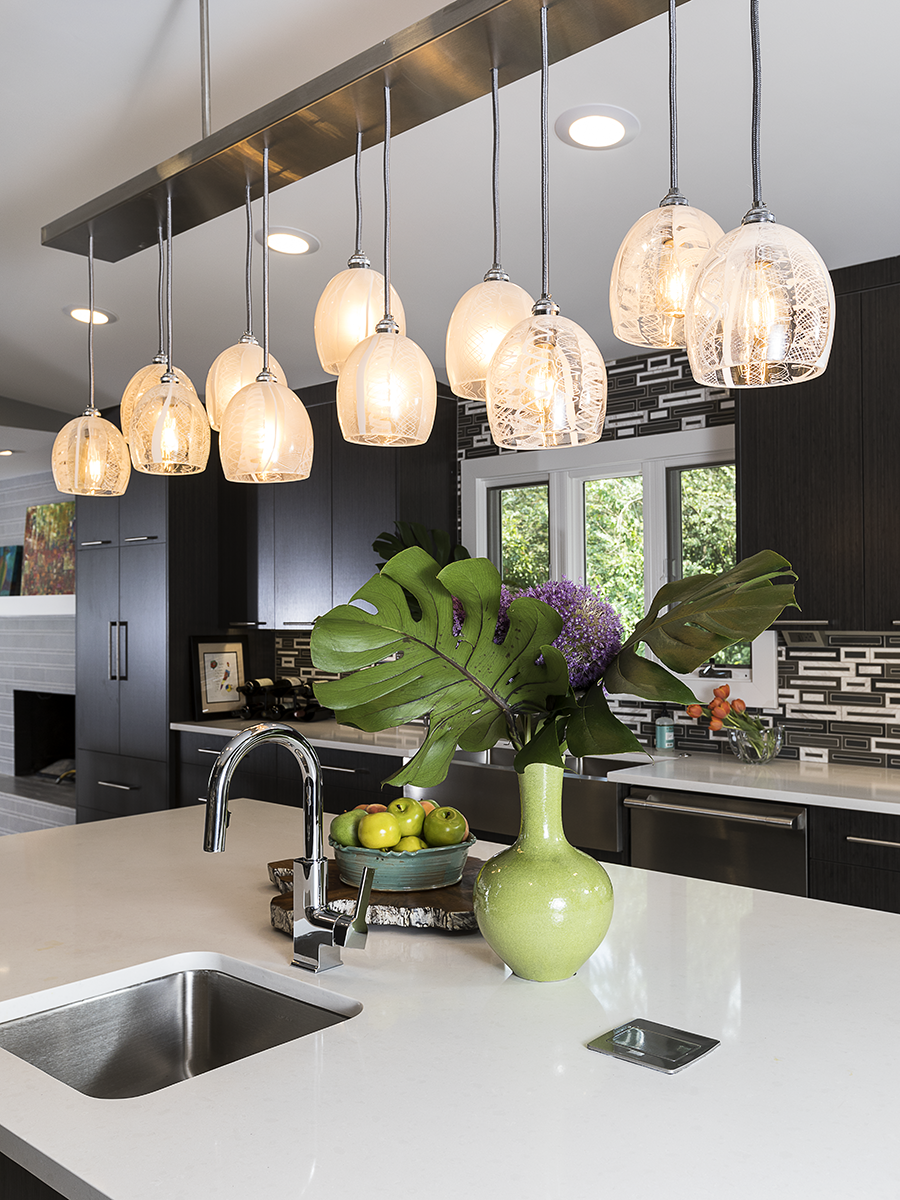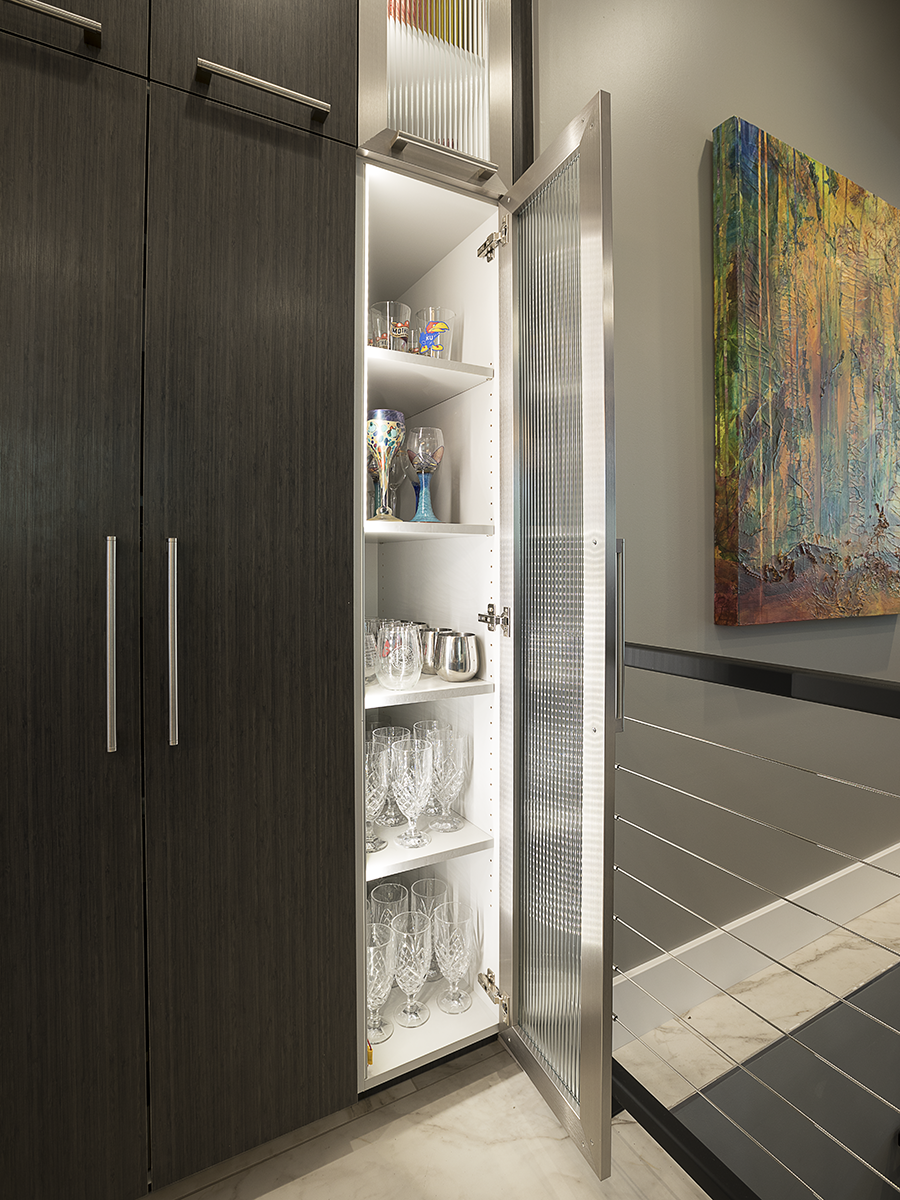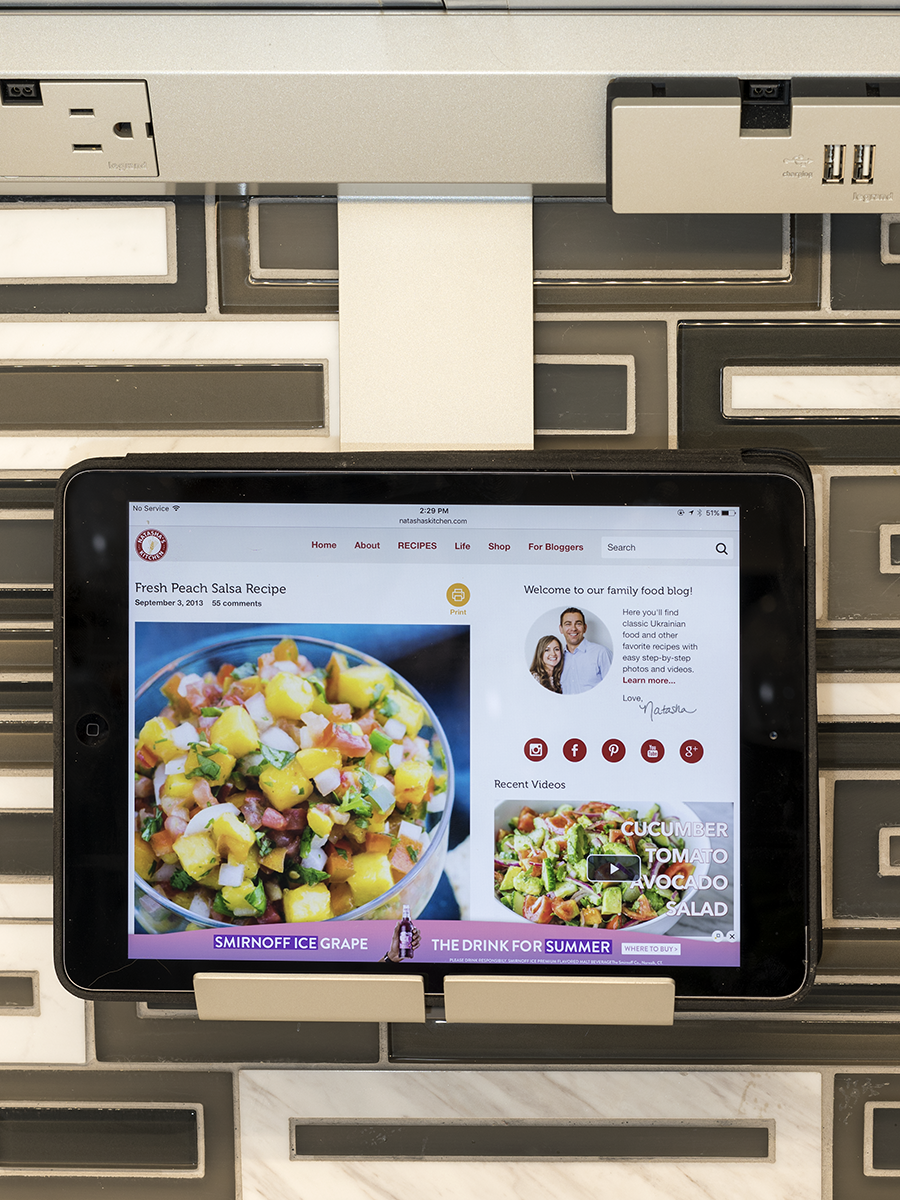 (Left) POP UP POWER: The kitchen's island has pop-up power outlets, which make plugging in appliances an easy task. (Middle) TUCKED AWAY: One of Andy's few requests was lit shelving to display glassware. The tall cabinet sits at the edge of the room. (Right) HIDDEN GEMS: Additional power outlets and custom stainless shelving were designed into a hidden-away strip that runs along the wall underneath the cabinetry. The shelving comes in handy when Cindy pulls up recipes on her iPad.