Designers
This Bathroom is Bursting with Color
This half-bath's redesign gives guests a colorful surprise.
By Hailey Jo Hopkins
Sep 2018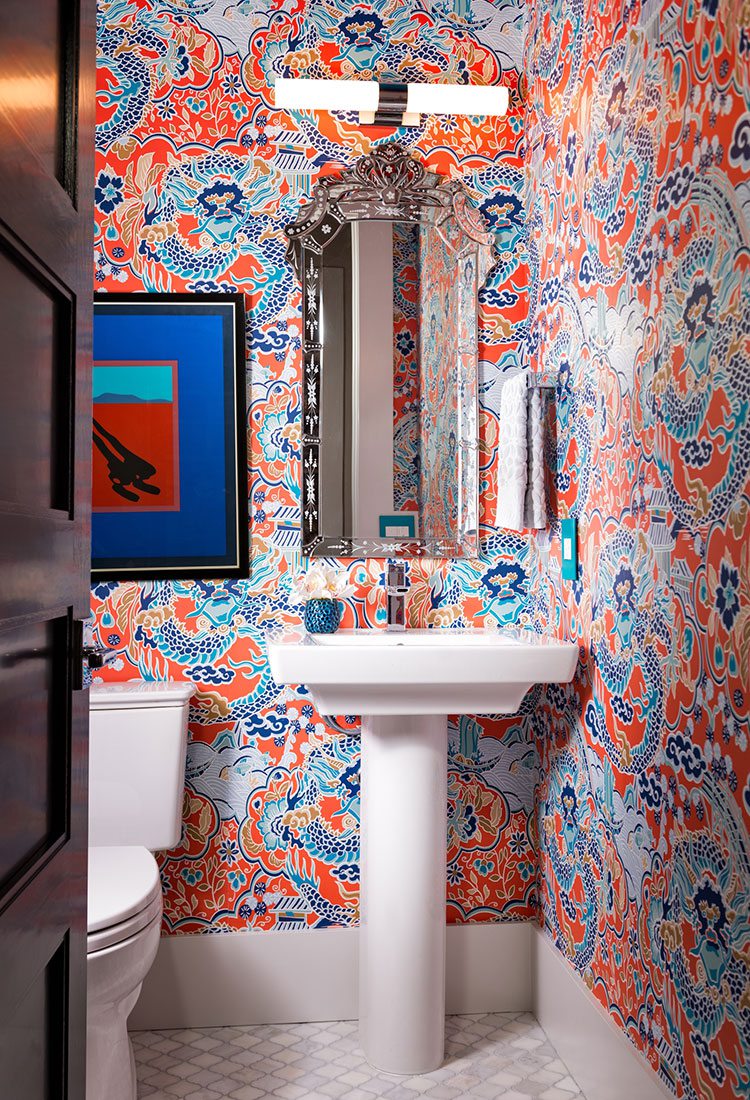 Sometimes, a home needs a bright spot of hidden color, and that is what Nathan Taylor at Obelisk Home decided to give this original half-bath. The walls of the redesigned bath are decorated with a traditional arabesque–patterned wallpaper, giving the home a bold new color palette to work with. When thinking of the new design for the bath, Taylor considered the homeowners' specific love for traditional elements. The vibrant patterns on the wall pair with the white marble floors, giving the entire space an immaculate look. Taylor and his team also reused some elements the homeowners already had. The Venetian mirror came from a previous home, and the art piece used to hang in a personal office. Both items add to the contemporary and traditional elements. The bath complements an adjacent dish pantry decorated with similar colors. With a large-scale door, the small half-bath blends seamlessly into the background, until the door is opened and the bright colors inside are revealed. 
Quick Tips for a Fresh Redesign  
Hire a designer. A bath can be tricky and requires someone who has the right expertise. Employing a designer for a bathroom is the same as finding a builder or plumber, so make sure to do your research.

Try to make your powder room or half-bathroom a statement room. Focus on classic lines, nickel hardware and dramatic tile. Or, have fun with it and go with a bright wallpaper.


---

Bath 
Resources
Wall Coverings, Tile and Light Fixtures
Obelisk Home
214 W. Phelps St., Springfield
417-616-6488
Plumbing Fixtures
Harry Cooper Supply
605 N. Sherman Parkway, Springfield
417-875-7347