Retailers
Springfield Mercantile Co. Focuses on Clean Living Products
With Commercial Street's Springfield Mercantile Co., Molly Brown is helping shoppers fill their homes with eco-friendly, high-quality goods.
By Claire Porter
Sep 2018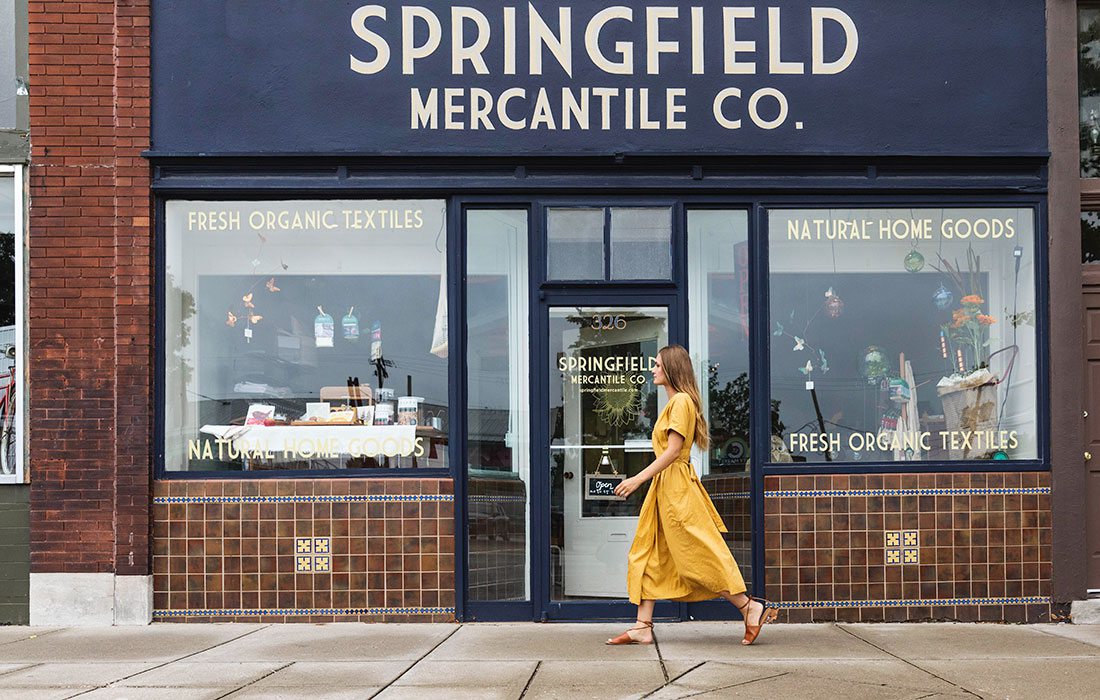 Molly Brown has an entrepreneurial spirit that's been gnawing at her for her whole life. With Springfield Mercantile Co., she is putting into action her latest idea: a natural home general store for people who want to live a more natural, minimal, and sustainable lifestyle. 
The C-Street shop has a Maker Studio in the back room with sewing and quilting machines for hand-crafting practical soft goods from natural materials. "It was important to me to have that element of manufacturing on-site," she says. "We love the zero-waste aspect of producing right here and selling locally. It supports the sustainability mind-set and [there's] that sense of connection of making something yourself." 
Brown is naturally curious and has had a lifelong love of textiles. Brown, who also owns Wild Birds Unlimited with her husband, Brooks, says Springfield Mercantile Co. is a chance to fulfill those creative and entrepreneurial aspects of her life. 
As a business owner, she has learned to go with the flow. "At first, I resisted being a gift shop until I realized how beautiful that is," she says. "It is very thoughtful. You're picking something for someone else. You're not keeping it for yourself; you're giving it away." That selfless spirit is also prevalent in the community Brown loves so much. "The sense of community in Springfield, the sense of belonging, is almost overwhelming," she says. "It's been like a hug, the way the community has embraced what we're trying to do here."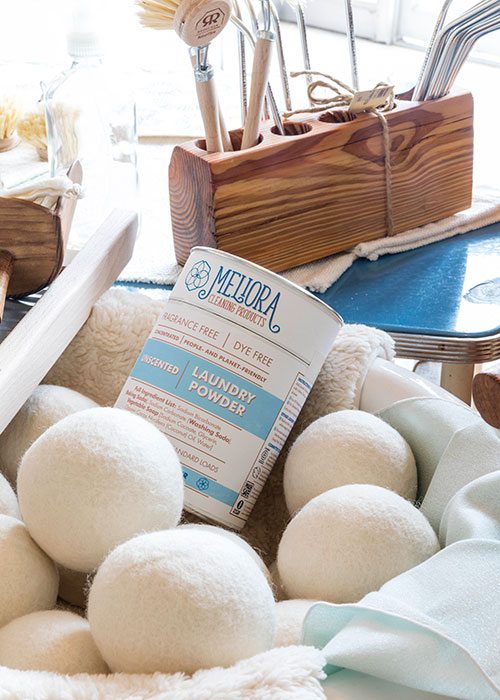 "It's more about stripping down than it is about adding things to your life," Brown says, which is why throughout the shop you'll find practical household items that harken to a simpler time.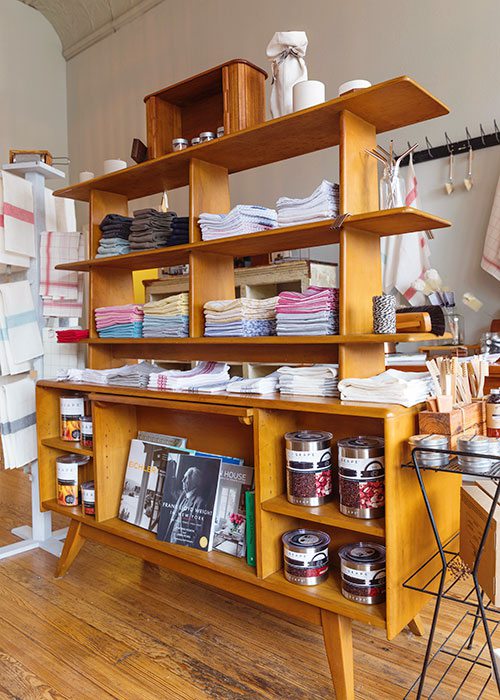 "I am in love with linen," Brown says. "It's an amazing textile. I feel like it is a magical fabric, and one of the first things I made and then sold were these little European laundered linen hand towels. It couldn't be simpler."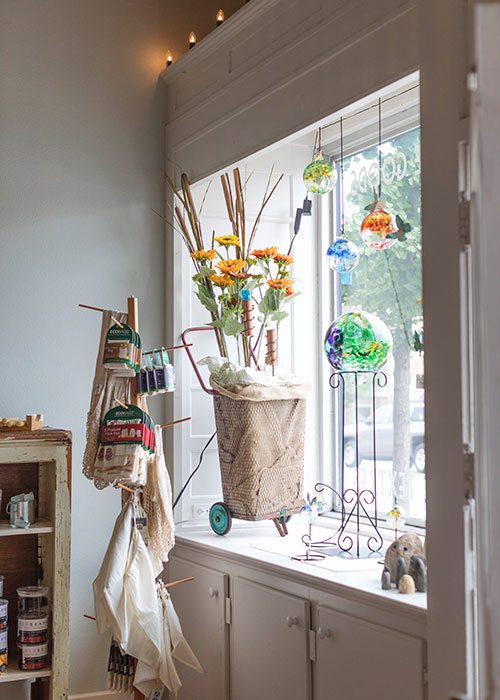 "Commercial Street is a destination," Brown says. "We really want to be destination-worthy, so I'm taking my time to try to get it right." And that extends all the way to the charming window displays.
Photso by Janae Hardy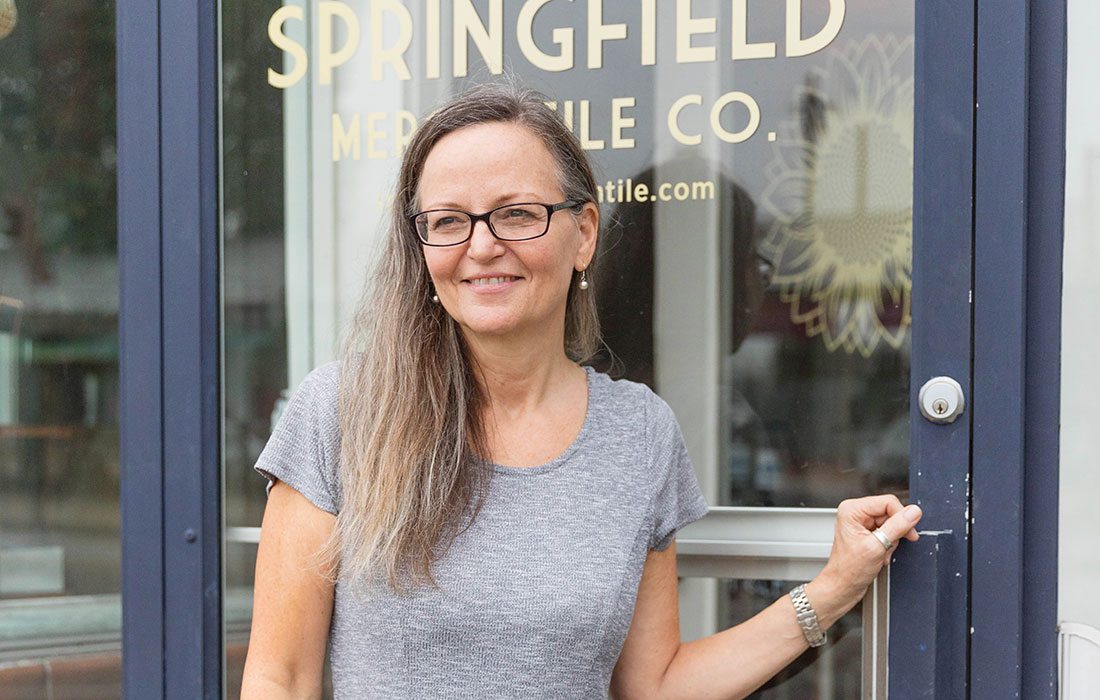 417 Home: When did you open Springfield Mercantile Co.? 
Molly Brown: I ran my first transaction in November [on] Black Friday. I just unlocked the door with what we had at the time. Even still, honestly, I feel like I haven't opened. It has been a slow process by design.
417 Home: How did you come about the idea for the store? 
M.B.: I've had ideas my whole life. I think when you're entrepreneurial in nature, you just have ideas constantly. My whole life I would get excited about an idea and then later, go, oh, someone is already doing that. But this one, it just keeps having legs, and now I really feel like in my mind, I know what I want to do. It's just more about executing the vision at this point. 
417 Home: What does that vision look like in terms of what you make and what you sell? 
M.B.: I'm a practical person by nature, so we're looking for things that are useful as well as beautiful and well-crafted. Things that are classic and timeless. We are staying away from things that are fads or prone to fashion sensitivity. We are looking for quality and a aesthetic strongly tied to nature. We are looking for brands that have been around forever and never compromised their quality. We are looking for local, small-batch artists making useful and beautiful household items. I'd love to make anything we can on-site as time goes by.
417 Home: What about your products draws people in? 
M.B.: People appreciate the blend of quality, craftsmanship, and aesthetic for some of the things. They can touch, feel and see the quality, you can talk to a person to find out why they're here, and that they have a story, they're well made, they have a purpose and when you use them, that quality and beauty makes some mundane task a more elevated experience.
417 Home: How do you evaluate if a product is the right fit for Springfield Mercantile Co.? 
M.B.: The way I look at things, first I look for quality and [if it's] aesthetically pleasing. It has to be those two things. The next three things it has to be are: effective, it has to be a value and it has to be convenient. Lastly, it has to be natural, eco-friendly, stuff like that. It's quite a checklist. 
417 Home: Why are those things important to you as a retailer? 
M.B.: It's hard to improve on nature. Things that are well-made and beautiful just make me happy. By observing and appreciating those qualities in something, I feel more connected. By using them, I feel like I get more out of life  by enjoying the little things more. I like having fewer things, but more things that I love. I have a long way to go, but I'm trying to simplify so I have more time in my life for the people I love As for the eco-friendly things, A lot is happening in the world and things can change fast. Young people are more conscious of the world around them. They want to make a difference. I think that some of what's happening when people come in, they feel empowered when they are able to contribute to something they feel strongly about. 
417 Home: What is the meaning behind the store's name?  
M.B.: I really wanted to build meaning into the name and meaning into the logo. It was very important to me. It was my way of giving myself all these fun things to look at and giving strength. My dad used to say, "Find something that gives you the energy necessary to do it." Springfield is where I live. I'm not from here, but it's my home. It evokes local pride. There's something about it to me that's very unique to where we are, but it's also sort of an anywhere everywhere place. Mercantile to me is an homage to an old, almost nostalgic way of doing commerce. A lot has changed in commerce just in the last 10 years.