Retailers
Shop Talk: James Decór
Exclusive lines of furniture and accessories are scattered throughout James Décor's massive 15,000-square-foot showroom.
By Savannah Waszczuk
Mar 2011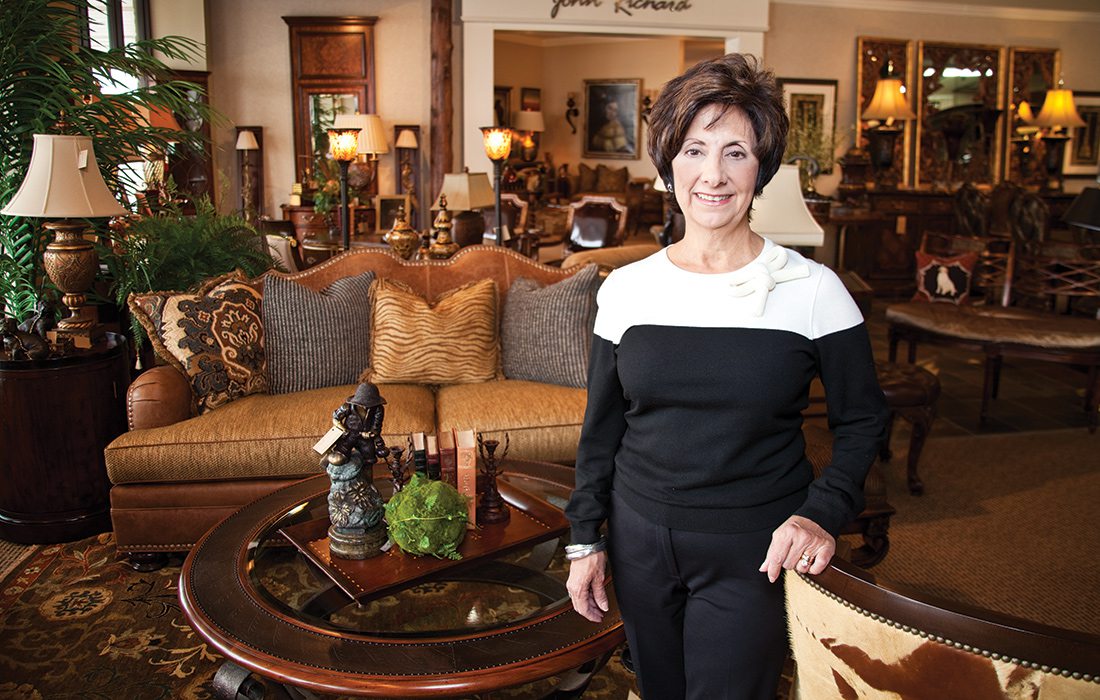 The Store
James Décor, 1324 E. Republic Rd., Springfield, 417-883-2616, jameshomedecor.com, Open Mon.–Fri., 9 a.m.–5:30 p.m. and Sat., 10 a.m.–5 p.m.
The Setting
The first thing I noticed when I walked into James Décor on East Republic Road was the space's size. It's huge. The 15,000-square-foot shop has a massive showroom for furniture, lamps, accessories and artwork. And it's all arranged in vignettes, so customers can visualize how an item could look in their home. As I walked around from display to display and room to room, I noticed a variety of styles of décor. There are some sofas and throw pillows that are definitely French country. I noticed a square-shaped lamp that looked very contemporary. And of course there are a variety of traditional pieces. Lee Haik, who owns the company with her husband, John, and is one of the spot's interior designers, greeted me and assisted me as I browsed the space. One of the spot's professional designers is always available to answer questions and assist customers while they're shopping.
The Staff
James Décor started as a paint and wallpaper business in downtown Springfield in 1946, and John and Lee Haik have owned the company since 1982. In 1998, John decided to develop property on Republic Road, which is when the shop moved to its current location. Lee is an interior designer, and she has several additional designers on staff. Joan Summers was among the first designers working at the store and has been working there for 24 years. In addition to Haik and Summers, designers include Sarah Rader, who has been there nine years, Phyllis Wilcox, who has been there six years, Maralee Cook, who has an abundance of interior design experience, and Sandra Quebbeman, who came to the company with 24 years of experience. "Our staff consists of highly trained professionals who take great pride in James Décor," Lee says.
The Stuff for Sale
As an exclusive dealer, James Décor has a large John-Richard gallery that includes the latest and greatest pieces the brand offers. The store also carries Maitland-Smith, Marge Carson and Theodore Alexander furniture and accessories. "We pride ourselves in offering lines that aren't found in other places," Haik says. The upstairs loft features an expansive collection of hanging fabrics and fabric books, including lines such as Hickory Chair, Henredon, Harden, Woodmark, Bernhardt, Robert Allen and Taylor King. The fabrics can be used to upholster furniture, make draperies and more. The store also features Feizy, Safavieh, Capel and Nourison area rugs, and Chelsea House and Castilian accessories. "We specialize in unique accessories that help keep our designs fresh and different," Haik says. James Décor also features a variety of original artwork, and a nice collection of framed prints and tapestries. "We have a broker who comes in several times a year and brings art from throughout Europe," Haik says. As a nice complement to the art, the store also offers custom framing.
The Summary
If you're designing your home, this store is definitely a store you don't want to miss. The designers are helpful, and the store has exclusive lines. James Décor also has many one-of-a-kind accessories that can easily give an old room a brand new look.