New in the Kitchen
The Everything Kitchens storefront in the Brentwood Center offers 417-land shoppers variety in the world of countertop kitchen appliances and cooking gadgets.
By Savannah Waszczuk Photos by Randy Colwell
Mar 2012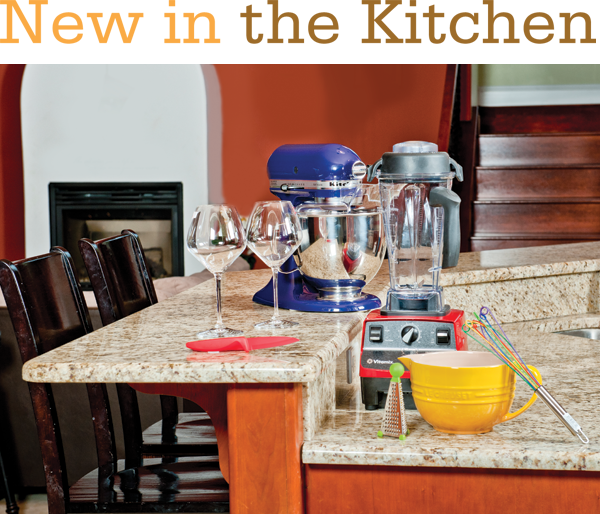 Kuhn Rikon Colori 8-inch paring knife, $7.99 | Luigi Bormioli martini duos, $19.99 | 5-Quart KitchenAid Artisan Stand Mixer in cobalt blue, $255.95 | VitaMix CIA Professional Series blender in ruby, $499 | Kuhn Rikon 10-inch rainbow silicone whisk, $11.99 | Le Creuset stoneware batter bowl in dijon yellow, $39.99
The Store
Everything Kitchens, LLC, 2750 S. Glenstone Ave., Springfield, 417-719-4243, everythingkitchens.com, open Mon.–Sat., 10 a.m.–7 p.m.
The Setting
Everything Kitchens is like a dream world for anyone who loves to cook. Shelves are loaded with everything from a variety of countertop appliances to small kitchen accessories. The associates are all well-educated and very helpful in providing product information for any guests with questions. And since the store is also associated with a website, everythingkitchens.com, the staff is able to find any additional product information in a matter of seconds.
The Staff
As the oldest of nine kids, Emily Church spent a lot of time in the kitchen growing up. "We made our own bread, butter, cheese, pies, ice cream," Church says. "We pretty much made everything." But she wasn't only making food at a young age. When she was 15, Church was also making soap. She sold the soap through her family's business website, and she also made a separate website to market dairy goats she raised. A few years later, her interest in cooking and her entrepreneurial spirit led her to build another website, everythingkitchens.com. It went live in 2002 when she was 20. She originally started the website so she could be a stay-at-home mom. "We started in my house, just doing drop-shipping," Church says. "But then I was getting so busy I started having to hire people." In 2004, Church had so much business that she had to get a warehouse. In October 2011, she opened a retail location in Springfield, and Church now has approximately 20 associates working for everythingkitchens.com and the Everything Kitchens store.
The Stuff
Everything Kitchens specializes in high-quality kitchen products. After walking in, the first thing to catch your eye will probably be the brightly colored KitchenAid mixers on display. Since the store is open in conjunction with the website, everythingkitchens.com, it has a lot of nontraditional mixer colors available, including bright orange and apple green. This is unlike most local big-box stores that tend to carry only the best-selling colors. And the prices are competitive. "We have a price match guarantee with store and online prices," Church says. "And if we can, we will beat it by $5." In addition to the KitchenAid mixers, which are a best-seller online, Everything Kitchens also sells a variety of countertop kitchen appliances, restaurant equipment, cookware, cutlery, flatware, dinnerware, glassware and gadgets. During the warmer months, Margaritaville frozen concoction makers sell well, as well as a variety of barbecue gadgets.
The Summary
Springfield has many stores that sell kitchen appliances and gadgets, but few really specialize in them. Everything Kitchens does, making it a much-appreciated addition to the Springfield shopping scene. We love the wide variety of high-quality products. And the fact that the store price-matches competing store and online prices is a perk. If you're looking for a new countertop appliance or even a small gift for your favorite at-home chef, you'll love this store.