Life in the Park
From well-manicured lawns to an annual Easter egg hunt, Springfield's Emerald Park neighborhood provides the Riedy family with beautiful scenery and plenty of family-friendly activities.
By Rachel Bonar | Photo by Kevin O'Riley
Mar 2013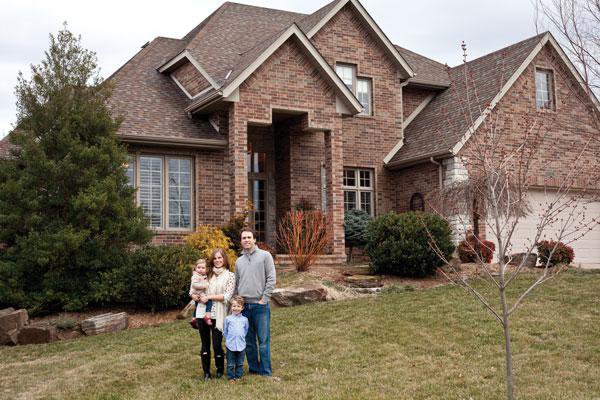 Tucked away on the eastern edge of Springfield, you'll find Emerald Park-—a quiet community filled with gorgeous homes and manicured lawns. The Riedy family has called this beautiful neighborhood home since 2010. The things that first caught the family's attention were that every house in Emerald Park had a swing set, and the area exuded a sense of security.
The neighborhood residents also like to think of themselves as a family. It is a family where Kristin and Brian Riedy and their two kids, 4-year-old Davis and 1-year-old Paige, fit in comfortably and plan on staying for several years to come—or at least until the kids graduate high school, Kristin says.
The neighbors are outgoing, and many of them have small children.  You can find them all out on the street on warm days playing and having a good time, Kristin says.
And Emerald Park even plays host to a little something extra. "We sometimes block off the end of our street and hold block parties," Brian says. "We've also had a Fourth of July parade where we decorate the kids' bikes," Kristin says. "And we have subdivision-sponsored events, like a yearly Easter egg hunt."
This giant family of a neighborhood, tucked away from the bustle and noise of Springfield, provides a great place to raise a family, and the residents have a good time doing it. The people of the neighborhood prove that they have the best to offer in 417–land. "The families, friends and kids definitely help set our neighborhood apart," Kristin says.