Off the Wall
From reused shipping containers to a new type of construction, 417-land builders prove there are several environmentally friendly options for constructing walls.
By Daniel Snyder | Photos by Kevin O'Riley, shutterstock
Mar 2013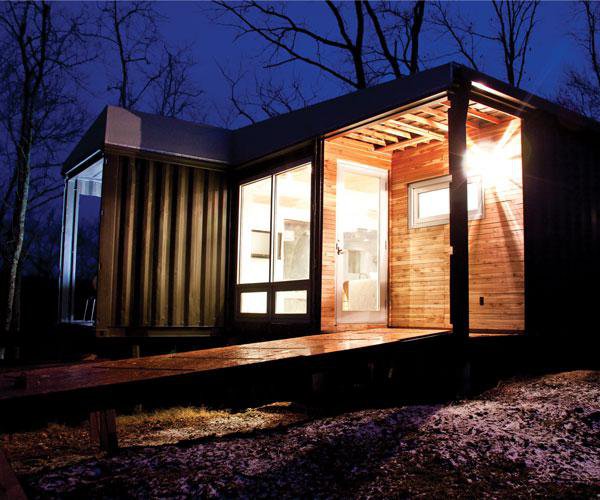 T oday, green building is about more than constructing a home with energy-efficient windows or solar panels. Builders are getting creative with materials used inside and out.
A great example of this creativity is Marti Montgomery's home, which sits outside of Rogersville. If you stumbled across her place, nestled in the woods overlooking the James River, you might think it looks like many other houses in 417-land. But if you look closely, you'll see this home is a little different. There are no ordinary wood-form walls here. A few years ago, and with the help of two ingenious builders and four used shipping containers, Montgomery built her home for less than $150,000.
Marti Montgomery's Rogersville home (pictured above and opposite) is constructed from four shipping containers (below), each measuring 8-feet-by-45-feet. The house is situated with two containers running parallel, another running parallel and jutted over a hill and the last perpendicular to the others
.
"I saw the idea on the internet when I was looking for an inexpensive house plan," Montgomery says. She then worked with architects Jason Mitchell and Michael Mardis of Workshop 308, a former design and build firm, to build her home. Mardis, who is now with Rhoads Construction and Design, worked with Mitchell to research the idea of shipping container homes, keeping the environmental impact in mind. "We tried to have as little impact as possible to the landscape," Mardis says. A big perk to using shipping containers: they're recycled. "There is a huge surplus of shipping containers in the United States," says Montgomery. "They are probably one of the most durable objects we have."
For Montgomery, this project was a perfect addition to the serene and tree-filled site. And it even cut down time on the construction process. In most construction projects, framing is one of the most time-consuming parts, but for Montgomery's house, framing was already done. "The biggest thing up front was getting sub-contractors to understand the idea," says Mardis. "Yes, it is a shipping container, but in the end it is going to be a house. " 
After living in her home for three years, Montgomery urges more people to build homes from shipping containers. "At first, it's hard to visualize what it would look like to live in a shipping container," she says.  "But it is just the perfect house."
Another way to lessen your carbon-footprint is to use Insulated Concrete Form (ICF) construction. Chris Souliere, owner of SRS Construction, says ICF provides another way to build concrete walls for homes. "The form is made out of a type of Styrofoam, and you brace it with a structure, either metal or wood, and you pour concrete into it," says Souliere. "After that, you take the brace away, and you have an extremely superior thermal-resistant wall.
ICF is a very energy-efficient way to build a home. "Also, you're not using any trees to create it, except for the brace, which is re-used, and when it is done, there is nothing for termites to eat."
Adding to the list of benefits, ICF walls drastically reduce noise and have superior strength compared to regular wood walls when it comes to storm resistance. As for pricing, ICF buildings tend to increase the overall price seven to 10 percent, but despite this fact, ICF is catching on in southwest Missouri. "I really expect to see a lot more ICF in our area in the future," says Souliere.