Make it With Mushrooms
Get the scoop on growing mushrooms, then head to the kitchen to whip up some mushroom-packed recipes from The Food Channel and Chef George Mikkelsen from MaMa Jean's Natural Market.
By Ettie Berneking | Photos by Kevin O'Riley, courtesy the Food Channel
Mar 2015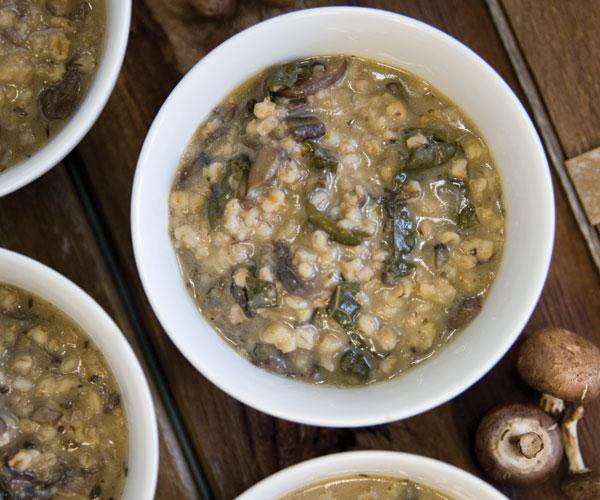 If you have a hankering to learn more about the wild life of mushrooms, talk with Bob Semyck of  Willow Mountain Mushrooms (417-712-3227, willowmountainmushrooms.com). Located in Tecumseh, Bob and his wife, Wendy, have been growing mushrooms since 2004. The couple has mastered the art of growing portobello, button, oyster, shiitake and cremini varieties, and they supply a handful of 417-land stores, restaurants and the Farmers Market of the Ozarks with bushels of their delicate crops.
If you ask Semyck the key to growing mushrooms, get ready for a lengthy explanation that dives deep into the growth of bacterial cultures, composting and pasteurization. But put simply, the key to growing mushrooms is patience. "Most people grow shiitakes on logs," Semyck says.  They cut the logs into a manageable length, and drill holes in a diamond pattern along the logs. Next, they plug the holes with spawn purchased from a spawn supplier, and then use wax to seal the holes. This is usually done in the fall after the leaves have fallen. After the initial inoculation, they start to see mushrooms in six to nine months and will harvest mushrooms for three to seven years. 
But back in Tecumseh, Semyck grows his mushrooms inside where he can closely monitor temperature and humidity. It's a lengthy process that starts with bales of wheat straw that are composted and broken down as bacteria starts to grow. "We're making mushroom food when we do this," Semyck says. The compost is then inoculated with mushroom cultures before Semyck brings down the temperatures and brings up the humidity. "Two weeks later, I'll pick my first mushroom," he says.
This method means Semyck can grow mushrooms year-round and keep shoppers stocked even in the peak of summer. Semyck sells the mushrooms and the leftover nutrient-rich compost at the Farmers Market of the Ozarks. So whether you're looking for tips on growing your own fungi, craving a forkful of tender cremini mushrooms or in need of great compost, be sure to stop by Willow Mountain Mushroom's booth and meet the mushroom-loving duo who have married their love of farming with their love of science. Once you purchase a bunch, prepare a mouthwatering meal with these recipes from the culinary pros at Springfield's The Food Channel and Chef George Mikkelsen from MaMa Jean's Natural Market.
Wild Mushroom Risotto
From The Food Channel
Ingredients:
¼ cup shallots, minced
2 tablespoons butter
2 tablespoons olive oil
4 cups assorted mushrooms
1 cup Arborio rice
1½ cups white wine
6 cups chicken broth
1 cup Parmesan cheese
¼ cup parsley, chopped
To Prepare:
In a large skillet, sauté the shallots in butter and oil until translucent. Stir in the mushrooms, and sauté until most of the liquid has cooked off. Pour in the rice, and stir slowly for about 1 minute so the rice gets toasted. Add in the wine, and stir until absorbed. Slowly add the chicken broth, and let the mixture simmer while you stir constantly to allow the liquid to absorb before adding more. This takes 15 to 20 minutes. When the rice is soft, stir in the Parmesan and chopped parsley.
Wild Mushroom Burgers
From The Food Channel
Ingredients:
8 tablespoons butter
6 portobello mushrooms, trimmed and sliced
1 pint shiitake mushrooms
2 pounds ground chuck 80/20
1 tablespoon Worcestershire burger seasoning 
8 slices Fontina cheese 
8 small ciabatta rolls, sliced, buttered and toasted
½ cup mayonnaise
To Prepare:
Working in three separate batches, melt 3 tablespoons of butter in a large heavy skillet, and pan roast each variety of mushroom  over medium heat as you shake the pan frequently until the mushrooms are golden brown and all moisture has evaporated. Transfer the mushrooms to a colander, and drain. Arrange the cooled mushrooms on paper towels, and press out any remaining moisture. Fine chop the mushrooms. In a large bowl, combine the ground beef and mushrooms. Form into eight patties, and season generously with Worcestershire seasoning. Chill briefly. In a large skillet, cook the burgers over medium heat for about 5 minutes on each side, or until fully cooked. Top each burger with a slice of cheese, and heat briefly to melt the cheese. Arrange the toasted ciabatta rolls on a flat working surface. Spread 1 tablespoon of mayonnaise the bottom bun, then top with a burger and any desired pickles or onions. Serve warm.
Mushroom Barley Soup
From Chef George Mikkelsen at MaMa Jean's Natural Market
Ingredients:
1 tablespoon sesame oil
1 medium yellow onion, chopped
4 ounces porcini mushrooms, sliced
4 ounces button mushrooms, sliced
4 ounces cremini mushrooms, sliced
1 tablespoon ground ginger
2½  cubes vegetable bouillon 
3 tablespoons Shinshu miso 
1â…" quarts water
1â…" cups barley
1â…" cups kale, chopped and stem removed 
To Prepare:
In a large pot, heat oil over medium heat. Add onion, cook until soft, about 4 minutes. Add all mushrooms and ginger, continue to cook until mushrooms have softened. Add vegetable cubes and miso, stir well and cook for 1 minute before adding water and barley. Bring to a boil, and then simmer for about 30 minutes, stirring every so often until barley softens. Stir in chopped kale, let sit for 3 to 4 minutes until kale has wilted. Check seasoning.
Get Cooking:
More uses for mushrooms
1. If you have an abundance of meaty portobello caps, scrape out the gills, then wrap the caps in foil with butter, salt, pepper and minced garlic. Grill the mushrooms caps for 15 minutes or until they're tender. Serve on a toasted brioche bun with Swiss cheese. 
2. For an easy way to enjoy cremini mushrooms, slice up a cup and sauté them in olive oil, garlic and dried thyme until the mushrooms are tender. Stir into a pot of cooked quinoa, and top with grated Parmesan, salt and pepper.
3. Since shiitake mushrooms are heartier and can stand up to heat for longer lengths of time, they are a great addition to stirfry and soup. Slice shiitake mushrooms, and remove stems. Sauté the caps with baby bok choy, olive oil and shallots. Serve over cooked rice with soy sauce.