Retailers
Green Gallery, Ozark
At Green Gallery in Ozark, a plethora of plants meet a wide world of quirky antiques, making it a fun spot to explore.
By Ettie Berneking | Photos by Abby Gust
Mar 2016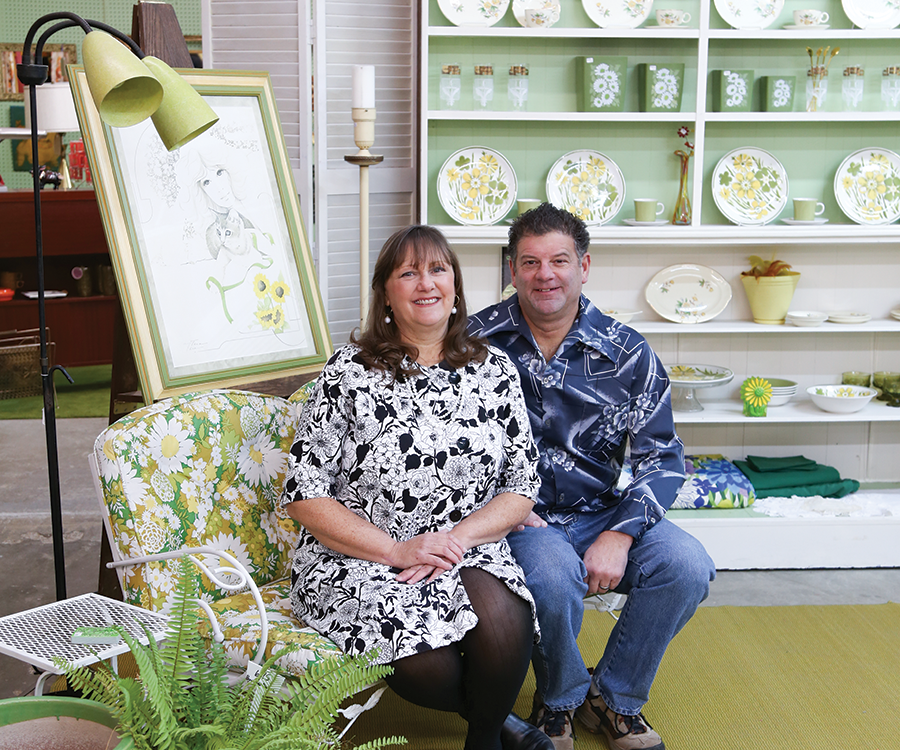 Green Gallery
6545 N. 21st St., Ozark, 417-581-0393, greengallery417.net 
Open: Mon.—Sat. 9 a.m.—6 p.m.; Sun. 1—4 p.m.


The Setting
For those who have driven south on U.S. 65 and had their attention snagged by a regularly changing, but always peculiar, display along the road near Ozark, you have Green Gallery to thank for the momentary distraction. Located in a cavernous warehouse on the outskirts of the city, Green Gallery is where antiques and plant life collide, and it usually happens in a delightfully obscure way. With a greenhouse in the back and ample warehouse space up front, Green Gallery houses a curated collection of plant life and home decor from the '40s and '50s. 
But instead of booths brimming with dusted-over collectables and family heirlooms, the store's floor space is crowded with vignettes showcasing expertly arranged living spaces. On a recent visit, one display featured an enormous antique butcher block held up on rusty wheels. The bone saw and a cleaver it was found with had been swapped for bottles of bourbon and crystal decanters, turning it into a bar cart. Across the way, a velvet couch snatched straight out of the '60s tempts shoppers to rest their feet and admire the knobby finials that adorn each arm. It's a regular time warp inside, which is exactly what owners Karen and Kevin Chapman are going for.


The Owners
"We're a weird morph," Karen says. "We're definitely a strange animal." So strange, the couple had to come up with a catchphrase to explain to shoppers exactly what Green Gallery is, which, simply put, is where nature and retro collide. Since opening along the highway in November of 2013, Kevin and Karen have been blending their respective loves of plant life and antiques, much to the amusement of shoppers. 
For years, Kevin and his family have owned Willow Green Gardens in Rogersville while Karen owned Funtiques, a Springfield antique shop dedicated to the decades between 1940 and 1970. In 2013, the couple moved into the 10,000-square-foot building along 65 and merged their two businesses. Just like that, Green Gallery was born.


 The Stuff for Sale
For the Chapmans, quality is key. "We're picky; we're really picky," Karen says. Attention to the condition and rareness of the items they stock is part of what makes strolling through Green Gallery enjoyable. You never know what you're going to find, and the truth is, neither do Karen and Kevin.
All around the warehouse, oversized lamps, tricked-out mannequins and industrial pipes stuffed with succulents or air plants dot side tables and bookshelves and even hang from the ceiling. With a customer base that ranges in age from 25 to 55, Green Gallery has to offer it all, but what sells best is always changing. Right now, industrial, mid-century and Danish modern are big, and so is rusty. But as Karen explains, there's good rusty, and then there's bad rusty. Bad rusty is falling apart, but if there are wheels or if the item is still functional, it qualifies as good rusty, like the giant patio umbrella that now hangs from the warehouse rafters. Shoppers can also find designer names here, including Herman Miller, Eames and, if you're lucky, Kroehler chairs. But the higher price points of these items mean the selection is limited. 


The Summary
Whether you're in the market for a fabulous vintage couch, in the process of upgrading your landscaping or even just in the mood to take a stroll through time, Green Gallery doesn't disappoint. From the wide year-round selection of air plants and succulents to the absurd Creeptiques room where all things creepy come to repose, the Chapmans' highway retro garden center has it all.