DIY
Add a Bold Paint Color to Your Front Door
Give your house an easy facelift this spring by adding some bold paint to your front door.
By Erin Gregory | Photo courtesy Kari Hamra
Mar 2017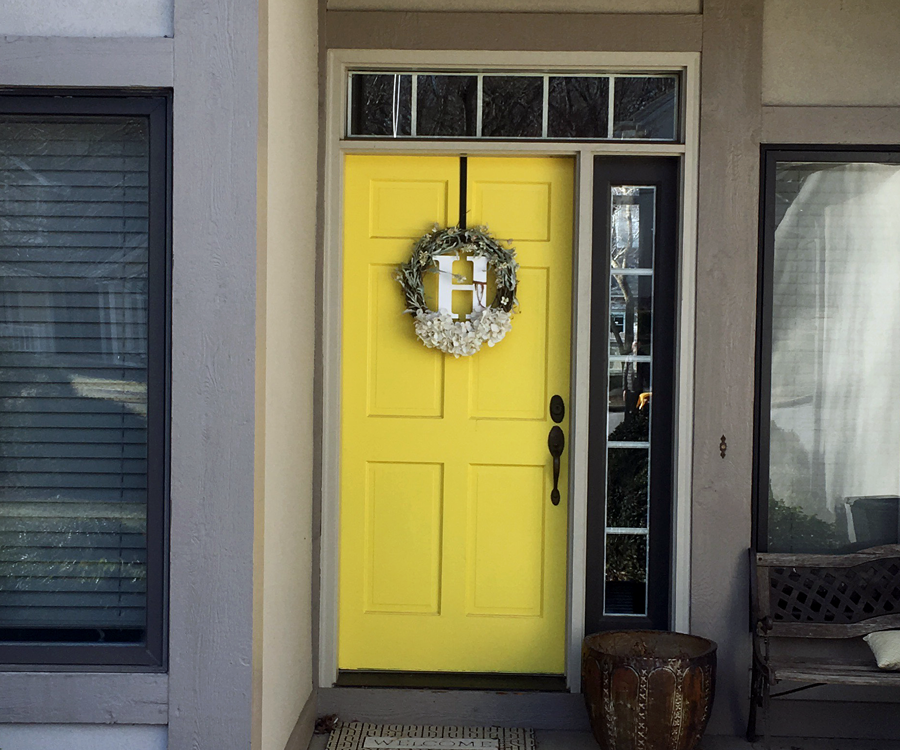 Spring is a busy time for homeowners. With the ever-so-popular spring clean and home renovations, the season brings about a certain sense of productivity as the warm weather comes around. One project you might be considering this year is painting your front door. 
Alison Rosebrough with Seminole Décor Center describes the front door as a home's focal point—it should be easy to find and enhance the color scheme of the whole house. 
When setting out to do a project of this type, it is important to do the research ahead of time and prep the door for paint in advance. This ensures a clean, smooth surface. 
We spoke with Springfieldian Kari Hamra, Internal Communications Manager at O'Reilly Auto Parts International, about her recent front door project and what readers should avoid and prepare for. "Be patient and prepared for lots of coats," Hamra says. "Remember to use primer. We picked an exterior paint color that had primer in it based on the recommendation of a paint specialist at Lowe's. We didn't remove our door when we painted it. I know that sounds silly, but it was summer and we just set up shop on our porch and would paint. The heat dried the paint nicely but wind was our worst enemy." 
"Like my husband John said, 'If you are going to go yellow, go all out!'" —Kari Hamra
Painting outside caused problems when the wind brought about dust and debris. Next time, they'd paint inside to avoid the added hassle. Hamra also suggests stripping the door first so the selected color is more true to what's expected. 
"The door was a very dark brown, and looking back now, it probably would have been smart to either strip the door of the dark color or paint it white so we didn't have to do so many coats," she says. "No joke, we probably did eight coats!" Contrary to Hamra's experience, one mistake homeowners can often make is limiting their paint job to one coat, Rosebrough stated. Two coats always look better, especially for a bright pop of color.
"If you want a pop of color, follow through with coordinating porch furniture or planters and flowers," Rosebrough says. "Be sure to complement light fixtures and hardware on the door as well." 
Hamra enjoys playful colors like bright greens, oranges and blues, but also the more muted softer hues like denim blue, mustard and moss. For her project, she decided on a canary yellow.
"Like my husband John said, 'If you are going to go yellow, go all out!'" she says. "I have always wanted a yellow door, so when we were house hunting I made sure that was something to keep in my mind. Luckily my husband was very supportive of this dream."
Although readers don't have to spend a fortune on paint for a satisfactory result, it is recommended that they do their research before jumping in with just any brand. The less-expensive brands often are a lower quality, but higher price doesn't guarantee higher quality. When it comes to products, Rosebrough suggests Benjamin Moore Aura Grand
Entrance for a higher-end paint. It is specially formulated for outdoor paint jobs. Moorgard & Moorglo is a top seller at Seminole and is a respected product at a more reasonable price.