Outdoor Spaces
Outdoor Spaces 2017
We toured three of the best outdoor living spaces in the area to gain inspiration and some tips and tricks about setting up our own backyard retreats.
By Rose Marthis | Photos by Terry Sweeney
Mar 2017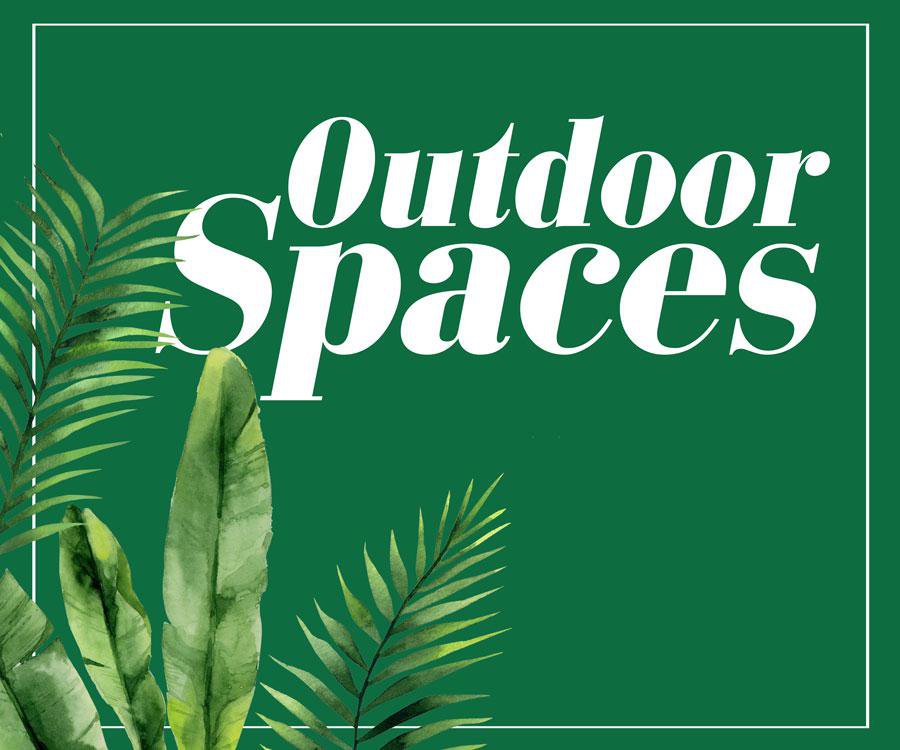 We all know there's something special about spring in 417-land. The warmer weather. The yards coming back to life. The allure of longer days that extend into warm nights. But the best part of spring is where you spend it, and if you're like us, you know it's tough to beat a spring day turning into a spring evening right in your own backyard. We're talking about outdoor living spaces, the second kitchens and living rooms that look over pools, courts and greenhouses that make you never want to go inside. We found three of the best in the area, and we took a tour hoping to gain inspiration and some tips and tricks about setting up our own backyard retreats. Join us on the next page—we'll be dreaming about where we want to spend our evenings this spring. 


Growing Old Together
Theresa Boness uses her greenhouse all year long. 


After Todd and Theresa Boness retired, they quickly discovered their hobby of keeping up their gardens was going to be a different kind of full-time job.
It's safe to say Todd and Theresa Boness have four green thumbs between them. Their 40 acres of land hold a vegetable garden; a flower garden; blackberry and raspberry patches; an orchard with cherry, peach, pear and apple trees; and a greenhouse to keep it going all year long. Todd is also a third-generation beekeeper. So for a couple who loves the outdoors so much, it's no surprise the backyard at their Ava home has just kept growing since the couple moved in in 2003.
The most recent development came last year, when the couple cleared two acres of timber to create a wildlife food plot, one acre of native wildflowers, plant the fruit tree orchard and increase their apiary (bee yard). This is also when they added a pool, something they never planned for but discovered was the perfect fit for their outdoor retreat—the addition is now one of their favorite spots. Another favorite spot is Theresa's greenhouse, where she takes care of plants year-round for a big plant sale she hosts in the spring. 
The seating areas, rock garden and rest of the yard are all tied together with art pieces made by Theresa and her son, Matt Grant. He painted the mural that acts as a statement for the under-deck seating area, and he and Theresa painted the ocean-themed mural along the rock garden together in 2005. There are also craft projects that Theresa has completed around the yard, including a bottle tree and a colorful picket fence. These projects are just more ways to keep busy, Theresa says, explaining that keeping up the yard and gardens was supposed to be a fun retirement activity and has turned into a time-consuming, but rewarding, full-time job.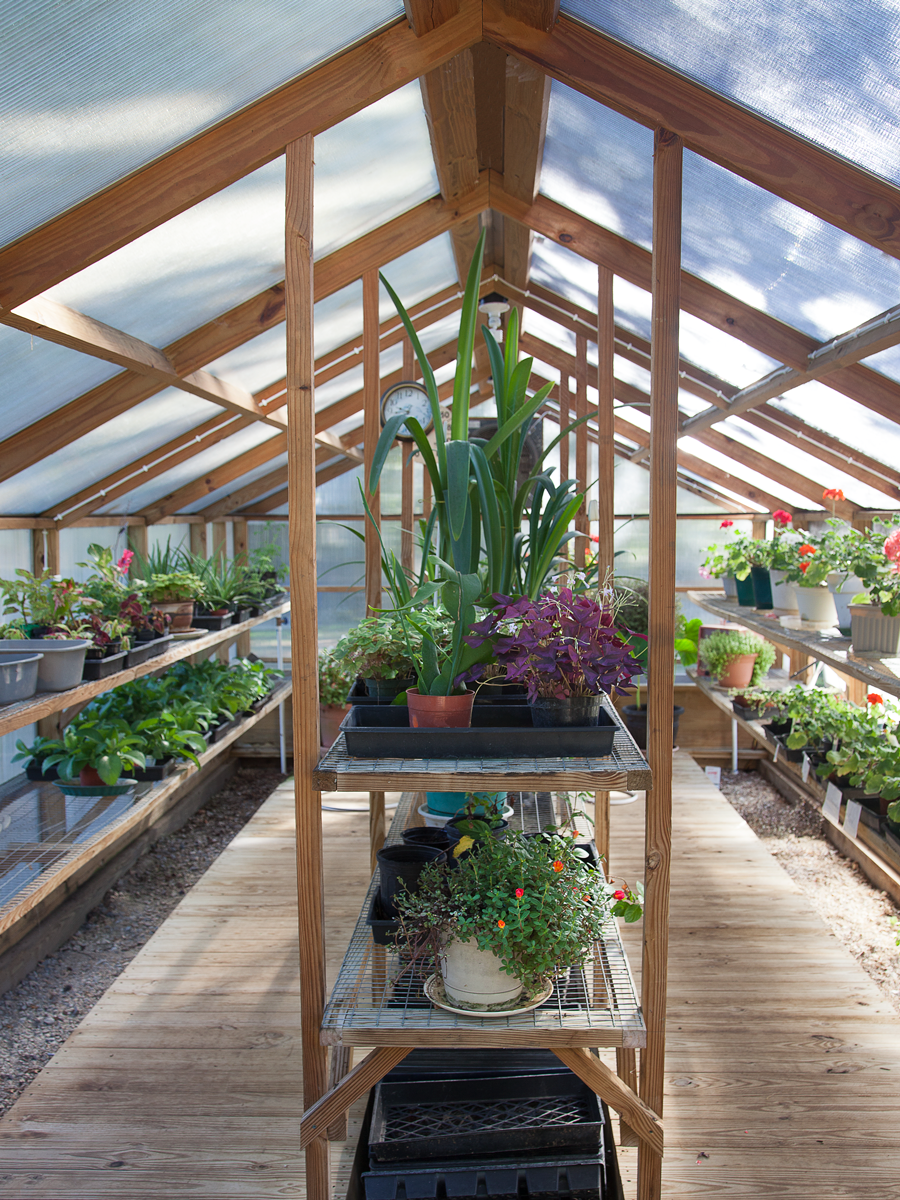 Greenhouse
Theresa's 12-foot-by-24-foot greenhouse is equipped with a thermostat, a fan and walkways that sit above gravel to help with water runoff. Theresa grows plants here all year long, including 12 color varieties of geraniums, before hosting a sale in the spring.


Arbor Garden
Todd built this metal arbor and the raised beds in about a week. The beds are home to flowers and vegetables, including tomatoes, potatoes, green peppers and sweet potatoes. When the hyacinth bean vine grows up and over the arbor it provides natural shade. 


Fire Pit Seating
The Boness's friends with young boys love to come over and roast marshmallows over the fire here. Theresa planted maiden grass to add another element around the spot.


Beekeeping
Todd is a third-generation beekeeper. He takes care of 10 hives with about 30,000 bees in each hive, totaling 300,000 bees he's responsible for. Some of the equipment and boxes he uses today are the same his grandfather used when he first started. 


Elephant Ears
Theresa has been growing this group of elephant ear plants to add a tropical vibe to their yard.


Sitting Pretty
The couple's cat, Roscoe, jumps in to help with yard work and keeps a careful watch over the raspberry plants.


Space for Lounging
The Boness's walkout basement leads to this outdoor lounging area where Theresa has planted seven varieties of canna lillies that she says change color every year. This year's pink and yellow blooms create a colorful space in addition to the chairs, loungers and painting along the back wall. Theresa's son, Matt Grant, is an artist in St. Louis and painted it for her birthday last year.


---

Resource Listings
Builder and Landscaper
Todd and Theresa Boness​
Lighting
CJ's Lawn & Landscape
417-882- 5296, cjslawnandlandscape.com
Pool and Concrete
Cummins Pool & Excavation
417-883-2899 
Furniture
At Home
3700 S. Campbell Ave., Springfield
417-885- 3822, athome.com
Audio
Todd Boness
Fire Pit
Mansfield Home Center
906 NW 12th Avenue, Ava
417-683- 3901, mansfieldhomecenters.com 
Irrigation
Todd Boness
An Outdoor Overhaul 
The tree by the seating area was already a permanent fixture in the yard, so the stone walls and other areas had to work within the existing space. Under the deck there is a door to the lower level of the house with a full kitchen inside, making carrying food in and out to the grill station a breeze. 


Dennis and Anne Heim turned the ho-hum backyard they had had for two decades into the ultimate outdoor oasis perfect for entertaining. 
After living in their Rogersville home for 25 years, Dennis and Anne Heim decided it was time for an upgrade. They had a large yard, but most of it was covered in woods, and the sloping hills made it hard to develop anything. The outdoor oasis seed was planted in the form of a small water feature and a pond, but the Heims wanted their yard to be more usable. They had the space, but nothing to do, so they were motivated to turn their yard into a destination for their friends and family to join them for relaxation and fun. 
The Heims put plans together for six months, gathering any information they could on what would be stylish and functional in the existing space they had. They worked with landscape architect Frank Zanaboni to get a vision of their yard's potential. The plans came together, construction lasted around a year, and the Heims completed their outdoor space makeover in January 2016. The couple loves to sit in the outdoor kitchen and living room and watch TV or listen to the waterfalls trickle into the pond. They use it for themselves as much as they do for friends and family, often practicing pickle ball on their court to prepare for when their daughters stop by for a game. During get-togethers, the couple likes the accessibility to the backyard from both the walkout basement and the main level of the house.
When it's calmer around the Heims' house, you can hear the water feature from any room. And no matter what the time of year, there's always wildlife to be seen with fish, birds and other critters making their home in the yard. Entering their 26th year there, the Heims are happy with the space they have created and recreated to keep having fun in their backyard.


Building the Dream
The Heims knew they wanted a pavilion and a fireplace in their renovation. They had the concepts designed and took them to Bill Heim, Dennis's cousin, for the construction. He built the pavilion, laying the groundwork for the ultimate outdoor living room.


Room for Everyone
The Heims' upper patio already existed, so when it was time to extend their outdoor space they designed a sunken dining area. The eight-top table was custom made by Tony and Tyler Bird, who also made a four-top table that matches for when the Heims need extended seating. 


Kick Back
The outdoor living room is one of Dennis's favorite places to kick back and watch a game. The pavilion gives the whole family even more space to entertain friends and family and enjoy the spring air while lounging. 


Water Feature
This is the first of two waterfalls on the property. The stream circles the edge of the patio and eventually lands in a waist-high wading pool perfect for cooling off. The water is safe, too—the Heims installed a bio-filter system so there are no chemicals used.


Pickleball Court
The pickleball court was something the Heims knew they wanted in their new outdoor space. They planned for the general area but needed to make sure it fit in cleared space that was far enough away from the seating area to avoid crowding. The Heims are always working on their game, regularly playing with a group of friends. 


Worth the Wait
The sunken dining and living room area took about six weeks to complete, with the stone floor taking the longest. The Heims found the perfect outdoor furniture at Maschino's to round out their new relaxation destination.


---

Resource Listings
Builder
Bill Heim, Heim Construction
417-861-6716
Designer
Rachel Barks Interiors
417-840- 5200
Landscape Architect
Frank Zanaboni, frankZdesign
417-849-3723, frankzdesign.com
Landscaper
Steve Greaves, Greaves Creative Landscape
417-766-7705
Landscape Plants
Garden Adventures Nursery
1900 W. Mt. Vernon St., Nixa
417-725- 3223, gardenadventuresnixa.com
Lighting Fixtures
The Light House Gallery
4113 S. National Ave., Springfield
417-889- 1088, thelighthousegallery.com 
Pool
Cliff Fitzwater, Fitz Water Design
417-880- 9051, fitzwaterdesign.com
Masonry
Mike Sutherland, Sutherland Masonry
417-342-1105 
Excavator
Bryan McDaniel, McDaniel Excavating
417-299-3225
Furniture
Outdoor Rooms by Design
11966 State Highway 13, Kimberling City
417-739- 1019, outdoorrooms.net 
Maschino's
1715 S. Campbell Ave., Springfield
417-869- 1513, maschinos.com 
Granite
Custom Granite and Tile
1445 W. Chestnut Expressway, Springfield
417-864- 0999, customgraniteandtile.com 
Grill station
Meek's
Multiple 417-land locations; meeks.com
Custom Teak Table
Tony and Tyler Bird, T Squared Woodworking, LLC
417-241-0645 
Electric
Dave Steinert, Steinert Electric
417-886-3157 
Pickleball Court
Gerald Perry Tennis Company
417-865- 5965, gptennis.com
Entertaining on the Ranch
The Seevers like to host dinner parties in their screened-in patio. Advanced Welding created the custom railing made to look like tree branches, which helps bring the rustic indoor design to this extension of their home.


Hank and Kim Seevers created the ultimate outdoor area for relaxing with family and friends.
Tucked away along a winding road in eastern Christian County is Valley Creek Ranch, a 220-acre horse ranch owned by Hank and Kim Seevers. Hank is also the owner of Gold Mountain Communications based in Springfield, but out here, the mountain of work gives way to rolling Ozark hills and the Seevers' dream retreat they built right in their own backyard. 
Hank and Kim had saved up ideas and plans for almost four years before starting construction, and the entire home took two years to complete before the Seevers moved in on Memorial Day weekend in 2016. The couple knew they wanted a pool and a patio, a screened-in veranda, outdoor fireplaces, an outdoor kitchen and sound systems and seating areas for entertaining. 
Some of the other features came later in the process, like the hot tub area off their master bedroom and the outdoor stairs that lead to the sand volleyball court. They worked with Joan and Greg Nutting with Maschino's to make the space come to life and tie it together with outdoor furniture and decor. 
Kim's favorite spot is the veranda where she and Hank enjoy morning coffee and evening drinks. Hank favors the outdoor kitchen and the views of the valleys and hills he can see while he's relaxing outside. The couple says they found themselves using the outdoor fireplace more than they anticipated, keeping it lit for chilly nights all the way through November. Their kids also use the space to hang out with their friends around the outdoor TV. The Seevers put all their entertaining space to good use this past summer, having people over to enjoy food and drinks from the outdoor bar and grill. And after three seasons spent in their new retreat, Hank and Kim are ready to welcome spring and celebrate one year on their ranch.


Sitting Area
The Seeverses get views of the pool and the valleys in this easy resting spot.


Around the Fire
When designing this outdoor living space, the Seeverses worked with Nutting to achieve the neutrals and burnt orange color scheme. Lakeside Stone in Branson helped create the fireplace using the same stone in the indoor fireplace and on the exterior of the home. Living on the ranch, the Seeverses have a love of horses, of course, inspiring the two figurines they placed on the mantel.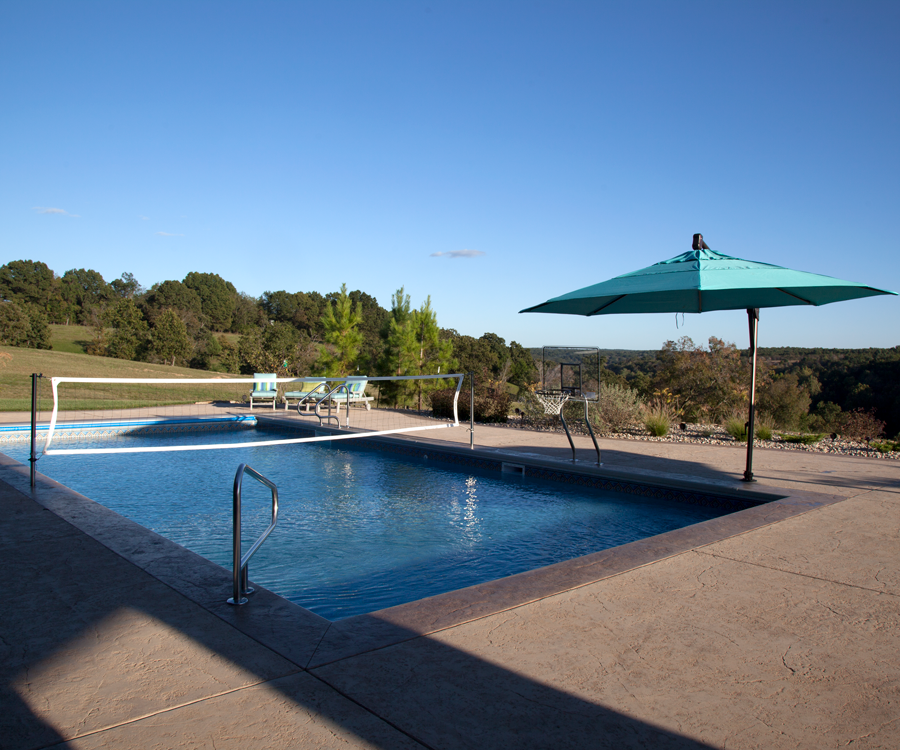 Water Sports
The Seevers children and their friends love to play water volleyball and basketball in the pool. With no trees around to provide natural shade, Hank knew he needed to install an articulating umbrella to provide protection on those sunny days. 


Lounging Around
Just off the outdoor kitchen is another seating area made to match the pool design. Another umbrella helps shade loungers from getting too much of a tan. Beyond the seating area is landscaping done by Yoder Lawn.


Bar Station
The Seeverses' guests stay entertained while hanging out in the outdoor kitchen thanks to the flat screen and at-home bar complete with a mini fridge.


Dining Central 
Outdoor dining was a big focus for the Seeverses when they were building their home. Natural limestone countertops came from a local quarry and complete the kitchen island. The area is perfect for entertaining and provides the most popular hangout spot for the family, with details that make it easy to spend hours here like a built-in trash shoot, ice maker and outlets in the counter. 


Nighttime Views 
Past the outdoor kitchen are more seats around an outdoor fire pit, which are the perfect place to take in the 220 acres of rolling hills before the sun goes down and to gaze up to the stars after it sets. 


---
 

Resource Listings
Builder
Woodstone Builders
2131 State Highway 265, Branson
417-581-5494, woodstonebuilders.com 
Landscaping and Irrigation
Yoder Lawn
417-844-6987, yoderlawn.com 
Excavation and Retaining Wall
Pomeroy Construction Technologies
417-840-0158
Lighting
Skywire Electrical Systems
417-300-9806, skywirenow.com 
Pool
Buster Crabbe Pools, Inc.
417-725-7665, bustercrabbepools.com 
Limestone Countertops
Phenix Marble Company
431 S. Jefferson Ave., Ste. 250, Springfield
417-840-2281, phenixmarble.com 
Furniture, Appliances and Fire Pit
Maschino's
1715 S. Campbell Ave., Springfield
417-869-1513, maschinos.com 
Audio and Television
rAVe Design Services
3200 N. State Highway NN, Ozark
417-447-3344, ravedesignservices.com
---

Stylish Spaces
Local designers share this year's trends and tips for outdoor spaces so you can make yours a spot you'll love to be in all season long.
ADD CLIMBING PLANTS
Climbing plants can create a bit of visual privacy, especially in urban, or close-set, housing situations. Think trellises reimagined to have a more modern feel, with climbing plants (often that bloom) to create shade, give privacy and surround your little outdoor oasis in nature.
—Andrea Deckard, with A. Deckard Interiors
INVEST IN A RUG
​Put down a beautiful outdoor area rug. There are so many amazing choices that are durable, cost-effective and stunning! We always put down an outdoor rug pad to minimize movement and protect the rug and deck/patio from mold and mildew. We are also seeing more outdoor pieces being used indoors.
—Heather Landolt, with Decorating Den Interiors
REFRESH YOUR SPACE
​Cleaning and power washing the space and furniture will do a lot! Replacing cushions and adding throw pillows to furniture can be fun and an easy way to change the look each season. Adding an outdoor rug will connect the space and is another way to add color. 
—Kim Wood, with Kim Wood Designs
---

Great Taste 
We asked the experts everything you need to know to have the ultimate outdoor kitchen.


1. Plan Enough Space
"Who is going to be doing the most grilling? Is this person right- or left-handed? Be sure to provide ample space on the side of that person's dominant hand for setting platters and for grill tools."—Joan Nutting, with Maschino's 
2. Use Strong Materials
"If you are tiling [outdoor floors], be sure you use porcelain tile as it will take our freeze/thaw cycle in southwest Missouri. Since there will possibly be water on the tile at times, be sure to get slip-resistant tile." —Melissa Turpin, with Unique Tile
3. Add Accessories
"If the kitchen is exposed to a lot of sunlight, designing an umbrella into the center of the eating area adds both shade and pizazz to your island. And extra utensils can be a great idea if you have an outdoor sink." —Joan Nutting 
4. Plan Ahead 
"First thing to consider is if the kitchen is covered or exposed. This will determine what products you can use. Pre-planning with a designer and a contractor saves you money and keeps you from making costly mistakes." —Melissa Turpin
5. Be Cautious 
"Consult with grill component experts when planning your island. There are designs out there that look great but would not necessarily pass manufacturers' recommendations, which could then void warranties."—Joan Nutting
6. Make it Last
"Powder-coated metals will stand the test of time and are better than less expensive painted metals. Use upholstered pieces with marine-grade cushions and outdoor fabrics that are soft to the touch." —Melissa Turpin