Featured Homes
Timeless Style for the Master Bathroom
Thanks to a neutral palette and elegant touches, this master bathroom can age gracefully.
By Ettie Berneking | Photo by Jeremy Mason McGraw
Mar 2017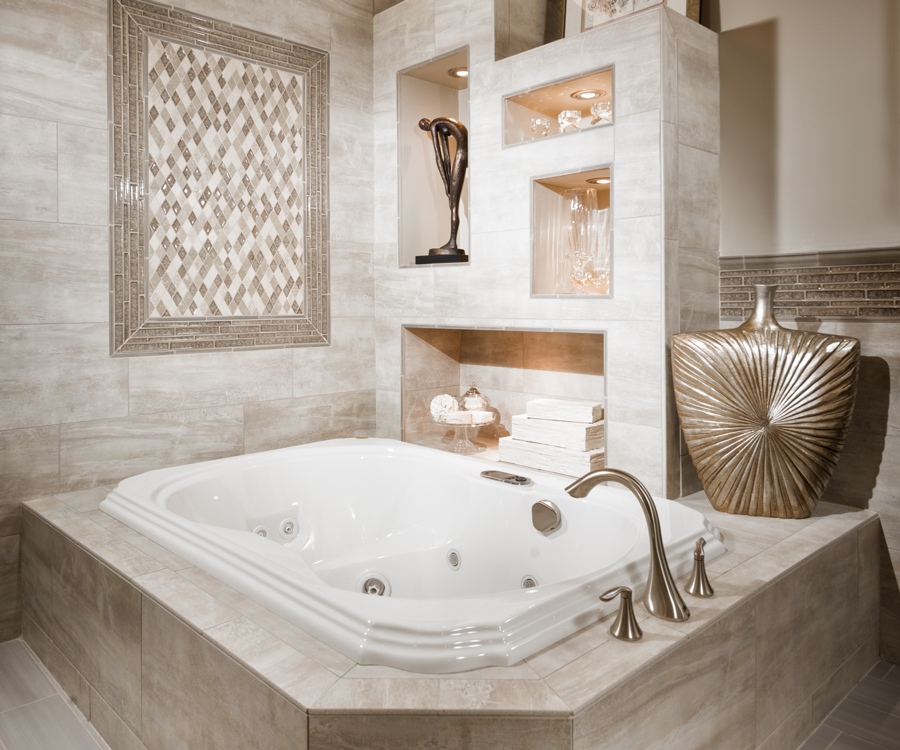 Redesigning a room is never simple. A theme must be selected, color palettes tried out, function and flow established, and that's all before demo can be done. So when homeowners Pam and Rick Johnson found the perfect tile for their master bathroom, they were pleasantly surprised. With that one piece picked out, the rest of their redesign headaches seemed to vanish away. With the help of designer Denise Wright, the Johnsons' master bathroom was given a timeless and elegant face-lift. 
The project began the same day the Johnsons closed on their new home in Highland Springs. Before Pam knew it, Rick had stripped the bathroom down to the studs. "Pam is so fun," Wright says. "Every time she calls me, she says something great like, 'Oh my husband has thrown the bathtub out the window,' and he has!" 
Luckily, the neutral wall tile that the Johnsons selected helped set construction in motion. With its light gray color and glimmer of golds and silvers, the tile gave Pam plenty of design potential and didn't lock her into one specific distinct style. "So many times you see dark faucets and colors and know when it was done," Pam says. "This space has a little of everything." 
With the color palette nailed down and the tile picked out, the Johnsons and Wright began bringing personal touches into the space and customizing the layout. One of the first installations was a multi-height wall shelf that displays Pam and Rick's art and family treasures. "I wanted the room to look different," Pam says. "Bathrooms are always big and beautiful, but I wanted to give it a little character." The shelving unit was built beside the tub to accommodate the new bathtub, which installed directionally into the room instead of along the back wall to make room for a larger shower. Accent lighting was installed inside the unit to create a more visual appeal.  
From there, Wright used a neutral color palette to give the room a timeless style. To help create a focal point and break up the 12-foot high ceiling, Wright installed a chair rail using cracked glass crystal tiles. "Those ceilings are so vast you feel like you can look up endlessly," she says. For finishing touches that give the space an updated style, Wright added power window shades, heated floors, new lighting, large-scale pots and quartz countertops. The result is an elegant ensuite with plenty of character and design that can be easily updated by swapping out towels, vases and rugs.