Retailers
Bringing the Best Stone Tile to the Ozarks
The stone gallery at Unique Tile offers tiles, countertops, granites and porcelain tiles that are imported from Italy or made in the United States on Italian machinery.
By Libby Bishop
Jun 2011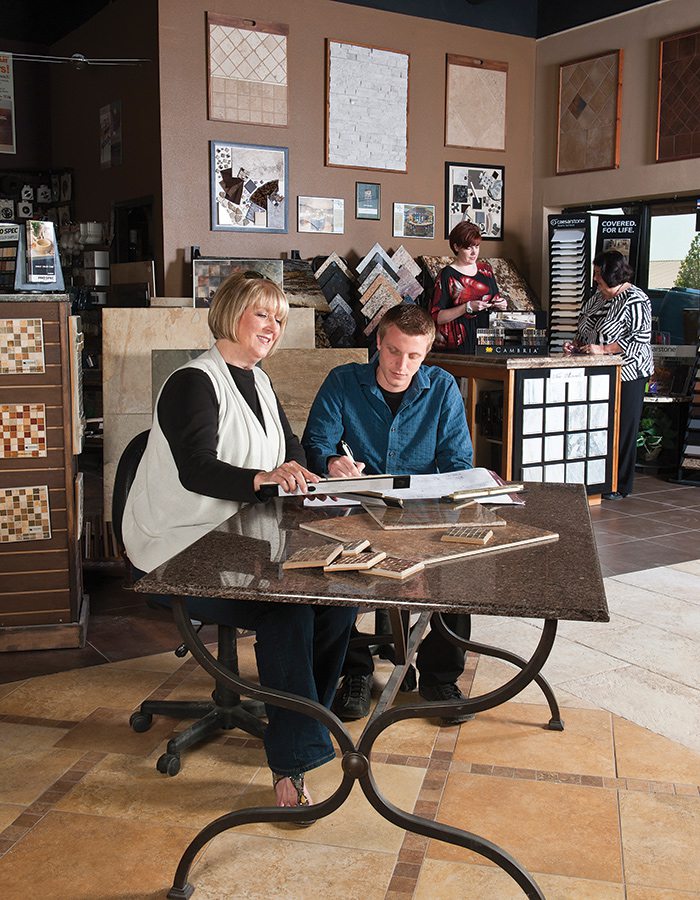 What's the difference between building a home in the United States and building a home in Italy? Access to Italian tile. Italy has all that gorgeous, one-of-a-kind, beautiful tile. Unfortunately, it takes quite a long plane ride to get there from Springfield. But lucky for us 417-landers, business owner Melissa Turpin goes there with her crew every fall, and they bring back a ton of products to sell at the stone gallery in her Nixa store, Unique Tile (1364 N. Kelly Ave., Nixa, 417-725-5515). In addition to the products from Italy, the stores for-sale items that are made in the United States are made with Italian machinery, so each one offers the same quality and beauty.
Interior designer Sondra Smith is a frequent shopper of the stone gallery at Unique Tile, and she says it's a must when it comes to designing homes. "They know the style I like to use," says Smith. So much so, in fact, that she doesn't even need to go into the wholesale store to get what she wants. She can just call the stone gallery and describe what she's looking for, and attendants will come by her office with samples. Smith says her favorite thing about shopping at the stone gallery at Unique Tile is the spot's backsplashes. "The accent tiles make it easy to create something you won't find anywhere else," Smith says.
The showroom itself is a home designer's paradise, with countless amounts of granite, tile and products intermingled throughout the 2,500-square-foot space. But it doesn't stop at tile. There are glass sinks and stone sinks. And medallions and decorative pieces. There is even a huge variety of installation products (including diamond-lined blades for cutting tile). And the best part about it all? It's not just a playground for designers. It's open to the public, too.
While there are many items perfect for adding a finishing touch to a home, the spot also sells a lot to commercial properties, including John Q. Hammons hotels all throughout the country. In fact, you can find their products at the Bellagio Resort and Casino in Las Vegas. But no matter where it's at, or what it's for, one things for sure: this stuff is truly one-of-a-kind, and unlike anything you'll find at big-box stores. "The selection is 100-percent better quality," Smith says.