Twice as Nice: Designer Discount Shopping
Springfield's Twice as Nice has been open for a little more than a year. In that time, the shop has established itself as a great place to search for the perfect piece to complete your home or office—and everything comes at a fabulous price.
By Kaitlyn McConnell Photos by Kevin O'Riley
Jun 2012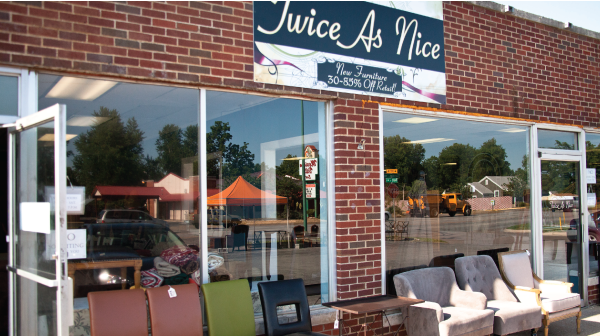 The Store
Twice as Nice,
1344 E. Sunshine St.,
Springfield, 417-877-2006,
thetwiceasnicestore.com
Open Mon.—Sat., 9 a.m.—7 p.m.
The Owners
It's not often that a business starts out of a personal project, but that's what happened with Jessica and Will Jones. After searching online for items to decorate their home, the couple decided to purchase furnishings on an online auction site, one pallet at a time. However, it wasn't long before the couple's purchases began to cause quite a stir. "My friends were wanting to buy things out of our house," says Jessica. From that point, the couple decided there was a need for high-quality furniture (without high price tags) in Springfield. That's when the Jones began selling furniture out of a warehouse. In April 2011, Twice as Nice opened its doors. Why'd they move? It was a lack of air conditioning in the warehouse and a desire for growth. "We wanted to grow our business, and we didn't feel we could grow the way we wanted to in a warehouse," says Jessica.

The Setting
A trip to Twice as Nice is like going to a really neat ongoing garage sale. Not the junky kind, mind you. It's the kind where you go around all day because of the amazing deals you find. Every type of furniture fills the store. In fact, it even spills onto the parking lot when the weather is right, attracting customers who pass by as they drive along
Sunshine Street.

The Stuff for Sale
Twice as Nice sells a bit of everything, all at discount prices. There are rugs, tables, chairs, couches, mirrors and cabinets. The list goes on and on, but what they have in stock depends on the day. Since the items are ordered in pallets, even Jessica doesn't know what's going to come in until it's unloaded. Some items are brand new to the store, while others are repeats from other deliveries. The wares primarily include overstocks from popular nationwide chains, such as Home Decorators Collection, Pier 1 Imports and Pottery Barn. There are, however, some display models included in the mix. All of these items are sold 20- to 80-percent-off retail price. Jessica has seen the savings firsthand, and recalls a story of one particular customer who found a rug that she'd seen in a store for $1,500. At Twice as Nice, the exact same rug was $295.
 
The Summary
Twice as Nice lives up to its name. The store is bursting at the seams with cute, well-priced furniture. Whether you're looking to spruce up a room or do a complete overhaul, Twice as Nice is definitely a great place to begin your search.