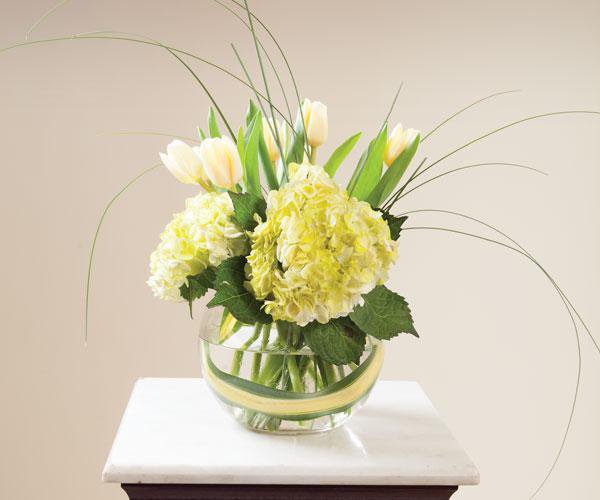 Go Green:
Perfect for a side table, combining a couple of green hydrangeas with fi ve or so yellow tulips is a great way to get a full arrangement without using a ton of fl owers, says Waddell.
If there are no size constraints, add a few sprigs of grass to create an airy look, and consider wrapping a leaf around the lower stems to provide contrast in the lower part of the vase.
Food for Thought:
When creating arrangements, experiment with colors and textures. Phillips says he even likes to mix vegetables and fruits with fresh flowers. For this arrangement, Phillips combined vibrant red garden roses with bok choy, secured them with twine and placed the arrangement in a clear vase to create a simple yet beautiful piece perfect for a summertime barbecue.
Color is Key:
If you're looking to add a pop of color to your table, consider an arrangement with gerbera daisies, which come in a variety of fun colors including hot pink and orange. When you combine them with hydrangeas in a low, six-inch glass container, they act as a perfect centerpiece, Waddell says. Add stones or crystals in the bottom to add even more color.
By Savannah Waszczuk | Photos by Kevin O'Riley
Arranging Edibles:
Planning a brunch? Sometimes, the most fitting centerpiece can be put together with items you have at home. Phillips loves combining fruit with flowers to create arrangements. To get this look, use a punch bowl, tray or crystal compote as a base, then arrange a collection of carefully selected fruits (apples, peaches, nectarines or citrus fruits) to fit your party's color scheme, Phillips says. Accent the fruits with a few fresh stems, and—voila!—you have the perfect centerpiece.
Fresh and Zesty:
One of Phillips's all-time favorite arrangements includes floating thin slices of lemon in water in a beautiful low container, then adding fresh flowers, such as daisies or gardenias. The fragrance is heavenly. If you want to use gardenias, be sure to give your florist a few weeks' notice to put in an order.
Playing Florist
Pat Phillips AIFD, owner of The Flower merchant Ltd. (417-883-8580, fl owermerchantltd.com) and Steve Waddell AIFD, the fl ower shop manager at Wickman's Garden Village (417-862-3707, wickmans.com) share tips on making your own fl oral arrangements.
1. Cut, feed and repeat. Once you purchase fl owers from your supplier, take them home, recut the stems at an angle using kitchen shears (cutting roughly an inch off ) and put them in a solution of warm water and fl ower food, which you can purchase at a fl ower shop. When you're ready to create your centerpiece, add the same solution to your vase. —Steve Waddell AIFD
2. Keep it low. When creating table centerpieces, be sure to cut fl owers low enough< that guests can have conversations over them.—Steve Waddell AIFD
3. Think outside the box. Who says you have to use a vase to display fl owers? I like to insert fresh fl owers into water tubes and tuck the blossoms between produce to achieve one-of-a-kind looks. If you need to, wrap the tubes in lemon leaves or other foliage to camoufl age them. —Pat Phillips AIFD
4. Go to many lengths. Cut your fl ower stems diff erent lengths to add dimension and create a more interesting centerpiece. For example, if you have a six-inch container, trim stems so that your hydrangeas or other fl owers with large heads are closer to your vase, roughly six inches. Cut single-stem fl owers a bit higher, like eight or nine inches. —Steve Waddell AIFD
5. Take float. Tired of traditional fl ower vases? Consider submerged fl oating fl owers. Place three fl owers in a glass cylinder vase half fi lled with water. Carefully fi ll the vase with water to three inches from the top. At fi rst it will be a chore to keep the blossoms under water, but they'll become water logged and stay under. Top it with a fl oating candle for a magical look. —Pat Phillips AIFD
By Savannah Waszczuk | Photos by Kevin O'Riley