DIY
Walk This Way
Need to spruce up your yard for the season? Local experts share tips on installing a decorative stone walkway.
Jun 2013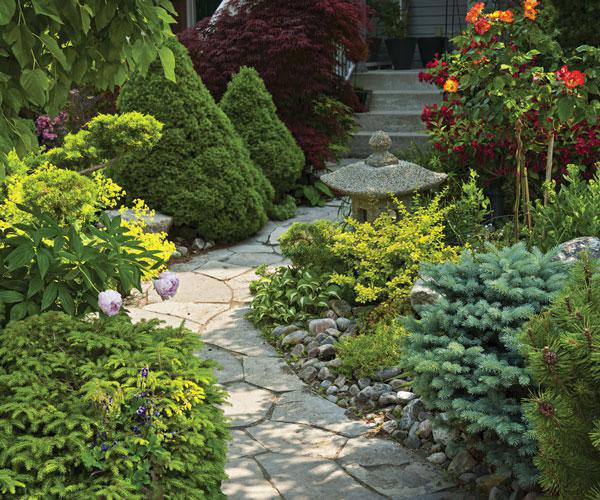 Looking to spruce up your yard but don't want to spend the time or money redoing your landscaping? Sometimes all a yard needs is a little accessory. This D.I.Y decorative stone walkway could be the prefect project to add some pizzazz to your yard without having to commit to an entire remodel. Like many of the D.I.Y projects we feature, this doozy of an undertaking will take some time and effort. Brian Austin, owner of Xtreme Lawn, LLC (Springfield, 417-830-0925) designed this step-by-step plan for a decorative walkway and rates it as a 6 on a difficulty scale of 1 to 10. Austin works on all types of landscaping and has been helping people take their yards from drab to fab since 2006. Having plenty of experience constructing walkways, Austin suggests blocking out a weekend finish this D.I.Y. adventure.
When planning out your walkway, there are a few things to keep in mind. For starters, consider how you'd like to landscape the walkway. Maybe you plan on leaving it as is, or you'd like to line it with some colorful perennials. Whatever your plans are, make sure to sketch out a blueprint of how the walkway should look, suggests Barbara Baker, owner of Concrete Enhancements (Springfield, 417-830-2060). "Walkways are an easy way to make your yard more eye catching," she says. "And one way to make it look more appealing is to give the walkway some curves or space for a bench." And another thing to keep in mind is location. "You don't want to construct the walkway near any downspouts," says Baker. "Keep concrete and stone away from water to prevent cracks." With the help of Austin's directions and Baker's tips, you'll have a walkway in no time.
Want to tackle the project? Here's what you need to build your own walkway:
Tools:
String Level
Stakes or Spray Paint
4-foot level
Hand tamper
3-foot rake
Broom
Chisel
Hammer
Whell barrel
Materials:
Base rock
Fine sand
Decorative rock of your choice
Paver restraint
Spike nails
The Steps:
1. Call 1-800-Dig-Rite (1-800-344-7483)
2. Stake out your plans using spray paint or stakes
3. Dig out the path approximately six inches deep. Make sure it's level.
4. Put down four inches of base rock. Use the rake to level out the rocks.
5. Tamp the base rock until it's solid and level.
6. Add a 1/2 inch of sand. Use a broom to make it level.
7. Place the decorative rock starting at the begining of the walkwa. Work from one side to the other leaving no gaps larger than 1/8 inch. Use a chisel and hammer to break off smaller pieces of rock to make each piece fit.
8. Put paver restraint down around the edges of the walkway (this prevents settling). Nail in the restriant with spike nails.
9. Cover the walkway with sand. Use the broom to sweep sand ino the cracks.
10. Water the walkway down.
11. Let is set for 48 hours.
Call a Pro:
Not ready to try your hand at building a decorative walkway? These local experts can help.

Xtreme Lawn, LLC
Springfield
417-830-0925

Concrete Enhancements
Springfield
417-830-2060

CJ's Lawn & Landscape
Springfield
417-299-1962
cjslawnandlandscape.com

Myron Royce Gardens
Ozark
417-443-2648
myronroycegardens.com

Wyrick Decorative Concrete
Springfield
417-812-4777
wyrickconcrete.com