Home for the Season
With an inventory that includes everything from seasonal flowers to home decor, Wheeler Gardens & Florist has everything you need to keep your home and outdoor space in tip-top shape.
Jun 2013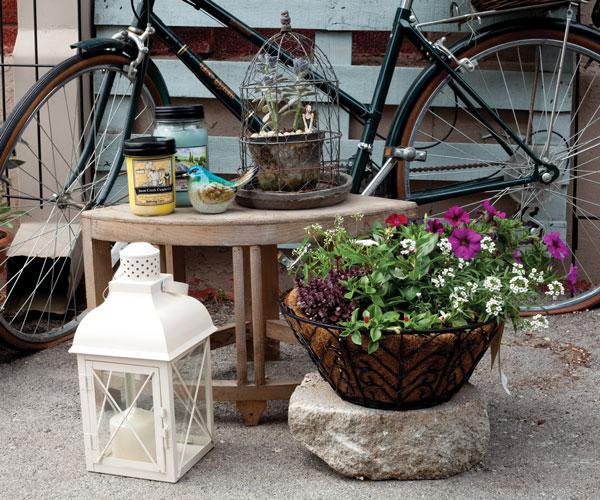 Stuff We Love: 1. Assorted candles, $13.95–22.95 2. Ceramic bird, $9.95 3. Birdcage with potted succulent, $59.95 4. Assorted flower basket, $44.95 5. White lantern, $45.95
The Shop: Wheeler Gardens & Florist,
601 N. Fourth St., Ozark, 417-581-1867,
open year-round, 8:30 a.m.–6 p.m. daily;
3911 E. Sunshine St., Springfield, 417-890-5733,
open March–Nov., 8:30 a.m.–7 p.m. daily.
The Setting
The main Wheeler Gardens & Florist location, nestled at the bottom of a hill in a cozy Ozark storefront, is a delight for gardeners and homeowners alike. The gift shop resembles a garden scene, complete with a couple of pergolas dressed with grapevines and flowers. And there's also a flower shop, which was added three years ago when the Wheeler family bought the Village Flowers shop formerly located across the street. A hodgepodge of tables and shelves set up throughout the gift shop make it a joy to explore, and the large greenhouse outside is equally inviting. During spring and early summer before it gets too terribly hot, a visit to the store and a stroll around the greenhouse is the perfect motivator to get your outdoor space into tip-top shape.
The Stuff for Sale
From the home décor accessories scattered throughout the gift shop to the flowers and plants blooming in the greenhouse, all of the merchandise at Wheeler Gardens is determined by season. In the spring, you'll find a variety of annuals, perennials, herb plants, vegetable plants and shrubs. "Vegetable plants are really big right now," says owner Mark Wheeler. "Even a lot more than they were five years ago. I think people are a bit more conscientious of where their food comes from." And for those customers who might not want to grow their own veggies, Wheeler Gardens sells a variety of fresh, locally grown produce in the summer, including tomatoes, peaches, corn, watermelon and cantaloupe. In the fall, Wheeler Gardens trades flowers and shrubs for cornstalks, pumpkins, gourds, hardy mums and other fall décor, and in the winter, it sells Fraser fir Christmas trees, poinsettias and fresh wreaths. Year round, the Ozark location's gift shop sells everything from candles and fountains to dip mixes and locally made coffee, and the flower shop creates fresh floral arrangements for a variety of occasions.
The Owners
A man of many talents, Mark Wheeler spent 28 years teaching, coaching and administrating with the Ozark School District. But in 1988, the now-retired high school principal started a hobby outside of the classroom: selling hardy mums out of the back of a pickup truck. In 1993, Wheeler opened both of the Wheeler Gardens stores as seasonal businesses, selling in-season items in the spring, mid-summer and fall. When the Ozark location added its flower shop three years ago, the family decided to keep it open year-round. Truly a family business, the stores are run by Mark, his daughters, Amy Acker and Austin Colboch, and one full-time employee, Pam Schroder.
The Summary
If you want to decorate your home for the season, take a trip to Wheeler Gardens. The seasonal merchandise is one-of-akind, and just a few pieces can go a long way. The same goes for sprucing up your garden or outdoor space—the flowers here are gorgeous. I'll be back in the fall to grab some pumpkins, and in the winter for a Fraser fir Christmas tree.
By Savvanah Waszczuk | Photos by Kevin O'Riley