DIY
Adding Curb Appeal
Jun 2014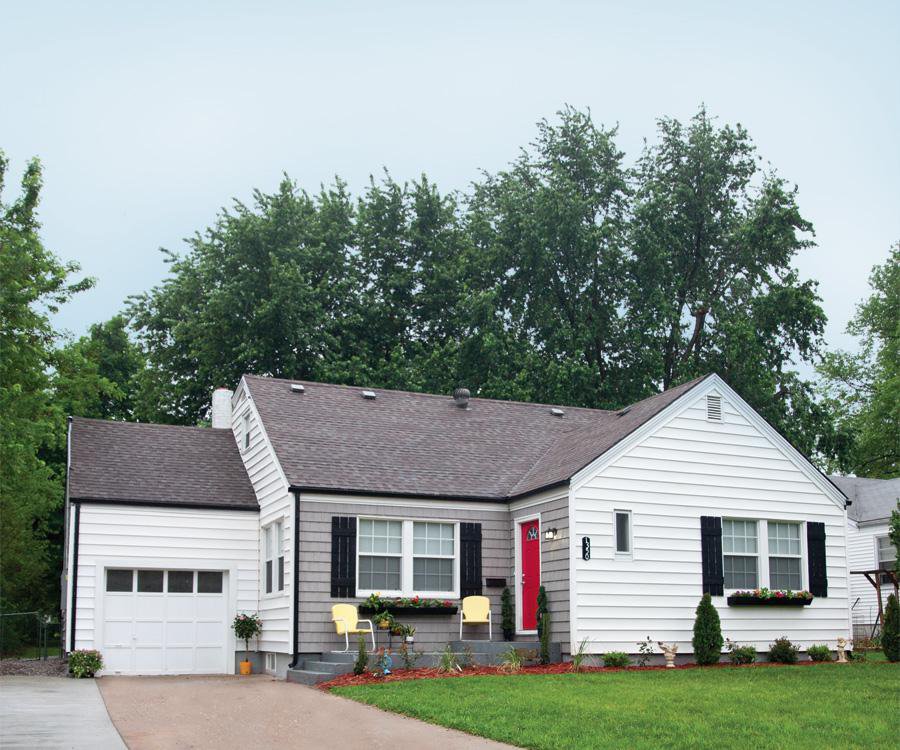 Dixie Decker was a high school senior when she bought her first home. Her dad coached her on the how-tos of painting and carpeting. "Over the years, I did this many times over," Decker says. "I loved how it felt to revive properties."
Eventually Decker, a realtor through Home Team Property, began representing Brandon Dickman's company, Roza Homes. "I decided to team up with him to begin finding more properties to bring back to life as his realtor and design consultant, as well as investing along the way," Decker says. Roza Homes specializes in properties around Missouri State University and Springfield's historical districts. 
One recent and challenging project was on Springfield's Portland Street (pictured). Since its owner was living out of the country, the house sat empty for five years. Much of the property was gutted to install up-to-date wiring, replace gas with electric and install new flooring and windows. The home was even restructured to give it a master bedroom and bathroom. Once the infrastructure was in place, the home's curb appeal became priority. Decker shares several things she did to make the place attractive from the street. 
1. Power Wash the Space
Decker says giving a home a good power washing is the first step for anyone looking to beautify a home's exterior.  
2. Add siding or other visual details
Decker added new siding to a small portion of the Portland home. "I don't think you have to do the whole house," she says. "Just do the entryway at least." Of course, not all homes would benefit from siding. Just be sure to think about the space and the neighborhood, and make small additions to jazz the space up. On this property, Decker also added black gutters and downspouts for character. 
3. Perfect the Porch
The porch is an important focal point when thinking about curb appeal. Decker actually painted this property's porch and foundation a dark gray. She says products are available for painting every type of material.
4. Paint the Door (if you dare) 
Decker didn't stop painting with the porch. Following Feng Shui principles, she paints all of her front doors crimson red. It's believed to bring good luck and definitely draws attention to the property. To finish the makeover, a light was added to illuminate the porch. 
5. Frame the Windows
To add interest, Decker used fence pickets to frame windows instead of traditional shutters. 
6. Add Landscaping
Landscaping is crucial when it comes to curb appeal. Begin with adding grass seed to bare spots. Decker's go-to greenery is stencil holly boxwoods and photina Frasier plants because both hold up to Springfield's ever-changing weather. She also uses red mulch. Monkey grass serves as a filler where needed. Finally, solar accent lighting near plants or statuaries puts the finishing touch on an outdoor transformation.
More Ways to 

Add Appeal
Jill Vincel of Southern Supply and Sherri Simpson of Meek's Design Center share general tips for jazzing up your home's exterior.
Deck Out Your Door
When you think curb appeal, the front door comes first. "That is your statement piece when people drive by your home," says Southern Supply Manager Jill Vincel. A new door color is an ambitious statement that reaps big rewards. If you're not ready to tackle a new color, Meek's Interior Design Specialist Sherri Simpson says to consider seasonal wreaths. 
Set the Scene
After painting your door or adding a wreath, add pots with flowers that accent your house colors. Place a bench or chair nearby, and add a colorful pillow or statuary. "Take into account your house style and be true to its classic nature when deciding your accents," Simpson says. 
Light Things Up
Simpson says front door lighting makes a big statement. If a new fixture is out of the question, try painting what you have or simply changing the glass.
Don't Forget the Details
Little things can make a big difference. Get to work fixing chips in the sidewalk, painting where needed, adding a new name plaque or replacing house numbers. Simpson says even the slightest landscaping is an upgrade. Remove dead leaves and weeds. "A little goes a long way and shows you care," she says.