Blackberry Recipes
By Ettie Berneking | Photos by Kevin O'Riley, courtesy The Food Channel, thefoodchannel.com
Jun 2014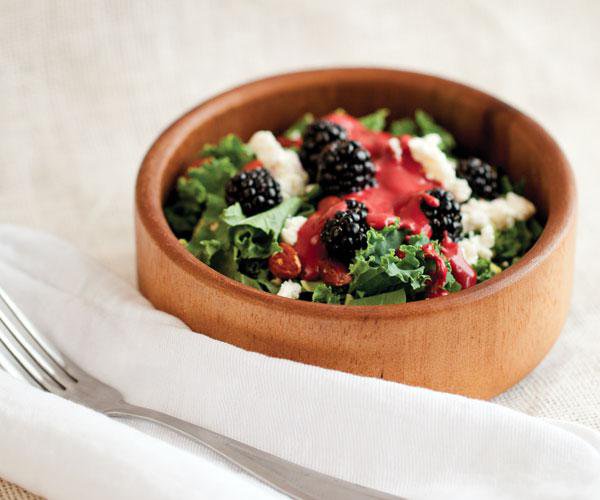 As the heat of summer fills the air, plump, sweet blackberries are soaking in the rays and getting ready to be harvested. You can have bushels of this summery fruit in your own backyard. Earnie Bohner, co-owner of Persimmon Hill Farms (367 Persimmon Hill Ln., Lampe, 417-779-5443, persimmonhill.com), shares some words of wisdom about growing and harvesting blackberries.
Bohner and his wife, Martha, have been growing berries for 32 years, and they've learned a few tricks along the way. For instance, it takes two years for a blackberry bush to get established and ready for harvest. You can order blackberry root cuttings online, then plant the cuttings in your backyard once they arrives. "Basic gardening soil with a neutral pH is best," Bohner says.
When the plant is well-established, it's time to start a little housekeeping. During the winter after the first year, you'll want to cut off the dead canes (or branches), then in the spring, cut off the tops of the canes once they reach 3 or 4 feet in height. This is called "tipping" the plant and helps direct the plants energy to the new growth where the berries are forming.
Once the berries are big and soft to the touch, it's time to harvest. "Store the fruit in temperatures cooler than 35 degrees," Bohner says. "They will last longer that way." If you can bear the wait, the longer you hold off to harvest, the sweeter the fruit will be. 
If you're not up for this challenge or your green thumb isn't so green, you can always pick blackberries at Persimmon Hill Farms. The farm's season varies each year, so follow it on Facebook for daily updates about hours and prices. After you grow or pick some fresh berries, use the blackberries in these recipes. The salad recipe is courtesy of 417 Home editorial director Katie Pollock Estes, and the other recipes were developed in the Springfield-based Food Channel test kitchens. 
Blackberry and Honey Chèvre Salad
Serves 6
For the blackberry-balsamic dressing:
1 cup fresh blackberries, rinsed and dried
2 tablespoons honey, plus more to taste
¾ cup balsamic vinegar
¼ cup olive oil, plus ¼ cup more to taste
For the salad:
1 cup raw whole almonds
½ teaspoon olive oil
2 teaspoons fresh rosemary, chopped
Kosher salt and pepper to taste
2 cups Brussels sprouts, trimmed and chopped
2 cups kale, rinsed and chopped
2 cups baby spinach, rinsed and chopped
4 ounces honey chèvre*
1½ cups fresh blackberries, rinsed and dried
*You can find La Bonne Vie brand honey chèvre at Price Cutter. 
To prepare blackberry-balsamic dressing:
Place berries in a colander, and rinse well. Allow to dry. When blackberries have dried, place in a blender, and add honey, balsamic vinegar and ¼ cup olive oil. Blend well. Taste, and add additional olive oil if you prefer your dressing less vinegar-heavy. Add additional honey if you think the dressing is too tart.
To prepare salad:
Place almonds in a pan over medium-high heat, and season with oil, rosemary, kosher salt and pepper. Stir until golden brown and fragrant (about 10 minutes). Remove from heat, and let cool. Toss together Brussels sprouts, kale and spinach. Break the chèvre into ½-inch chunks. On each of six salad plates, place 1 cup of the greens mixture. Top each salad with a sprinkling of chèvre, ¼ cup of blackberries and about 1 tablespoon of toasted almonds. Drizzle with blackberry-balsamic dressing to taste. (You will have leftover dressing, almonds and chèvre.)
Blackberry Cobbler
Serves 10
Ingredients:
36 ounces frozen blackberries, thawed
½ cup sugar
2 tablespoons cornstarch
Pinch kosher salt
1½ teaspoons grated lemon zest
1 tablespoon lemon juice
1 cup baking mix, such as Bisquick
¼ cup sugar, plus 2 teaspoons sugar
½ stick unsalted butter, melted
â…"cup buttermilk
½ teaspoon vanilla extract
â…› teaspoon ground nutmeg
To prepare the filling:
Preheat oven to 375°F. Drain the blackberries in a colander set over a large bowl to catch the juice. Transfer the juice to a small saucepan, and simmer over medium heat until the liquid becomes syrup consistency (about 10 minutes), and set aside. In a large bowl, combine the sugar, cornstarch and salt. Add in the blackberries, and toss gently to coat. Add the lemon zest, lemon juice and blackberry syrup, and mix to combine. Transfer the contents to a 9-inch deep pie plate, and place the plate on a parchment-lined sheet pan. Bake for 30 minutes, or until the filling is bubbling around the edges. 
To prepare the biscuit topping:
Whisk the baking mix and ¼ cup of sugar in a large bowl, and set aside. In a small bowl, whisk together the melted butter, buttermilk and vanilla until combined. In a small bowl, mix 2 teaspoons of sugar with the nutmeg, and set aside. Remove the filling from the oven, and increase the oven temperature to 425°F. Add the buttermilk mixture to the dry ingredients, and gently stir until just combined. Divide the dough into eight equal pieces, and place on hot berry filling with at least ½ inch space between. Sprinkle dough with the sugar and nutmeg mixture, and bake for 20 minutes or until the filling is bubbling, and the biscuits are golden brown.
Blackberry Sage Ice Cream
Serves 8
Ingredients:
3 sprigs fresh sage
2 cups heavy cream
½ cup milk
4 egg yolks
½ cup sugar
3 tablespoons corn syrup
2 ounces cream cheese
8 ounces blackberries
Directions:
In a saucepan over medium-high heat, bring the sage, cream and milk to a boil. Remove from heat, and steep for 20 minutes. Discard the sage. Prepare an ice water bath. In a small mixing bowl, whisk the egg yolks and sugar. Slowly pour in some of the hot cream to temper the eggs. Pour the eggs into the cream, and continue to cook for 2 to 3 minutes, or until the mixture coats the back of a spoon and steam rises from the top. In a separate bowl, whisk the corn syrup and cream cheese, and then whisk into the cream mixture until smooth. Strain through a fine-mesh sieve into a large Ziploc bag, and chill over an ice bath. Freeze in an ice cream machine for 30 minutes or according to the machine's directions. Scoop ice cream out of the machine, and fold in the blackberries. Spoon into a freezer-proof container and keep frozen until ready to use. 
Blackberry Mojito
Serves 1
Ingredients: 
6 mint leaves
5 fresh blackberries
½ part simple syrup
1 part fresh lime juice
1 part white rum
1 part crème de cassis
1 part club soda
1 mint sprig for garnish
1 blackberry for garnish
Directions:
In a Collins glass, muddle the mint leaves with blackberries and simple syrup. Add the lime juice, rum and crème de cassis, and stir to combine. Fill glass with ice, top with club soda, and stir to combine. Garnish with a mint sprig and blackberry.