DIY
Container Gardening
If you don't have space for a garden, have no fear: We created a handy guide to growing vegetables in containers and helping them thrive.
By Ren Bishop
Jun 2014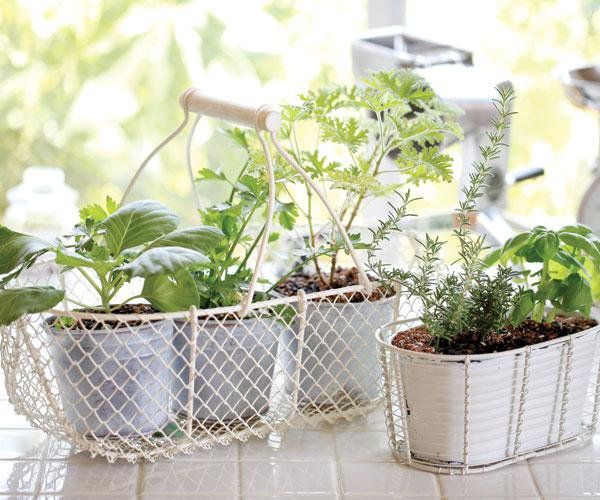 If you don't have a garden in your backyard, you may have given up the idea of harvesting your own vegetables long ago. Forget all of those failed patio garden projects and prepare to fill your favorite pots with crave-worthy vegetables. We asked two 417-land gardening experts to tell us about five vegetables you can grow in containers. Take a look, then grab your gardening gloves, and get started.
Tomatoes
Tomatoes are the No. 1 plant for people to grow in a container. They're easy to handle in pots, provided you use extended-release fertilizer and a pot that provides good drainage. "Buy a tomato plant that's appropriate for container gardening," says Mark Wheeler, owner of Wheeler Gardens & Florist. "Cherry tomatoes or patio tomatoes are good. If you buy a regular tomato plant, that's going to be a problem for a container." Craving a BLT? Get to work! 
Peppers
Content to sit and soak up the sun, peppers are perfect for container gardening. "They love heat, so sitting in a container on a deck patio doesn't bother them a bit," says Nikki Petitt, nursery manager at Wickman's Garden Village. But although they're relatively easy to get growing, Petitt warns about important details. "Like tomatoes, they also thrive in a pot with good drainage and an extended-release fertilizer," she says. And as much as peppers love heat, they hate the cold. Shelter them from cool temperatures and make sure they are well watered.
Leafy Greens
Spinach, kale, lettuce and chard are all great options for container gardening and can provide a bountiful option for shadier patios. "If you have a spot with not very much sun, the leafy greens will do well there," Petitt says. Harvesting leafy greens is a breeze when grown in containers, and most greens are ready to harvest in about a month. Get ready for some salad!
Herbs
Plant your favorite herbs together in a large pot, and keep them handy outside for outdoor cooking, Petitt recommends. "A lot of people do a little pot of this, a little pot of that," Petitt says. But you must keep them all properly watered or slightly moist. Water your herbs often, but beware: Mint can take over a pot if not managed correctly. Use as big of a container as you can in your space, Wheeler suggests. 
Cucumbers
Tall cucumbers can be a perfect addition near a deck or fence. "Cucumber plants can use structures as trellis," Wheeler says. "They need something close by to wind on—that's how they do their very best." From planting a seed to harvesting ripe cucumbers can take as little as six weeks, but be sure to fertilize your cucumbers frequently.