Custom Cabinetry
Local cabinet experts share the latest custom cabinet features available in 417-land.
BY Harrison Keegan | Photos by Kevin O'Riley
Jun 2014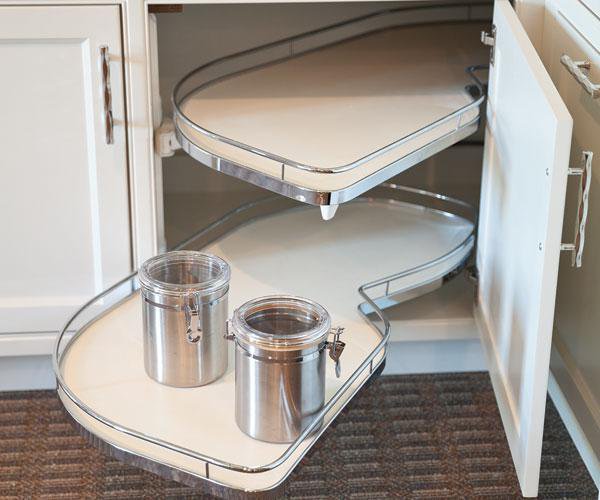 Waste No Space: The LeMans II Blind Corner Unit swings out, so you can make the most of an awkward space.
Storage may not seem like the most exciting thing to consider when building or remodeling a home, but several designers in 417-land are doing their best to make sure your cabinets are some of the first things you want to show off in your new kitchen. To help you create a space that not only looks great but works for your daily needs, we rounded up tips for the latest and greatest cabinet customizations available locally.
Learn what's new from local experts Michelle Clifton, co-owner of Millstone Custom Homes (1519 N. Commercial Road, Nixa; 417-234-5050); John Boyd, general manager of Alpine Wood Products (614 W. Jonathon Dr., Marionville; 417-258-2584); and Shelley Wehner, co-owner of Cabinet Concepts by Design (4123 State Hwy. H, Springfield; 417-725-3400). You'll be planning your own customized kitchen in no time flat.
LeMans II Blind Corner Units
Corner cabinets have been a conundrum for as long as cabinets have been built, but Wehner says the LeMans II blind corner unit is one of the best solutions. The unit swings out seamlessly to bring the entire cabinet contents into the open and leave no space unused. 
Spice Cupboard Pull-Outs
Boyd says pull-out features are popular throughout the kitchen, but especially with narrow spice cupboards where reaching the back of the cabinet is otherwise difficult.
"Roll-outs and pull-outs are some of the best features you can put in a kitchen because they are so versatile," Boyd says. "The pull-out spice rack at countertop level is really nice by the cooking area."

A Place for Everything: The experts at Cabinet Concepts by Design create cabinets with a variety of special features, including custom pull-out drawers with specialized storage.
Hydraulic Lifts
If you don't want your KitchenAid mixer sitting on the counter, and you don't want to haul it out and pack it away every time you use it, Wehner says a KitchenAid mixer lift lets you have the best of both worlds. The cabinet keeps the mixer hidden from plain view, but it is spring-loaded, so the mixer can go from stored to ready-to-use and back with little effort.
But lifts aren't just for mixers. Clifton says you can do the same thing with the toaster and coffee maker sitting on the island in your kitchen using hydraulic lifts in your island.
Hidden Pantries
While there are all sorts of innovations going on inside cabinets, sometimes what's behind a cabinet door isn't a cabinet at all. Clifton says there is a trend toward hiding pantries and prep rooms behind cabinet doors to match the rest of the kitchen.
Mud Room Stations
Wehner says some of the more interesting custom details in cabinetry aren't happening in the kitchen, but rather in the mud room. "We've been doing a lot of really cool organizational stuff on the inside of cabinetry, so when you open that door it's not just a shelf," Wehner says. "It might have file drawers on the inside and a place to hang keys and a corkboard and the family calendar."