DIY
DIY Kitchen Splash
Add some excitement to your kitchen with an outside-of-the-box backsplash.
By Julie Sedenko Davis | Photo by Jeremy Mason McGraw
Jun 2014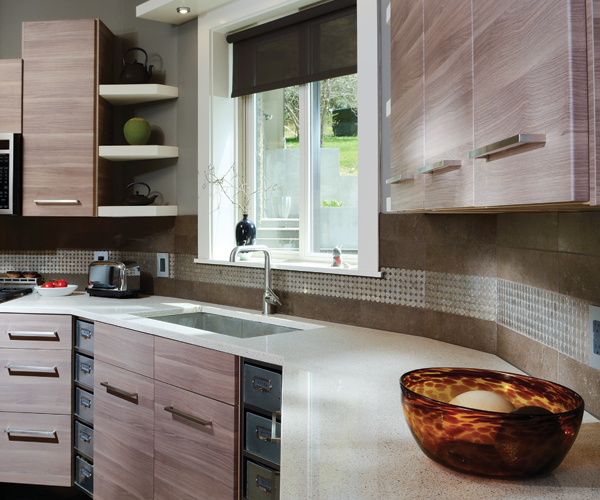 The next time you empty your pockets, don't just toss your stash of loose change aside. Let you imagination run! Think home decorating. That's exactly what one client of Monticello Homes & Development did. The result was a kitchen backsplash made of nickels.
The coin design is one of many creative ideas Jason Bekebrede, owner of Monticello Homes & Development, has helped clients create. "A lot of times it's using normal products, and doing unique and different things with them to create a focal point," Bekebrede says. Full sheets of glass or even metal can be used to create a seamless design. Reclaimed wood can make a natural, rustic look. "A backsplash is one of those places you can be creative and not necessarily feel like you have to stick with the norm," Bekebrede says. "The sky is the limit."
Melissa Turpin, president of Unique Tile, agrees. While her business specializes in all things tile, granite and stone, she has seen people get creative with other products, including cork that was cut to make small, round tiles. Turpin says customers are craving fun, personal ways to make a statement. Primarily a wholesale tile distributor, Turpin opened the Unique Tile retail showroom to the public in response to requests for more backsplash options. The space is filled with bold colors, shapes and textures so customers can create their own designs. 
Bekebrede says that whatever you choose, a good installation surface is crucial. Tile can be put directly onto drywall or a tile backing material. Of course, Unique Tile and Monticello Homes & Development are invaluable resources from design to installation. "We work with designers and throw in our two cents at the same time," Bekebrede says. 
Speaking of cents, that nickel backsplash was not just cool in design but also in sentiment. The homeowner chose coins that were made in the years her children were born. Incorporating these kinds of personal touches make design meaningful as well as beautiful.