Grayson Home
Ryan Rosenquist combines his knowledge of architecture and love of design to create home goods and accessories, including handcrafted lamps.
By Julie Sedenko Davis | Photo by Kevin O'Riley
Jun 2014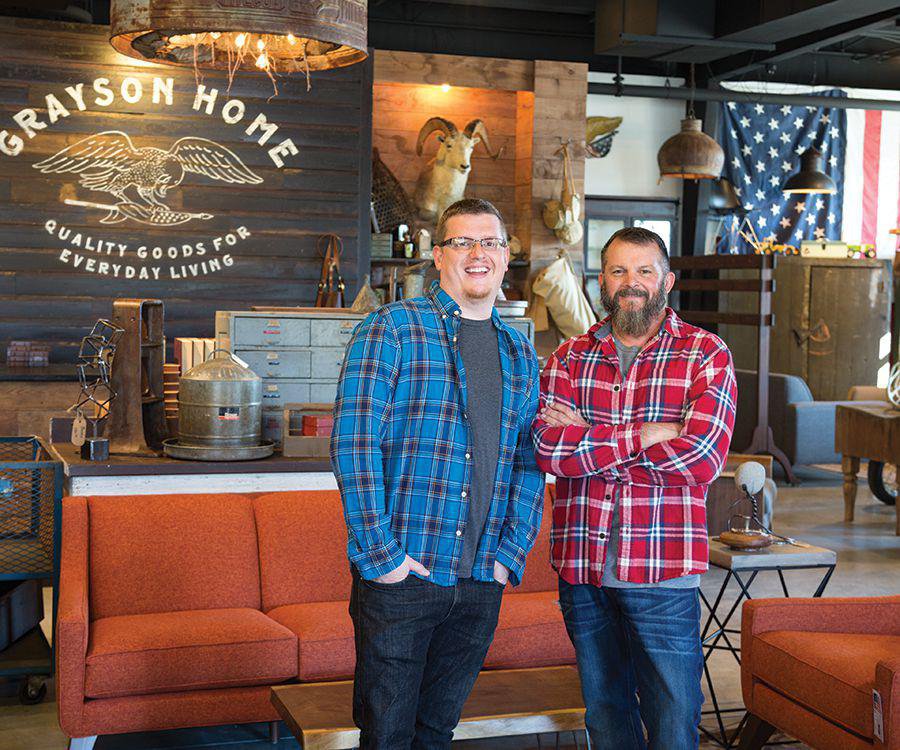 Handmade Merchandise: Ryan Rosenquist sells his hand-made lamps at Grayson Home.
If you see a little kid sketching house plans, there's a good possibility he or she has a future in architecture. Years ago, that kid was Grayson Home's Ryan Rosenquist. "I was always into design and creating space," Rosenquist says. 
All grown up and armed with an architecture degree from Drury University, Rosenquist enjoys a career designing for Bass Pro Shops. But while he enjoys building scale models and creating interior landscapes for stores, Rosenquist still felt the need to pursue his passion for residential design.
Last summer, he found the perfect outlet for that passion, opening Grayson Home in downtown Springfield. Together with business partner, Clive Gray, Rosenquist brings a masculine approach to interior design. 
Handcrafted items are priority at Grayson Home. One popular product is a lamp made from galvanized pipe and set on wood pieces. "I use reclaimed wood whenever I can," Rosenquist says. Edison bulbs are added for character. The lamps look rustic, but the sockets and wiring are new. "I want them to be functional and aesthetically pleasing," Rosenquist says. He has more design projects under way, and he and Gray even hope to build their own brand of  custom furniture.
While it began as a furniture store, Grayson Home has become a home lifestyle mercantile. The store carries everything from dried goods to books and bow ties. "It's a unique shop, and it'll keep evolving," Rosenquist says. Just like that young kid sketching house plans not too long ago.