2015 Trend Watch: Bathrooms
417-land home design professionals say bathroom remodel trends are tipping toward the luxurious and creative.
By Matt Lemmon | Photo by Steve Pearcy
Jun 2015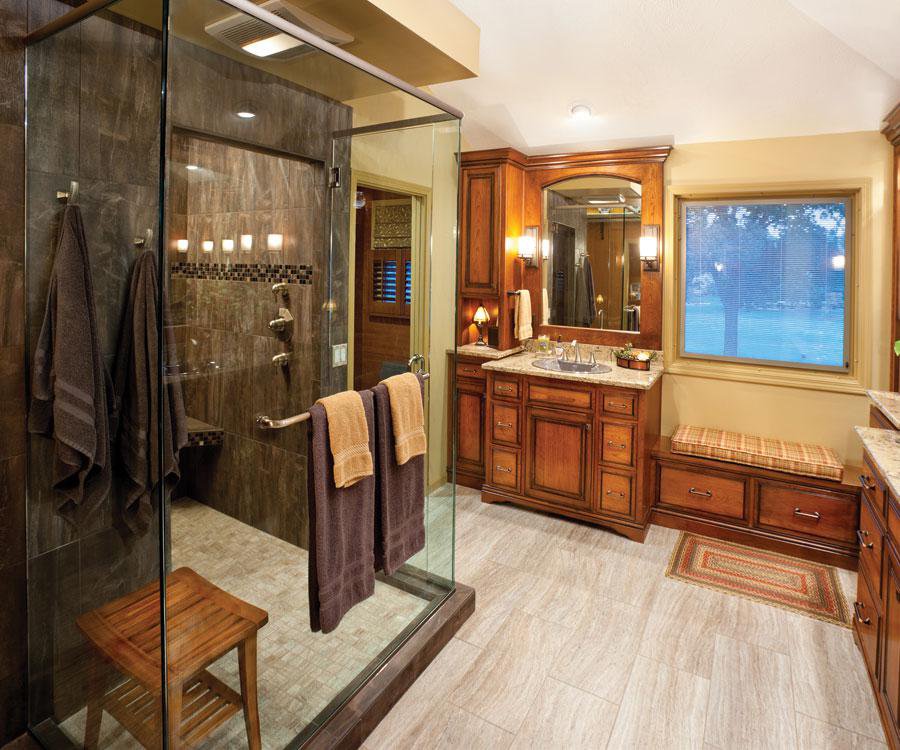 There's no room more personal in the house than your bathroom. It's true. It's a spot for relaxation and for privacy. If you can't get into the right frame of mind there, where can you? If you are in need of a bathroom overhaul or even if you're just thinking about re-doing your current water closet, then you're in luck. We talked to some local bathroom pros to find out some of the newest trends that can help turn your most relaxing room into your trendiest room as well.
Tile is Big
Despite the reemergence of tubs, large walk-in showers still rule. Melissa Turpin, president of Unique Tile in Nixa, says larger tile sizes—particularly in new construction—are something she's selling more of. "We're seeing a lot of larger-format tile sizes, like 5-foot-by-10-foot," she says. Each piece can serve as a shower wall. These larger slabs of tile make for clean, smooth surfaces and less, if any, grout, which is typically difficult to clean.
Creative Flooring Patterns
Turpin and interior designer Andrea Deckard of A. Deckard Interiors say plank-style bathroom floors are getting more popular. Stone or marble planks, often with interesting linear stroke patterns, provide added texture to bathroom flooring without adding another color. Turpin says flooring shapes are also getting more creative. While everyone still wants rectangles, some Italian manufacturers are causing buzz with hexagon-shaped flooring.
Steam Showers
On the higher end of the market, Deckard says adding steam spa systems in home showers is a luxury trend she's seeing more of. Think of the sauna room at your gym or favorite day spa— now imagine having one in your home! "We didn't see much of that 5 or 10 years ago, but it's very interesting," she says. "The plumbing is there, and the space is there."
Subtle Color
In concert with the relaxation goal of a bathroom, Turpin says the 2015 color palette is still mostly a bright, clean white, with warm metallic finishes such as matte gray and Champagne-colored metals. On that note, silver accessories and gold fixtures are becoming increasingly popular, which could indicate a return of polished metallic accents to residential design soon.
Bathtubs are Back
Deckard says bathroom remodels are some of her favorite jobs because the room is a sanctuary for her clients. One trend she's seeing more of lately is the return of free-standing bathtub. "For a long time people didn't want that and were turning corner tubs into bigger showers," Deckard says. But technology has played a role in the new trend: Better water heaters and heated tubs keep water warmer longer, and jets that shoot air rather than recirculated water are improving sanitary concerns.