A Place to Call Their Own
Kids dream about having a tree-top playhouse, or even just a tent made out of sheets where they can pretend to camp under the stars. We found three 417-land families that turned those dreams into reality and added their own creative touches, all for the k
By Jessica Covert | Photos by Brandon Alms
Jun 2015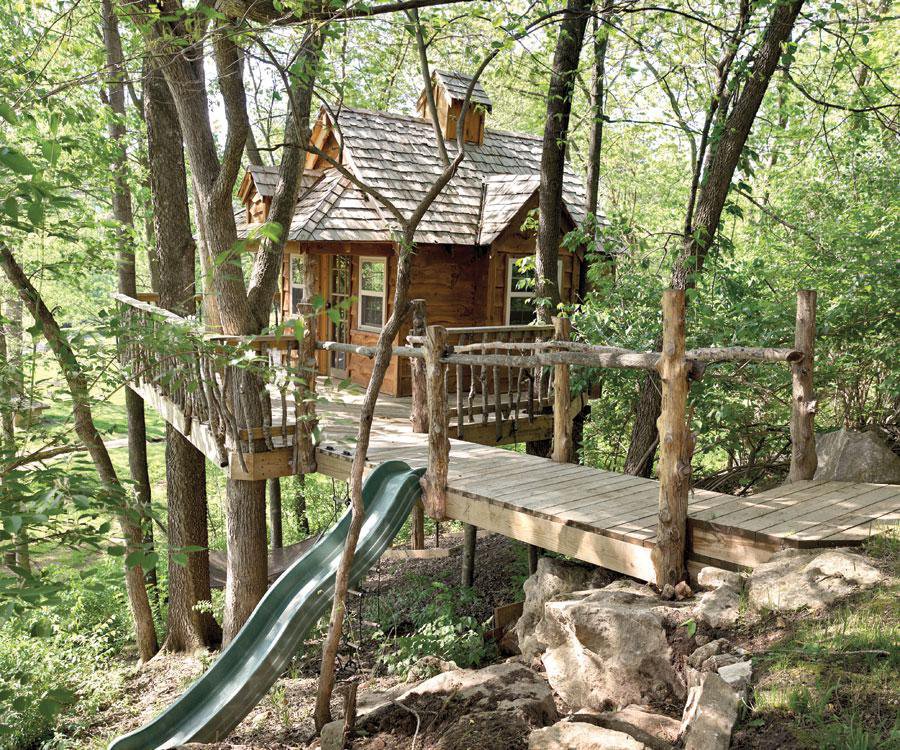 Up in the Treetops
Steve Faria is the dad of four kids ages 9, 12, 15 and 18. Faria says he built this playhouse with his two youngest kids in mind, and their favorite thing to do is play school inside. Of course, this treetop hideaway is more than a place to let the imagination run wild. Faria also included a loft for having sleepovers with friends, a hammock on the deck outside, a firehouse pole to slide down and much more. 
When he was working on the elaborate treehouse, Faria wanted it to blend in with the natural environment around it. One of the distinct features of this playhouse is that Faria used the live trees near the site as structural supports for the house. The rustic style was carried throughout, with cedars for the posts on the deck and pine for the rest of the structure. 
But Faria didn't start with plans for this ultimate playhouse. Instead, he improvised along the way. The space ended up being 100 square feet, took about two months to complete and cost between $15,000 and $18,000. 

Lauren and Bella Faria enjoy hanging out in their playhouse loft, which is a regular spot for sleepovers (right). The space is complete with a firehouse pole with a trap door (above) that provides a fun way to get back on the ground.
A Touch of Whimsy 

Boyd built the playhouse for his three young grandkids, Leighton and Lucas Rife (top bunk, below) and Anias Tingry (chair, below). The space  boasts plenty of whimsical charm (above). 
Alpine Wood Products' John Boyd built his grand example of a playhouse a few years ago for his grandkids, who are now ages 5, 3 and 1—the perfect age to have a dreamy treehouse playroom where young imaginations can be unleashed. 
The playhouse was inspired by a kids' play area at Silver Dollar City, and Boyd designed his version in a similar whimsical style. The 64-square-foot space has two bunks built inside and also features a covered wrap-around porch, windows, a wood interior and a tin roof that add to its playful atmosphere. 
Boyd also built the playhouse to last. He spent a total of $10,000 on the project and used steel to frame the structure and make it sturdy enough to last for a long time. Boyd even wired the playhouse for lights, which will come in handy when the grandkids start spending the night inside.
Indoor clubhouse 

Everett's new clubhouse (above) was made with leftover material from a home remodel project. Built to size, it provides him his very own little private hideaway (below).
Cassie Darst, mom of Everett, 4, and Clementine, 9 months, recalled her own dream of having a playhouse as she considered building one for Everett. Since it was winter and she was indoors with her kids most days, Darst decided to build the playhouse in Everett's room. 
Using leftover materials from a home remodel project, Darst built a 16-square-foot space that stretches from the floor almost to the ceiling. Darst used inexpensive paint samples to add yellow stripes on the playhouse.
Because she repurposed materials from  around her home, Darst only spent about $10 total on screws and paint samples. But Darst says anyone could build a similar space for close to $50.
Before starting on the clubhouse, Darst made a preliminary sketch, but she was willing to make small changes as she went. If you want to build your own, she suggests taking measurements and double checking them before beginning so you know what materials you'll need. 
Ultimately, Everett ended up making the space his own and pasted pictures he had colored inside of the space. And once the spot was finished, Everett set up a  play kitchen in the lower part of the playhouse, where his favorite thing to do is play "drive-through" with his cousins. 
Darst says that if you're considering creating your own version for your kids, don't worry about it being perfect—they'll love it either way.