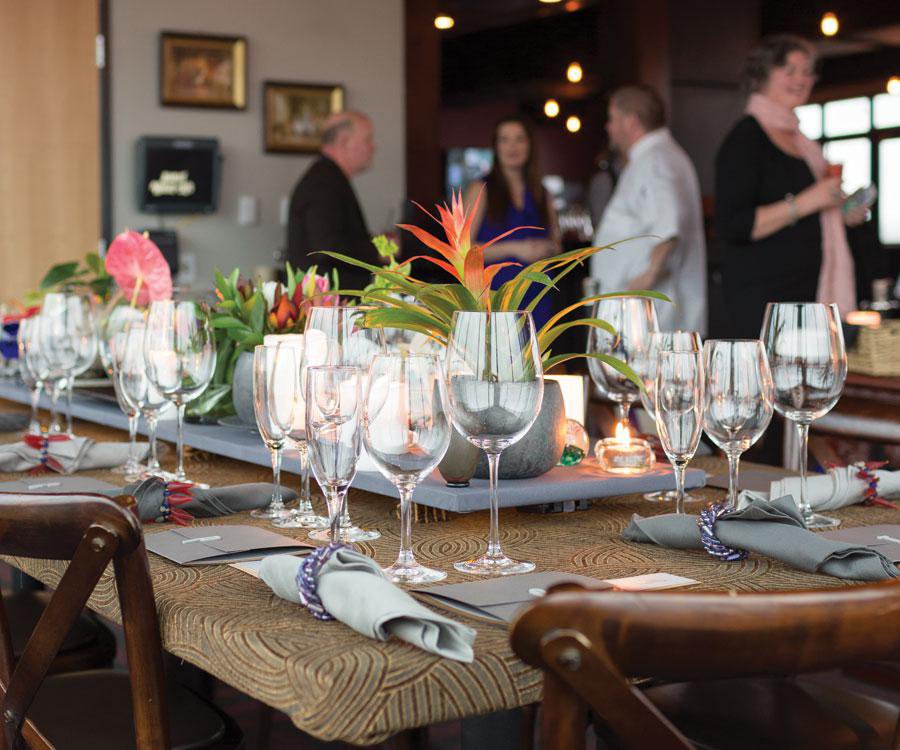 Some people celebrate their birthdays with a cake and presents, but Tom and Pam Pierson skip the cake and throw elaborate dinner parties instead.
Owners of Kaleidoscope and long-time Springfield residents, this couple started hosting dinner parties back in the '90s, and while the theme, décor and locations have changed over the years, the goal of the night has yet to shift. For Tom and Pam, it's all about having a great time with friends.
The first party was a New Year's Eve bash with 10 or so guests gathered in the Piersons' basement. This year for Tom's 71st birthday, the couple invited their friends up to Barley Wheat and Rye Social House at Farmers Park. With a posh venue nailed down and Chef Wes Johnson from Metropolitan Farmer in charge of the seven-course meal, Tom and Pam got to work on the décor. 
For each of their parties, the table is the center of attention. "These parties are a real production," Tom says. "This is our artwork." While Tom helps plan and decorate for the event, Pam is the real artist when it comes to arranging the table. She is known in her circle of friends for crafting stunning tablescapes. In fact, Tom and Pam build a new table for each party. This birthday celebration was no exception. Fabric was bought, flowers were arranged, candles were lit and bottles of wine were uncorked. Once guests arrived, the night was a blur of fabulous food, toast-worthy wine, live music and endless good times. Once again, it was a birthday to remember. 
Center of attention: Tom and Pam picked out the flowers for the centerpieces from a wholesale florist, and Pam arranged the flowers throughout the bar and along the runner down the middle of the table.
Detail Oriented: Each of the Piersons' dinner parties includes custom invitations that are sent out to friends and family. Even the night's menus were designed and adorned with the first initial of each guests' name. 
The Food: Since Tom and Pam are big fans of Chef Wes Johnson's culinary work at Metropolitan Farmer, they had Johnson prepare a special seven-course meal for the dinner party, which included a tongue and hominy soup. Besides the one request that the meal be gluten-free, neither Tom nor Pam knew what Johnson was serving until they opened the menu once the party started. "We know every detail about the parties except for the menu," Tom says. "The menu is our birthday present. It's our only surprise."
Running Wild: Tom built a raised runner for the table's focal point.
Wine and Dine: Tom and Pam both love wine, so all of their dinner parties feature several bottles of their favorite vino.
Party Favors: As guests headed home, they left with a few party favors, including boxes of truffles from Elle's Patisserie and coffee from Rebel Roaster. But the guests weren't the only ones about to enjoy a seriously sweet treat. Tom had his first truffle from Elle's the next morning.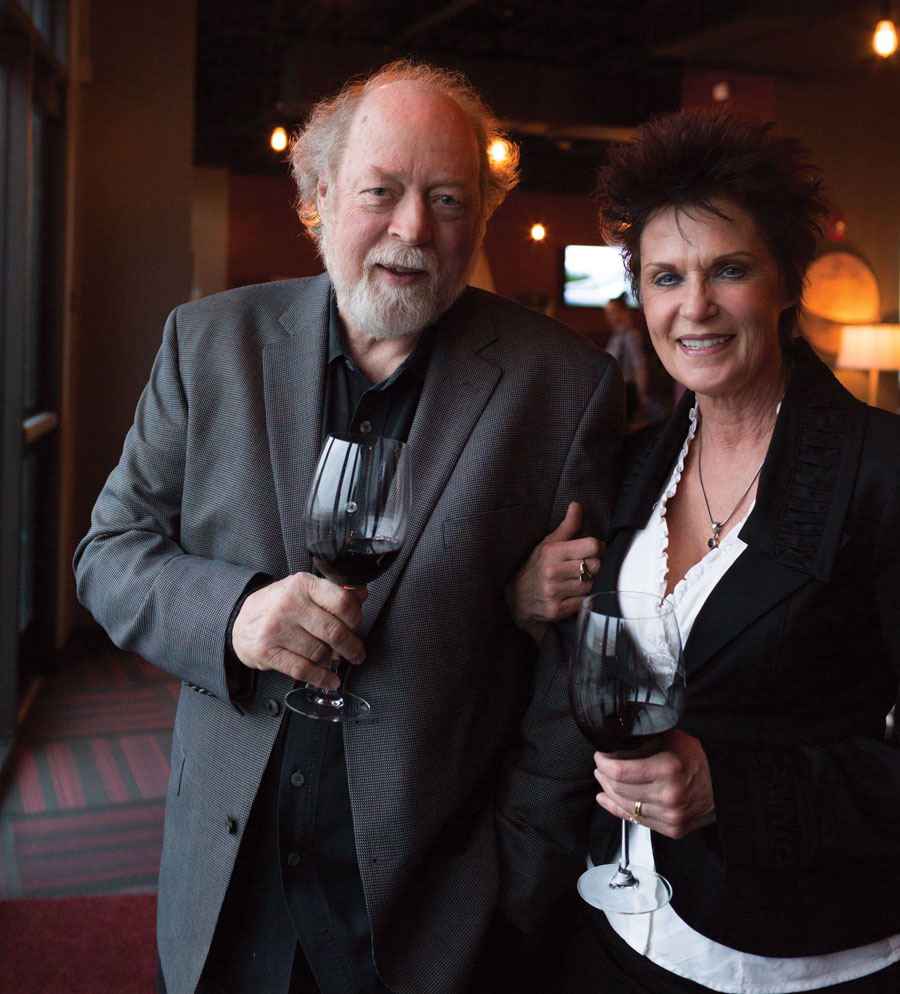 The Birthday Boy: Tom and Pam love celebrating holidays, birthdays and special events with friends and loved ones, and they make sure to make every one of them a time to remember. 
Simply Stunning:Nothing about these dinner parties is simple. Special attention is paid to every detail, including the flower arrangements. This anthurium is more than beautiful. It's displayed in a mini aquarium. There are tiny fish swimming around inside.
Creative Stemware: To go with their love of wine, Tom and Pam have special wine glasses with their nicknames etched on the sides.
The tablescape: Pam is in charge of decorations for the night. She comes up with the idea and creates a first draft in their living room before she puts everything together the night of the party. For Tom's birthday, she decorated the space with gorgeous arrangements of vibrant flowers, candles and her collection of crystal balls.
Good eats: Chef Wes Johnson of Metropolitan Farmer created the night's seven-course meal, which included a starter of blackberries and fennel and continued with Mt. Tam artisan cheese and pears. 
Raise a glass: To keep the good times rolling, Tom and Pam brought bottles of their favorite white wines to enjoy during the night.
Jam session: To add an extra dash of pizzazz to the night's
festivities, Tom and Pam invited Barak Hill to perform. "He sings some great old standards like Neil Young's 'Helpless' and plenty of Springsteen," Tom says. 
Beauty in Bloom: With Barley Wheat and Rye Social House roped off to create an intimate party area for the celebration, Pam decorated the bar with bright flowers to extend the party atmosphere.