Inspiration
Setting the Scene with Lori Guy
Want to wow your next dinner guests? Lori Guy is always hosting meals for friends and family, and she knows all about setting tables that impress.
By Savannah Waszczuk | Photo by Brandon Alms
Jun 2016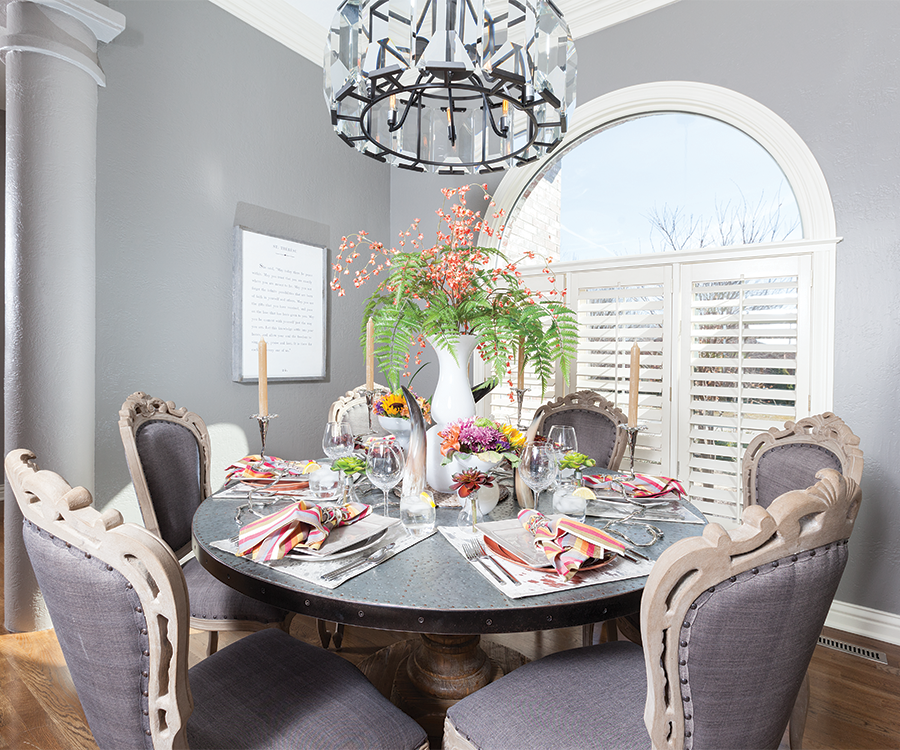 Lori and Tom Guy love to play host. "When we moved to Millwood, we made it a habit to get together with three other couples every month for dinner," Lori says. And they're still keeping up with this tradition—plus more. "One of our New Year's resolutions was inviting new friends over once a month as well," Lori says.
With so many of these dinner parties, Lori has plenty of practice in setting the perfect table. "I let the time of the year dictate the setting," Lori says. During the wintertime, tablescapes should feature season-appropriate colors. "I like to mix golds and silvers with greens and white during the winter," Lori says. When temperatures warm up and spring and summer roll around, you can change these out to incorporate brighter shades, and you can bring autumn colors to the table when the leaves start to change.
Lori stresses that centerpieces also play an important role in setting the scene. They are often responsible for determining the table's overall mood. And when you're thinking about what to put in those vases, think natural. "I always try to bring something fresh to the table," Lori says. "This can be greenery from pine trees or holly trees during the winter, and flowers from my window boxes during the spring or summer." But these items don't necessarily have to be contained in the centerpiece. "It's nice to add that fresh touch, even if it's just a fresh sprig of something in a napkin ring," Lori says. If you don't grow your own flowers, consider buying a bouquet and breaking it up, placing one flower at each place setting.
Another important part of setting the table is knowing your audience. "I set the table differently for our new friends than I do old friends," Lori says. "We wouldn't use name cards with our old friends, but it's nice to use them with new people. I try to sit couples together who I think may enjoy getting to know one another." She also sets the table differently when little ones are around. "We have our grandchildren here sometimes, and I'll roll out brown craft paper as placemats for them," she says. "I'll put some washable markers at their seats." This technique can also work with adults. "I've also done this for our group of friends when we were planning on taking a trip together," she says.


---