Retailers
Setting the Table
For more than 30 years, Michael and Wade Cantrell have been selling what they call junk. But their custom-made harvest tables made at The Chicken Coop are far from disposable.
By Ren Bishop | Photos by Brandon Alms
Jun 2016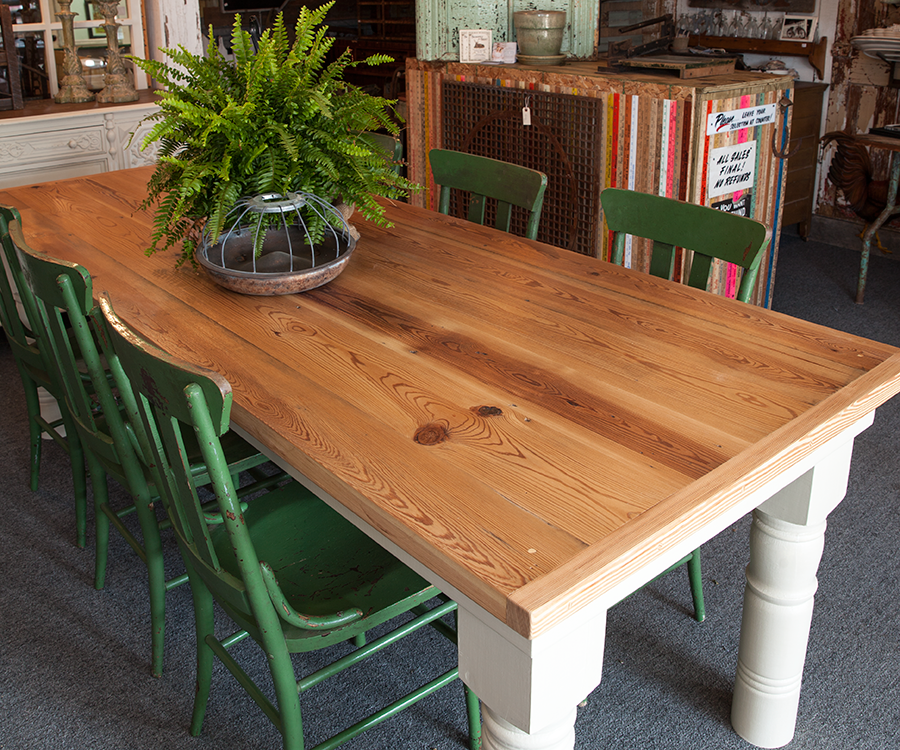 Michael Cantrell runs her fingers across a scrappy table. She takes a drink from a cup, but her hands naturally settle back on the top of a table she designed. She moves her fingertips along the chipped paint and ridges of the 100-year-old barn wood while she details her most recent trip to find wood in Minnesota and Iowa.
"Everybody always wants to know where your stuff comes from, but I sort of feel like it finds me sometimes," she says.
Michael and her husband Wade have been buying and selling junk, or aged antiques and primitives, together for more than 30 years. But for the last four, they've been building handcrafted harvest tables to sell at The Chicken Coop in Ozark.
 
Branson Builders
In their senior year of high school, Michael and Wade planned to build a house on 10 acres they purchased outside of Branson where Wade has lived his entire life. They knew nothing about building houses, Michael says, but they eventually built and sold that house. Now, a few houses, two kids and 32 years later, the couple is still building together.
"We're just do-it-yourselfers," Michael says. "And when we started up here, it kind of seemed like I didn't see anyone else making the tables that I liked, and I thought that could be our niche, making tables."


Set for a Table
The Cantrells make two types of harvest tables for customers or their shop. Modern farmhouse harvest tables feature new, high-quality pine, dark wooden tops and a white base with white legs. These popular tables often feature a trestle style, with two legs at either end of the table.
But Michael and Wade are known for what they call scrappy tables, featuring reclaimed barn wood tops, worn porch post legs and eccentric, rustic aprons at their bases. Michael dreams up a table's design, and Wade executes it for a one-of-a-kind table.
"For our customers, character is what they want," Wade says. And Wade notes that each table is unique. "Every table has a story, and I like to tell customers where the wood from their table came from," Michael says.


Sourced with a Story
To build their scrappy tables, the Cantrells hunt for aged and distressed woods locally and across the Midwest. More than half of the woods used in their custom scrappy tables are sourced locally.
"We had a customer, and her son owned a storefront that was being torn down, and Wade and my son went out and got as much wood off of it as they could," Michael says. "We've used pieces from the siding as aprons for tables."
Locals also sell the couple barn wood. Wood from a century-old farm on the East Coast found its way to a man in Nixa, who sold it to Michael. Now, the couple is using its boards to serve as the top of a massive 10-foot-long table for a nearby customer who will pay $1,000 for her custom farmhouse showstopper. 
But people are paying for more than a place to set their glasses, Michael says.
"Don't a lot of our family memories revolve around sitting around a table and eating together?" she says. "Tables, that's where memories are made."