Real Parties
The Perfect Summer Soiree
When it was time for Mark and Patti Johnson to welcome friends and family members into their new home, they pulled out all the stops to make sure it was an event guests would remember for years to come.
By Savannah Waszczuk | Photos by Kyle Davis
Jun 2016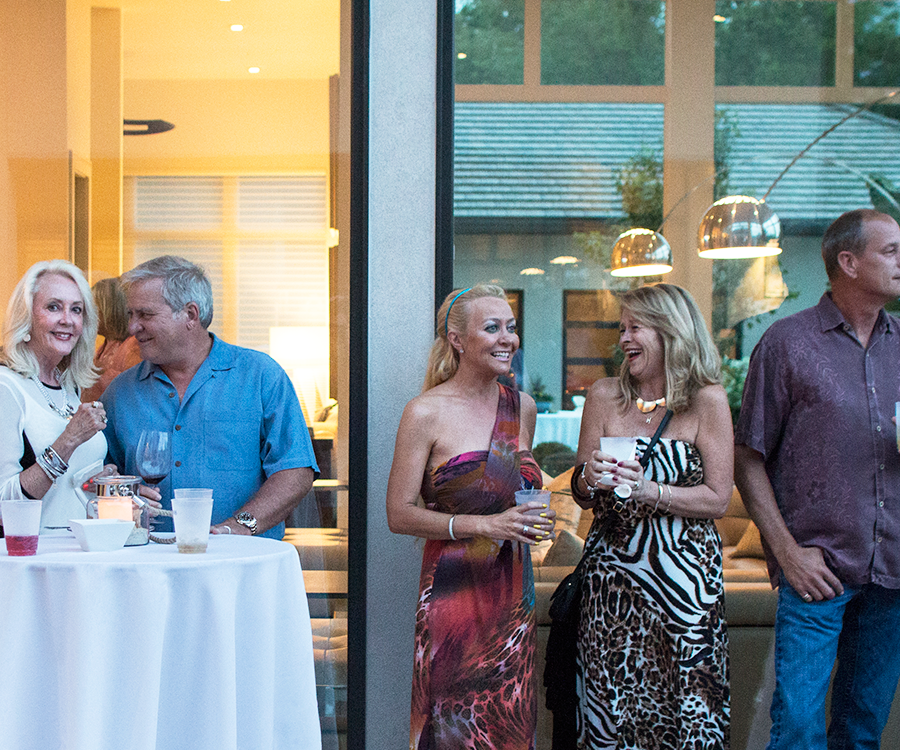 Mark and Patti Johnson went above and beyond to make sure the first party at their new home was one to remember.
A crowd of 120 friends and family members were invited to the summertime soiree, which took place last June. "It was the first time a lot of them were seeing our new house," Patti says. After handing their keys over to valet drivers, guests were greeted with a signature summer cocktail made with fresh raspberries. Drinks continued to flow throughout the evening, with both fresh margaritas and a wide range of drinks from the event's full bar up for grabs. "We made two batches of our own homemade margaritas to share," Patti says. "They're one of our favorites." 
After touring the Johnsons' gorgeous custom-built home, guests spent the majority of the party in the jaw-dropping outdoor space, which has a vanishing-edge pool, fountains, a pool house and plenty of top-notch amenities that make it the perfect spot for a first-class affair.
Partygoers filled their plates with a delectable spread of food catered by The Traveling Chef, munching on everything from gourmet cheeses and the season's freshest fruit to plump shrimp and mouthwatering crab cakes. Pearl Nation kept the energy up with a live performance, and minus a brief intermission during an impromptu rain shower, they kept guests dancing until the early morning hours. "Anytime you're going to have a big party, you should always have some kind of music," Patti says. "The band worked out really well, even with the rain." 
An interior designer and owner of 5908 Interiors, Patti was responsible for the event's décor, minus the flower arrangements, which were created by Pat Phillips of The Flower Merchant. "The flowers by Pat were used on the food tables, which we put under a tent we brought in," Patti says. "I used white linens for all of the tables, and a few candles and things, but that's about it. We kept it clean and simple." This neutral approach was perfect for such a party, allowing the house itself to truly take center stage and setting the scene for an evening that the Johnsons' friends and family will remember for years to come.


Many guests were served drinks in custom-ordered 5908 cups. Johnson owns 5908 Interiors, and 5908 is also the Johnson's house address.


Not much decor was needed for the party, as the Johnsons' gorgeous home and outdoor space provided the perfect backdrop.


A collection of fresh fruits, gourmet cheeses and seafood were just a few delicious choices in the plethora of food by The Traveling Chef. The food tables were all topped with beautiful fresh floral centerpieces by The Flower Merchant.


Why drink water from a bottle when you can drink it from a box? "We put out some silver bowls with boxed water in them in case people didn't want alcohol," Johnson says. She purchased the boxed water at Target.


Mark and Patti made a couple of batches of their favorite homemade margaritas to enjoy. Beer, wine and cocktails were also up for grabs.


The Johnsons' friends and family all know how to have a good time—many guests stayed on the dance floor until the early morning hours.


Local band Pearl Nation kept guests entertained at this evening soiree. "You should always have a backup plan for your outdoor party just in case it rains," Patti says. "We moved the band under the tent." Johnson says you should always have music at your event, too. "It's fun to watch people dance," she says.


A modern fireplace provides a bit of warmth to the Johnsons' outdoor area, which also features an infinity-edge pool, an outdoor kitchen and several seating areas.


A brief rain shower brought a part of the party temporarily indoors, where Patti's decor and centerpieces acted as a gorgeous setting. 


The Johnsons' outdoor space has multiple seating areas, so guests had no trouble finding a place to sit down and enjoy one another's company. Many people dressed up for the event, wearing their favorite chic, summery pieces for an evening outdoors.


The always-energetic band Pearl Nation played well into the night, and the party continued even after the music stopped. "I think I finally went to bed at 4:30 a.m." Johnson says.