Outdoor Spaces
Transform Your Outdoor Space
Transform your backyard into the ultimate summertime party venue with these attainable tips from Camille Lockhart.
By Savannah Waszczuk | Photo by Jeremy Mason McGraw
Jun 2016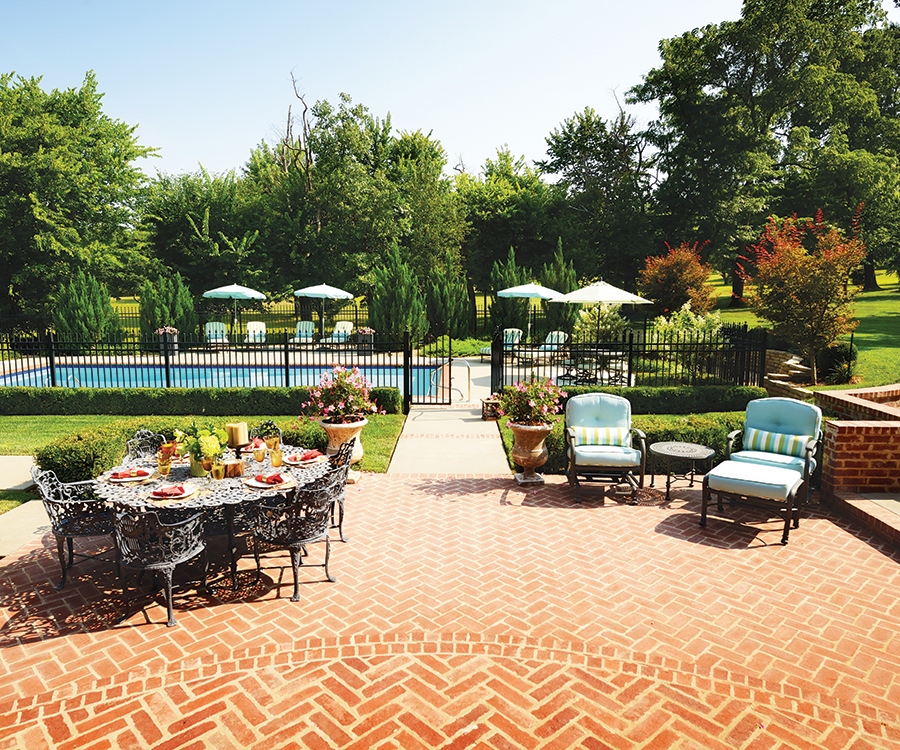 When it's time for the Lockhart family to play host, Camille and her husband, Alan, know just where to go: right to their very own backyard. Complete with a sparkling pool, a fire pit, multiple dining areas and even a half-court basketball court, it's the perfect spot for relaxation for the family, and the polished landscaping and furnishings make it a prime spot for a party. Ready to bring a splash of style to your own backyard? Check out Camille Lockhart's tips for creating your very own opulent outdoor space.

Plan for Privacy
The Lockharts carefully situated their home and landscaping so that their backyard isn't visible to any neighbors. "There are holly bushes that completely block any view from the left, and the house wraps around on the right and blocks any views from that side," she says. Towering evergreen trees toward the back of the property help provide seclusion from that direction, and an additional row of bushes near the pool help make it even more personal. Camille worked with Kimberlee Stockwell-Braasch of Kimberlee Designs, LLC to plan the layout of the outdoor space. 
Pick Your Plants Wisely
Camille knew that she wanted a lot of boxwoods in the landscaping's layout. "We have well over 100 boxwoods around the whole house," Camille says. She likes the plants for their ease of maintenance and manicured look. 
Make Room for Color
Rather than planting flowers in various beds and gardens around the house, the Lockharts put all of their colorful flowers in pots and planters. "I wanted them to be easily maintainable," Camille says. "I change the flowers out with each season."   
Let it Flow
Having multiple lounge and dining areas provides plenty of space to spread out during parties, and a double-gate fence that leads to the pool can be opened to provide more of a free-flowing space. 
Get the Look
The Lockharts wanted outdoor furniture that looked classic and tailored, but also inviting and welcoming. "Because we have three children, we wanted it to be not quite so serious and a little more fun," Camille says. They worked with Lee Haik at James Décor to find pieces that provided this specific look, choosing tasteful lounge chairs, umbrellas and even embroidered bolster pillows in playful shades of blue and green.