Retailers
Meet the Engraver who Makes Custom Lake Maps
After making more than 120 custom lake maps, engraver Sam Horner is still perfecting the art of his craft.
By Ren Bishop | Photos by Brandon Alms
Jun 2017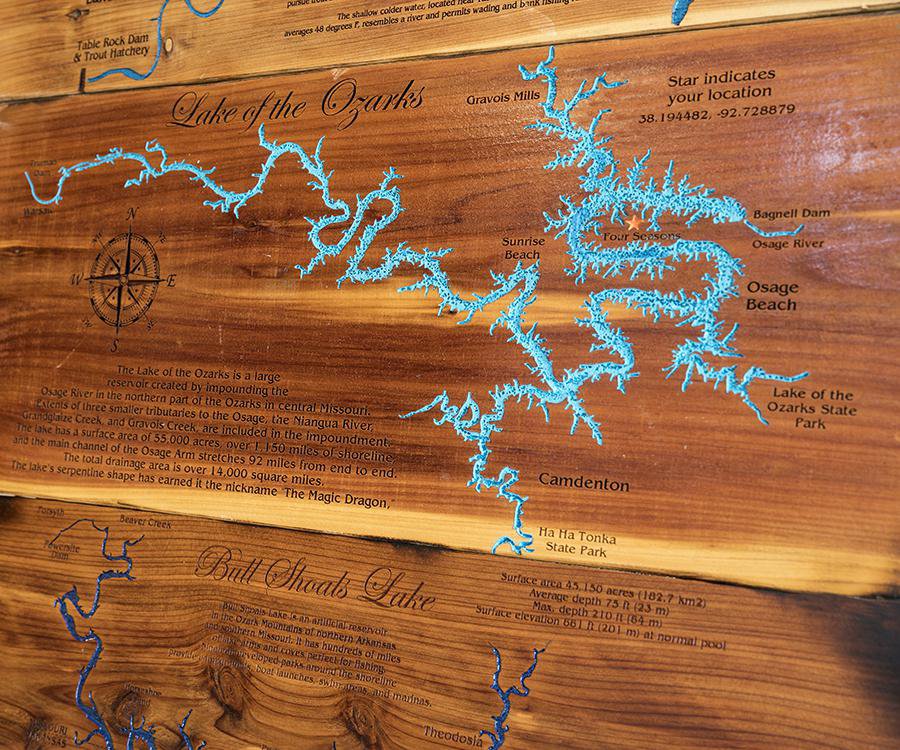 Sam Horner leans down and looks intently at the twists and curves of Bull Shoals Lake displayed on an easel. He traces the turns of Table Rock Lake with his fingers, pointing to his favorite fishing spot.
"I've spent a lot of time on these lakes, you know," he says. "So when I'm making these maps, I think about this cove where I caught a huge fish or had fun with my kids by this point. I always wanted to do a job outdoors, and these maps take me to the lakes I love."
Horner is a self-taught engraver, learning the trade in 1985 by engraving face plates for limousines' control panels. He had a knack for the detailed work and took a job working for an engraving business. He went on to open his own shop, Ozark Custom Engravers, in 1992.
Four years ago, Horner found engraved lake maps on his laser engraver group online. He had seen the maps on Etsy, and it seemed like a product he could do between commercial engraving jobs. "I've always loved maps, so it was just natural for me to try my hand at them," he says. "The ones I had seen on Etsy were always on layered wood, and I wanted a map that was on one solid piece. We had plenty of scrap cedar to work with from across the street at Ozark Fence Company, so I went to work."
Horner creates a custom lake map by first sanding rough sawn cedar and then immediately applying high-tack release paper to protect the wood and maintain its natural red color. The lake is deeply engraved with a laser engraver, and metallic blue enamel paint is applied. The release paper is removed and the customers' personalized text, coordinates and pre-selected images like a bass fish or compass are engraved.
Horner then adds the finishing touches, rounding the corners of the cedar plank, burning the edges to give the map a rustic look and applying several clear coats of enamel to protect the map for years. From start to finish, each map takes 24 hours.
"I also add a red jewel to a specific spot on the lake pinpointed with GPS coordinates from an address, if a customer wants," Horner says. "Every map is different because every customer is different."
Over the years, Horner has changed how coordinates appear and swapped teal paint for royal blue metallic. He's proud of the more than 120 lake maps he's sold and the glowing reviews he receives from customers in 417-land and around the country. He won't call his engraved maps art, though. 
"It's not art like painting a portrait or a beautiful landscape," he says. "But sure, yeah, I'd call it a craft, and I care about how they look. I keep trying to make them cleaner, simpler, to make the lakes more striking. But customers like how I do them now, though, so we'll see."