Beautiful Day in the Neighborhood
The James family loves the golf course, roaming wildlife and close-knit friendships in Springfield's Rivercut Golf Community.
By Kaycie Surrell
Nov 2012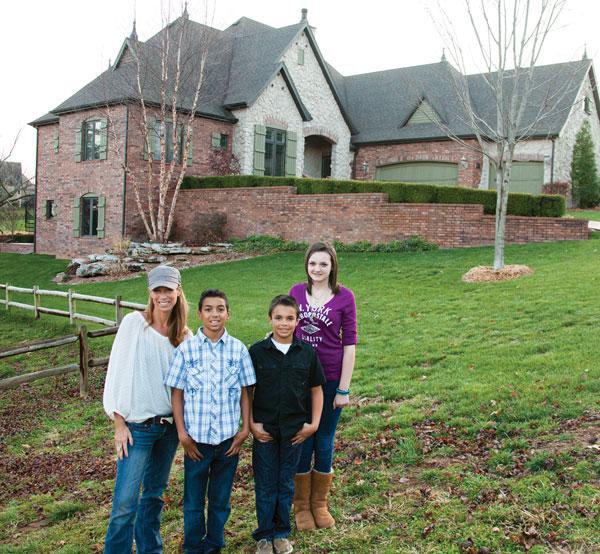 For the Family: Ursula James, her husband, Keith (not pictured) and their children, Carter, Peyton and Riley, love living in the Rivercut Golf Community.
For the past seven years, the James family has called the beautiful Rivercut Golf Community of Springfield home. From the fountains and waterfalls visible as you enter the community to the wild turkey and deer that share the area surrounding their home, they love everything about this southwest Springfield spot.
The neighborhood boasts an air of serenity, marked by sprawling golf greens and upscale brick homes. It is known for its golf course, and the course's Connie Morris Golf Learning Center is home to PGA Instructor Rick Grayson. It is often used by Ursula, Keith and their children, 10-year-old Peyton, 12-year-old Carter and 13-year-old Riley, and they also play at the four-hole junior course (where kids play free). But that isn't their most favorite part of the neighborhood.
"I love how beautiful it is here, and quiet," says Ursula. "I like sitting out on the back deck, looking out at the river and watching the geese."
The James family moved into one of the first homes in the neighborhood, and the community has grown around them. The neighborhood is close, celebrating holidays and the everyday together. Ursula says each year someone throws a Halloween party, and sometimes the moms in the neighborhood get together to relax. "A lot of people in the neighborhood get together for Bunco groups, and some of the moms meet up for wine on the deck," Ursula says. 
Tucked away from the hubbub of Springfield, Rivercut brings together all the best 417-land has to offer.