Gallery at the Lake
Located in the heart of Branson West, Gallery at the Lake is an art and antique oasis that houses a vast array of vintage finds and modern marvels.
By Ettie Berneking
Nov 2012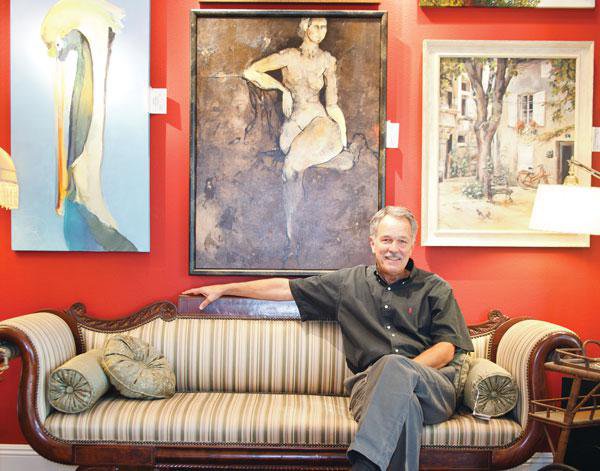 Gallery At The Lake, 15209 State Hwy. 13, Branson West, 417-739-1781, galleryatthelake.com; Mon.—Fri. 8 a.m.–5 p.m.; Sat. 9 a.m.–1 p.m.
The Owner
Owner Tom Hoath has been collecting antiques most of his life. He bought his first antique, a vintage coffee grinder, at an auction in Colorado when he was 22. After that, Hoath got hooked on collecting and restoring light fixtures from the 1920s and '30s. When he opened Gallery at the Lake in 1979, the business was a laminating company with a small stash of antiques for sale in the front of the store. But soon Hoath added original artwork and custom framing to his inventory. Then he started traveling the country and attending estate sales and auctions. Returning with a trailer packed with antique ice hooks, desks, picture frames and even marbles, Hoath loaded the gallery with colorful period pieces, using the artwork as eye-catching accents.
The Setting
This gallery is an antiques-lover's dream. Instead of the cluttered tables found at antique malls, every inch of the store is neatly decorated by store manager Tim Cron. Victorian couches and massive oak armoires stand as focal points with one-of-a-kind art hanging nearby. The set-up makes it easy for customers to see how pieces would look in their homes and makes it easy to find that must-have item.
The Stuff for Sale
This gallery is definitely eclectic and carries everything from custom picture frames and antiques to modern works of art. A Federal period couch from the 1800s is currently the oldest item in the store, but there are plenty of vintage lamps, desks and chests that go back to the early 1900s. But unlike most antique stores, everything in the gallery has been restored. Adding to his collection, Hoath recently bought a massive collection of vintage Fiestaware complete with espresso cups, French casserole dishes and even maple syrup dispensers. Mixed in with the antiques are oil paintings, watercolors and sculptures from artists ranging from the 417-area to Maine. Despite the age difference, the old and new pieces work well together. "Artwork is picking up in popularity," Hoath says. "People are decorating more and either buy a piece of art or bring in a photo or poster and have us frame the item." Hoath has a framing studio in the back of the store and has framed everything from violins to fishing lures.
The Summary
This shop is full of decorating inspiration and is just plain fun to walk through. Whether you're looking for antiques or searching for a new piece of art, Gallery at the Lake is a definite spot to check out when traveling through the Branson area.