Recycled Wood Furnishings
A pair of Joplin-area craftsmen are transforming downed trees into functional bowls, art and home furnishings.
By Harrison Keegan
Nov 2012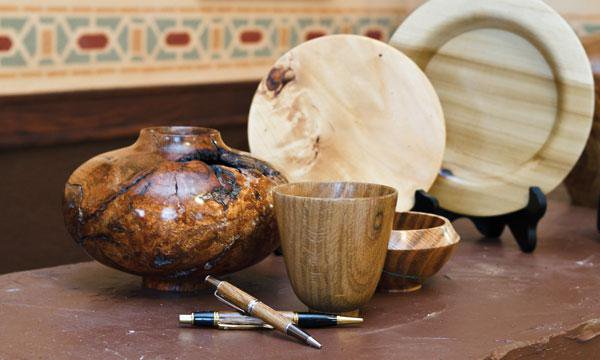 A downed tree can mean different things to different people.
For some, it's a sign of progress and clearing the way. For others it's an inconvenience. For still others, it's firewood. But for a pair of Joplin-area furniture makers, a downed tree is a blank canvas.
Steve Doerr, former Joplin School District assistant superintendent, has always been a popular wedding guest. He developed a knack for flatwork, formerly taking wood from downed cedar trees on his wife's family farm and transforming it into intricate furniture. He would then give this furniture to his nieces and nephews as wedding presents. But now that he is retired, he is using his wood turning to turn a profit.
Doerr runs the Wooden Doerr (thewoodendoerr.com) out of his basement in Joplin. He sells mostly bowls and writing pens, which he creates using downed wood left after power companies clear space or Mother Nature knocks down tress and limbs. "It's my way to stay busy and, as my wife says, out of trouble," Doerr says. "We have a lot of really good wood here in Missouri; we are blessed with oaks and maples and a lot of great trees."
After the Joplin tornado, Doerr used his connections to acquire a large amount of downed wood from trees that used to surround the high school. Most of his work recently has been turning that wood into commemorative bowls and pens.
Doerr says not only does collecting downed wood help a community clean up after a disaster, but it's also important to him from an environmental standpoint not to cut trees down solely for his own creative purposes. "I see all of this wood that the power companies have knocked down or that has fallen during ice storms, and it goes to waste," Doerr says. "My perspective is 'Okay, I can use that.' I don't go out and harvest wood from trees just so I can make something, but if it's down, then I will use it." 
Although he still makes larger furniture for family wedding gifts, Doerr has found it to be cost prohibitive to sell the larger pieces because of the time required to make them. But that' s not the case for Jack Divine. 
Divine is another Joplin-area artist who turns downed trees into functional art pieces, such as tables and bookshelves. Most of his pieces are live edge, giving them a very distinct look. Divine, owner of Harrison Creek Creations (harrisoncreekcreations.com), says he lets the wood dictate the shape of the piece. "I'm in the business of letting the wood show its beauty and form its own shape and then trying to put it together in a functional and attractive way," Divine says. 
Almost all of the wood Divine uses was collected near the creek that runs behind his home after the tornado or recent ice storms. His pieces combine slabs of wood from one tree with downed limbs from other trees. With plenty of wood to go around, Doerr and Divine are turning the wrath of Mother Nature into works of art.