Winter Harvest
PT Gardens gives tips on growing rosemary indoors, and the Food Channel shares recipes for enjoying the hearty herb.
By Ettie Berneking | Photos courtesy The Food Channel - foodchannel.com
Nov 2013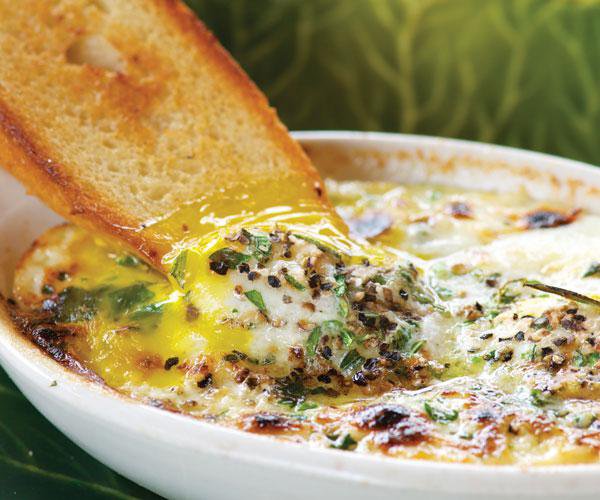 Summertime might be long gone, but that doesn't mean you have to put the kibosh on growing your own food. Rosemary is a great way to flavor your favorite savory dishes, and it can easily be transplanted inside with the help of Paul Spangenberg, owner of PT Gardens. Spangenberg, who sells his plants, fresh herbs and spice mixes at Farmers Market of the Ozarks, says there are a few things to keep in mind when you're transplanting your rosemary from your garden to your countertop. 
First, if you're digging up a rosemary plant, dig up as much of the root as possible, and shake off all of the dirt. "You don't want the garden dirt to mix with the dirt in the pot," Spangenberg says. Next, transplant the rosemary into a large pot with organic soil. Be sure to use a pot that is about twice the diameter of the plant. "Rosemary has big roots, and if the roots are constricted, so is the plant," Spangenberg says. 
Next, be sure to place the rosemary plant in a sunny spot, and keep the soil moist but not damp. "You want to let the plant dry out once in a while," Spangenberg says. "Stressed plants will provide a much better herb, and it helps prevent fungus from forming in the moist soil." Once your rosemary plant has had time to re-establish in the pot, it's safe to pinch off a few sprigs, and enjoy it in the following recipes, all of which were developed in the Springfield-based Food Channel Test Kitchens.
Baked Eggs with Rosemary, Garlic and Parmesan
Makes 4 servings
Ingredients:
½ teaspoon garlic, minced
½ teaspoon fresh thyme, minced
½ teaspoon fresh rosemary leaves, minced
2 tablespoons fresh parsley, minced
2 tablespoons Parmesan cheese, grated
8 extra-large eggs
¼ cup heavy cream
2 tablespoons unsalted butter
Kosher salt to taste
Coarse ground pepper to taste
French bread, toasted
To prepare: 
Preheat broiler for 5 minutes, and place the oven rack 6 inches below the heat. Combine the garlic, thyme, rosemary, parsley and Parmesan in a bowl. Set aside. Crack 2 eggs, without breaking the yolk, into each of four small bowls. Place four individual gratin dishes on a baking sheet. Place 1 tablespoon of cream and ½ tablespoon of butter in each dish, and place under the broiler for 3 minutes, until hot and bubbly. Quickly pour 2 eggs into each gratin dish, and sprinkle with the herb mixture, salt and pepper. Place the dishes back under the broiler for 5 to 6 minutes, or until the whites of the eggs are almost cooked. The eggs will continue to cook after removed from the oven. Cool for one minute, and serve with toasted bread. 
Flatbread with Rosemary and Sea Salt
Makes 8 servings
Ingredients:
2 6-inch to 9-inch flatbreads, prepared
½ cup fontina cheese, grated
1 tablespoon fresh rosemary, chopped
½ teaspoon sea salt
¼ teaspoon coarse black pepper
¼teaspoon crushed red pepper
1 tablespoon olive oil
½ cup Parmesan cheese, shaved
To prepare: 
Preheat oven to 350°F. Top the flatbread evenly with fontina cheese, rosemary, salt, pepper and crushed red pepper, and drizzle with olive oil. Bake for 3 to 5 minutes until the cheese melts. Top with Parmesan cheese and serve.
Grilled Rosemary Pork Tenderloin
Makes 8 servings
Ingredients:
Grated zest of 1 lemon
¾ cup lemon juice, freshly squeezed
½ cup olive oil, plus extra for brushing the grill
6 garlic cloves, mashed
1½ tablespoons fresh rosemary, minced
1 tablespoon fresh thyme, chopped
2 teaspoons Dijon mustard
3 teaspoons kosher salt
2 pork tenderloins (1 to 1½ pounds each)
1 teaspoon freshly ground black pepper
To prepare:
In a sturdy 1-gallon resealable plastic bag, combine the lemon zest, lemon juice, olive oil, garlic, rosemary, thyme, mustard and 2 teaspoons of salt. Add the pork tenderloins, and turn to coat with the marinade. Squeeze the air out of the bag. Let the pork marinate in the fridge for at least three hours. When you're ready, build a charcoal fire, or preheat a grill. Brush the cooking grate with olive oil to prevent the pork from sticking. Remove the tenderloins from the marinade, and discard the marinade. Sprinkle the tenderloins generously with salt and pepper. Grill the tenderloins for 15 to 25 minutes, or until the meat registers at 137°F on the thickest part. Be sure to turn them a few times to brown all sides. Transfer the tenderloins to a platter, and cover with aluminum foil. Allow the meat to rest for 10 minutes. Carve in half-inch thick diagonal slices, and serve warm. 
Rosemary Roasted Potatoes with Grilled Peppers and Onions
Ingredients:
1 bag of blue potatoes (about 1 1/2 pounds)1 tablespoon rosemary, minced
1/3 cup olive oil
1 1/2 teaspoons kosher salt
1/2 teaspoon black pepper
1 red bell pepper, quartered
1 yellow bell pepper, quartered
1 red onion, peeled and sliced
To prepare: 
Preheat oven to 425°F. Halve or quarter the potatoes and toss with the olive oil, rosemary, salt and pepper and place on a large sheet pan. Roast for 40 minutes, until browned, turning once with a spatula. While the potatoes are roasting brush olive oil on the peppers and onions and place on a hot grill for about until slightly charred. Arrange the vegetables on a bed of fresh field greens and serve.