Your Go-To Green Source
Learn about energy efficient living and opportunities in 417-land with the Ozarks Green Building Coaltion, a non-profit group that's helping home buyers, sellers, builders and realtors.
By Jeff Houghton | Photo courtesy Dan Chiles
Nov 2013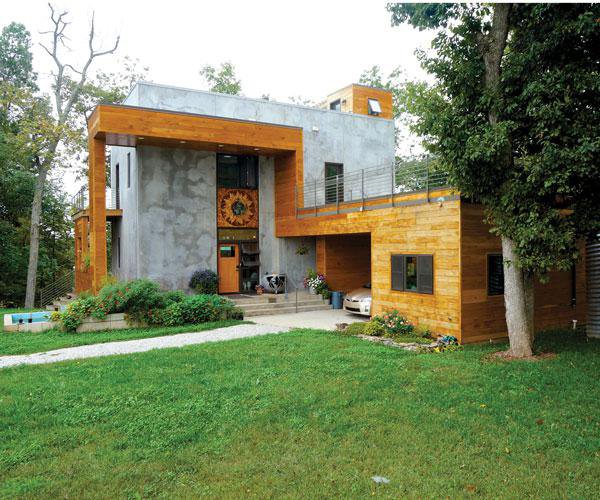 Green Living Scene: The Ozarks Green Building Coalition is a local non-profit group that strives to educate people about green building. The group has toured and held presentations at this home, which is powered by 39 solar panels, features walls with a one-of-a-kind solar design and contains many other green building features. 
Green building is becoming more popular every year,  for both those interested in the environment and those interested in lowering utility bills. The advantages are well known, but going about building a green home or greening up your current home can be a daunting task. Enter the Ozarks Green Building Coalition.
"The main goal is education," says Ozarks Green Building Coalition Vice President Korina Branson. "We want to be that resource to either educate the person or make that connection to collaborate with other home buyers and tradesman to make a wise choice in their home purchase." Home buyers make up a large portion of those using the coalition, but it strives to benefit more than just the person buying or building a home. Sellers interested in making their homes more marketable, builders who want to keep up with the latest innovations, realtors who want to know more and home owners who want to live in a more efficient home can find the coalition useful.
The Ozarks Green Building Coalition began in 2007, when a group of industry professionals saw there wasn't enough knowledge about green building and formed the organization. Ever since, they've been educating people in a variety of ways, including a speakers bureau, a green Multiple Listing Service (MLS) so realtors can highlight areas of energy efficiency in homes, an annual green building fair and monthly meetings the third Wednesday of each month at the Library Center. "We do an educational presentation that lasts between 30 and 40 minutes, and the public is welcome to come," says Branson. "It allows home owners and home buyers the opportunity to network and create connections."
A non-profit organization, the Ozarks Green Building Coalition offers different levels of membership to individuals as well as businesses, and it is a benefit to all involved. "I own a company," Branson says. "We're a full service contractor. I've found it really helps when people who are buying a home, or building one, are educated and know what they're bringing to the table."
Current Rebates
Save money through rebates and deductions by making your home more energy efficient.
Local: City Utilites offers rebates and incentives for upgrading your toilets, programmable thermostats, natural gas furnaces, central air conditioning or heat pumps, or having your home ENERGY STAR certified.
State: You can obtain as much as a $1,000 tax deduction with an energy audit by the Department of Natural Resources (through the end of 2013).
Federal: ENERGY STAR federal tax credits are as much as $500 for improvements including windows, doors, water heaters, insulation and roofing.