Branson's UTC Hardwoods
Often using crooked, knotty logs, Paul Pomeroy of Branson's UTC Hardwoods creates gorgeous hand-made wooden serving and cutting boards.
By Daniel Snyder | Photos by Kevin O'Riley
Nov 2014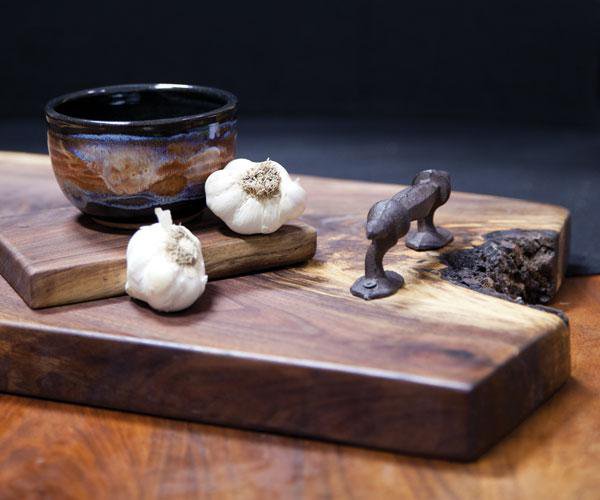 Like so many others, Paul Pomeroy of UTC Hardwoods (417-200-4228, utchardwoods.com) in Branson didn't start his career in Branson. His beginnings in the lumber industry started in 1978 in upstate New York, where he owned a sawmill with his brother until 2007. 
Moving across the country is no small task, and Pomeroy is the first to admit that it wasn't easy. "I moved down here, and what I intended to do was buy and sell lumber," Pomeroy says, adding that he wanted to wholesale lumber and create his own little niche. "Of course, the cabinet industry collapsed within that time frame. I wasn't buying and selling wood, so I said, 'Well, I got to do something,' so I started making cutting boards and this type of stuff."
Pomeroy started brainstorming ways to create his custom business. "I've always wanted to do woodworking," he says. "The theory was that I was going to buy and sell wood and do the custom stuff on the side for myself. Well, since lumber wasn't selling, I had to do something with it. I've been working on making more of a commodity-like product that's still niche-like."
UTC Hardwoods creates one-of-a-kind wood tables, desks, serving trays and cutting boards. Pomeroy says his vision for UTC is to create his own little slice of the market where he and his employees could offer products that were handcrafted and custom made. 
In a way, Pomeroy brings life to old logs by turning them into beautiful final products. He buys from local sawmills and uses slab wood with defects that wouldn't work for commercial wood. "It could be knotty or crooked or whatever," Pomeroy says. "It gives it character, and that's what sells it."
Pomeroy's custom-made serving trays and cutting boards cost between $100 and $150 and are food-safe. They are currently sold at Ellecor and Everything Kitchens in Springfield and at Big Cedar Lodge and Top of the Rock in Branson. Big Cedar Lodge began carrying the largest display of Pomeroy's products after Rick Bilyeu, a buyer for all of Big Cedar's properties, became interested. "Rick's interest in our products has encouraged us to expand our line," Pomeroy says. "We have a good working relationship with him." 
  Although it was slow starting, Pomeroy says he thinks he found that little piece of the market. "I want my product to be handcrafted," he says. "Our products have to be hand-done. You can't do what we do in a factory. That's my niche."