Christmas at the Tiedts'
With gorgeous glowing trees, chugging custom train sets and more, Carl and Barbara Tiedt's Springfield home becomes a whimsical wonderland during the holiday season.
By Ettie Berneking | Photographed by Jeremy Mason Mcgraw
Nov 2014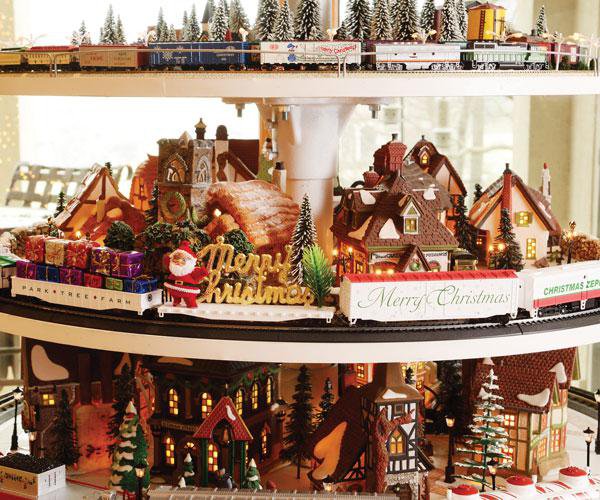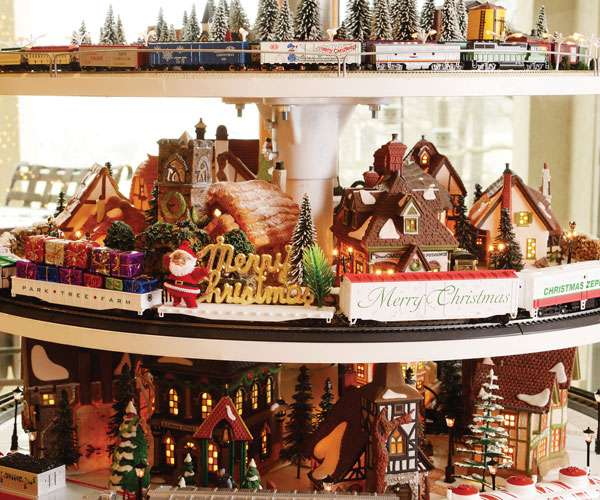 If you think the magic and glee of Christmas are only enjoyed by children, then you haven't met Carl and Barbara Tiedt. Each November, this Springfield couple rolls out boxes of lights, ornaments, nativity scenes, bearded Santas and antique train sets to turn their home into a shimmery wonderland.
All in all, the Tiedts have four Christmas trees, one handmade train tree dedicated to the display of Carl's train collection, several nativity scenes, Santas galore and even a working ski lift in the basement. Christmas is done in style at this home, and it all kicks off the second Friday of November when The Flower Merchant sends several helpful elves over to assist in arranging the decorations. Six hours later, the Tiedt home is ready for the holiday season. 
Under the watchful eye of Barbara, who is in charge of establishing a theme each year for the décor, the Tiedt family and The Flower Merchant team have spent nearly 12 years decorating together. And while some years might bring in new ornaments or details, the trees, for the most part, stay the same. The upstairs tree is lovingly swathed in gold, black and silver. Downstairs, the tree is decked in more traditional reds and golds along with ornaments that have been in the Tiedt family for years including some that date back to Barbara and Carl's wedding and others that were made by the couple's daughter. 
For her part, Barbara's addition to the holiday décor is the collection of Santas, elves and nativity scenes. She and Carl have traveled all over the world and always seem to manage to find a new addition to their collection during their sojourns, whether they're in France or Brazil.
But the trains, those tiny nods to boyhood dreams, belong to Carl. "Carl never had a train as a boy," Barbara says, explaining her husband's growing collection. "When he saw his first train set, he said he'd always wanted one to go around the Christmas tree." With that first train set, Carl's love of trains of all makes and sizes took shape, and soon he had a whole collection to display. That one set he bought to go around the base of the tree kept expanding until finally, he built what Barbara calls "his train tree"—a six-tiered display that showcases some of Carl's most beloved engines, cabooses and locomotives. 
And just like any little boy would want, the trains chug along the tracks while the ski lift hums to life in the background, adding the final touch of whimsy to this festive holiday display.
Carl built this six-tier tree train one year to show off his collection. The trains race along the track, which surrounds other holiday décor. 
The Tiedts' Christmas decorations are spread through the whole house, and they are especially festive in the basement where the grandkids can play with the trains and ski lift Carl constructed.
The towering Christmas tree  in the Tiedts' living room is just one of many trees the couple sets up each year. This tree is used to display more traditional and elegant decorations. The red and gold color scheme helps add a pop of elegance to the couple's collection of robed Santas, silver reindeer and other pieces of holiday décor. 
Barbara and Carl Tiedt have been collecting Christmas decorations for several years. While Barbara is mostly interested in collecting Santas, Carl's interest is in model trains. 
Each November, the Tiedts unpack their collection of Christmas decorations and with the help of  The Flower Merchant, their home is decked from floor to ceiling with ornaments, garlands, lights and much more.