Living on a Loom
When Paula Bonner Rosen was an undergraduate student at Drury University, she fell in love with weaving. Now, more than 30 years later, she teaches Drury students the art that she's spent decades mastering, and she sells some of her own one-of-a-kind weav
By Ren Bishop | Photos by Kevin O'Riley and Heather Kane
Nov 2015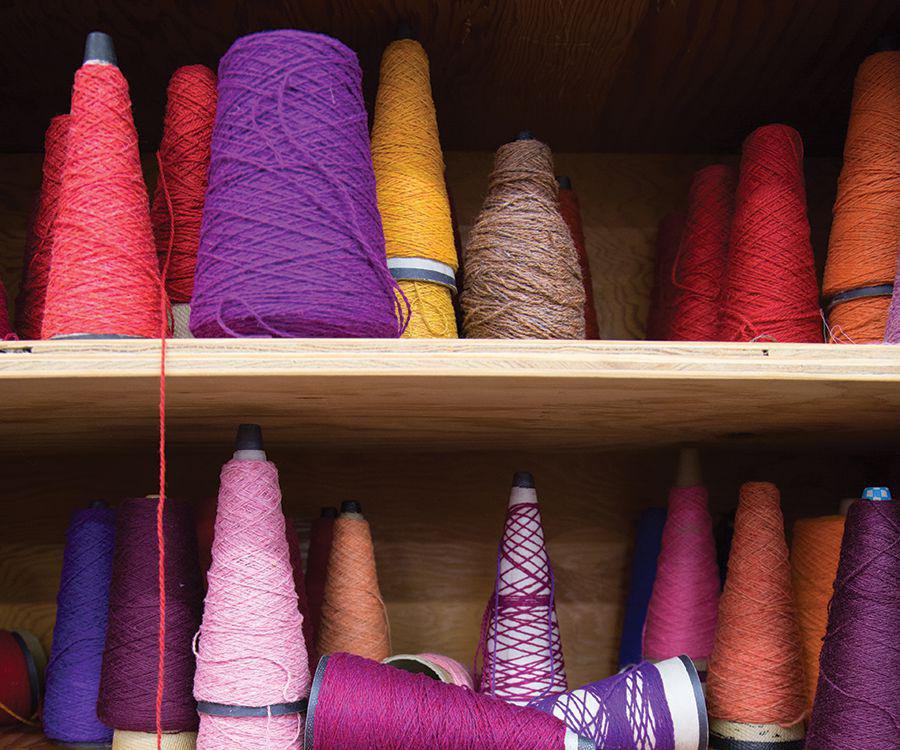 Paula Bonner Rosen seems most comfortable when she sits at a floor loom. Her back is straighter, her eyes brighter. She nudges treadles under her feet, gently touching the pattern of purples and blues as she talks about the thousands of hours she's spent on a loom in her studio classroom.
"My students, they have to learn the language of a loom," she says as she gestures to its moving parts. "When I say tie this to the castle or tie up your treadles, they have to know what that means. For me by now, it's second nature."


Paula Bonner Rosen spends hours on her floor loom to create wall art, blankets, scarves and more. 
For more than 30 years, Rosen has spent hours a week on a loom. The Springfield native fell in love with weaving when she was a college student and learned the art from beloved arts professor Harriet Mears at Drury University. Now, she teaches students the millennia-old art of weaving in her fiber arts classes, also at Drury.
But between classes, she weaves her own pieces. She weaves luxurious wool blankets, cozy scarves and throw rugs. She pieces together blankets made from colorful cashmere sweaters. And she creates wall hangings made from needle felting, a process that uses barbed needles to interlock wool fibers to form a new surface. "I like the needle felting because I can paint with the fiber," she says. "Wool is a fiber I get really excited about, and I use it to build layers on layers to create something new."
Rosen's embellished needle felt wall hangings are made from recycled wool clothing at their base. The process begins the same way each time, but the subjects of her wall hangings vary as widely as her interests. 
One piece made from a gently used cape depicts a monument to executed women accused of witchcraft in Scotland. Another wall hanging depicts the Callanish standing stones that she visited on a trip with her daughter, Meganne. And she's completed a series of wall hangings that are portraits of the sheep that produce most of her fleece.


When these cool-colred threads come together, they will create a cozy scarf.
Rosen hopes that her creations speak to their viewers the way their subjects spoke to her. But like her woven wool creations, her wall hangings are meant to be touched.
"My pieces are made to be felt," she says. "You should walk barefoot on one of my Navajo saddle blankets. You should cuddle up with a woven blanket. What I make is made to live with you, even if it's going to live on a wall."
For Rosen, she's living on a loom. Her sweet Rottweiler Lily sits at her feet at the floor loom in her home studio. She listens to music as she sits on a floor loom generously donated by a retired weaver in Drury's Dr. Harriet Mears Weaving Studio. And she teaches the next generation of weavers on a loom.
"It's very important that we keep these tactile arts alive," she says at her loom. "The more digitized we become, the more removed we become from our hands. We need that tactile, hands-on experience. It's good for the soul."

Local artist Paula Bonner Rosen creates a plethora of handmade weavings, including this wall hanging (Road to Tause, $200) and  queen-size plain-weave wool blanket ($600).