Retailers
In With The Old at Harrison House Market
Vintage and modern items collide at Harrison House Market, a recent addition to Springfield's home goods shopping scene.
By Adrienne Donica | Photos by Kevin O'Riley
Nov 2016
The Setting
Decades ago, strip malls off Glenstone Avenue near Sunshine were home to the creme de la creme of Springfield's stores. With Battlefield Mall's entrance onto the scene, things changed somewhat, but there are still many stores worth exploring in the old strip malls, including one recent addition: Harrison House Market.
The newly renovated space is almost 3,000 square feet, but even that might not be enough to hold all the vintage goods that vie for your eye's attention. It's one of those stores where you can tell that everything has its place—until it's sold, that is.


The Owners
The brains behind the 5-year-old operation are Julie Dake and her daughter Lacy Mayfield. The pair always dreamed of working together, and after Dake retired, they rented a small storefront in Republic and started the business. 
"We were only open three days a week, and we both just fell in love with the industry," Mayfield says. Eventually they decided they needed a bigger location, so they moved the shop to Ozark.
With that move, Mayfield decided to quit her job, at which she worked the night shifts, and commit full-time to the store. They built up their clientele, making friends and creating partnerships along the way. They also learned how to run a business, something neither Dake nor Mayfield had experience in. Today, Dake handles customer service, while Mayfield is the designer and buyer.
They knew they always wanted to move to Springfield. It was actually a customer who led them to Harrison House's current location, which officially opened its doors in September 2016. More than double the size of the Ozark store, the market has more room for the pair to work with.


The Stuff for Sale
Initially, Dake and Mayfield spent hours looking for found treasures to sell in their shop. But the time demands of running a business coupled with customers' preferences for modern vintage items have led them to their current inventory. Authentic vintage items and made-to-look-vintage pieces seamlessly flow together in the store.
Don't be surprised if you find yourself spending the better part of an hour or more looking at everything for sale. Tables adorned with picture frames, small artwork and decorative bird statues sit next to chairs, benches and cabinets more than a century old. Elaborate chandeliers hang overhead, while homemade soaps, candles, jewelry and other decorations crowd still more tabletops. The new store has also allowed them to expand their clothing section, all sourced from Artistic Works by Lu out of Leavenworth, Kansas. 
"We don't want people to get tired of seeing the same thing when they come in," Mayfield says. "So I really try to change it. At least every week, something's changing."
Staying current is a priority for the owners, but they have a respect for the past. Their eyes light up when they start talking about one of the truly vintage pieces in the store. They love discovering and sharing the stories of these items, just waiting to find a new home.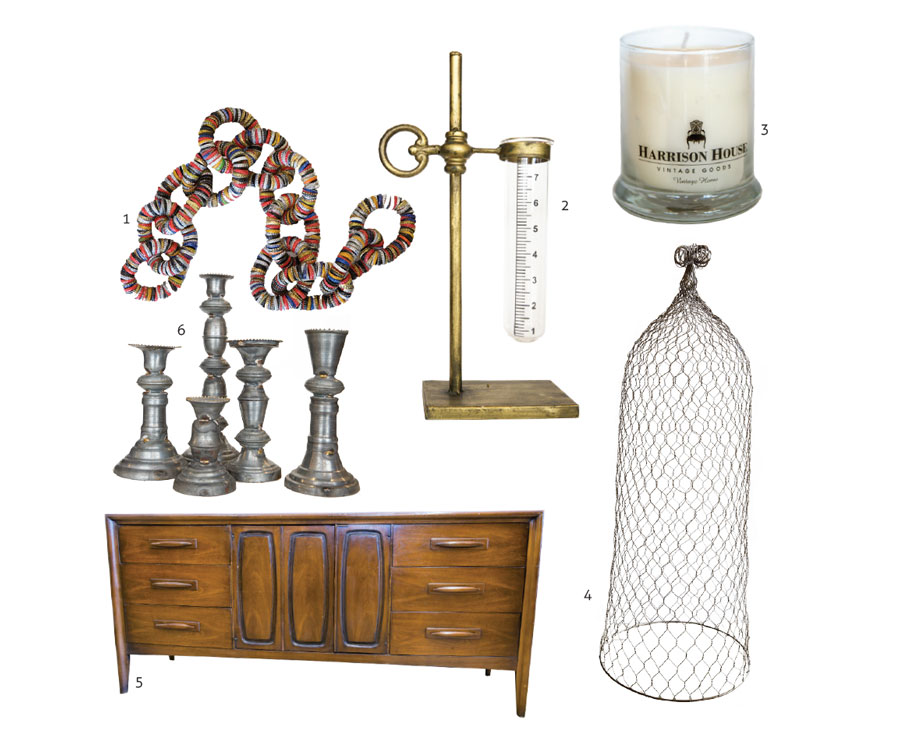 OUR FAVORITE FINDS: 1.

Folk art 12-link bottle cap chain, $98 

2.

Numerical tube display, $42 

3.

"Vintage Home" signature scented candle, $18.95 

4.

Wire cloche topiaries, $79 

5.

Broyhill Emphasis series 

midcentury modern nine-drawer walnut credenza, $594 

6. Five-piece metal candlestick set, $110


The Summary
Chock full of goodies, Harrison House Market is a dangerous place for vintage-lovers or anyone looking to remodel their home. It's the kind of place you go into to buy a gift and end up walking out with that piece of furniture you just couldn't live without. Resist if you dare.
---
1717 E. Cherokee St., Suite 103, Springfield
Open Mon.–Fri., 10 a.m.–5 p.m.; Sat., 10 a.m.–4 p.m.
417-351-3122