Retailers
Emma Louise Home ups Nixa's Shopping Game
After years of operating an interior design company from her home, Teena deRonde and her husband, Eddie, set up brick and mortar store Emma Louise Home that opened this May in Nixa.
By Adrienne Donica | Photos by Brandon Alms
Nov 2017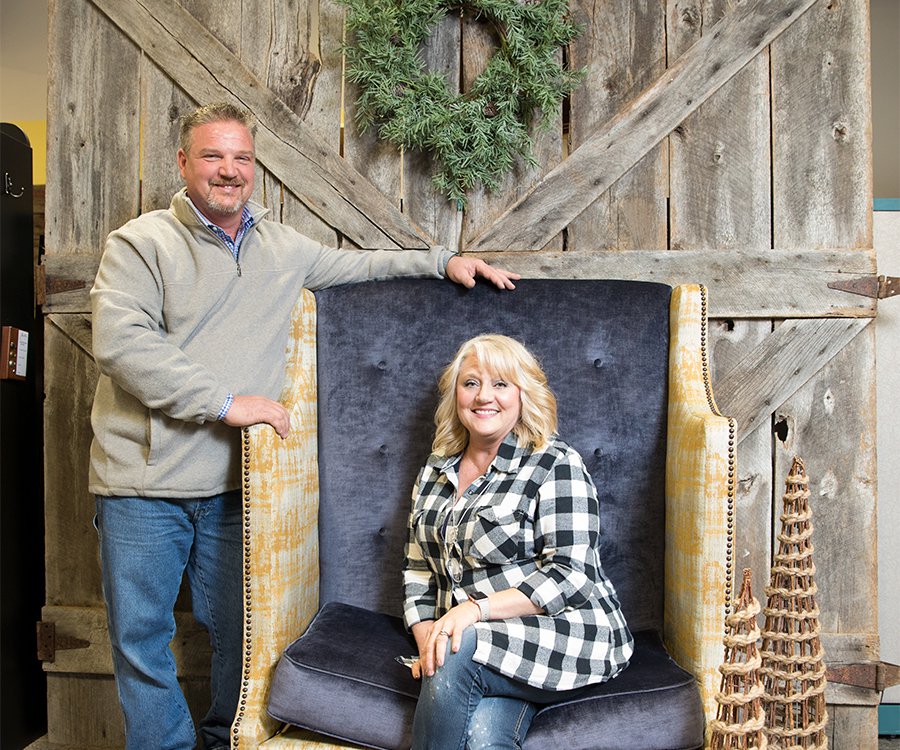 THE SETTING
At the end of an unassuming, brick shopping center off Nixa's Main Street sits a relative newcomer to the city's shopping scene: Emma Louise Home (116 W. Sherman Way, Suite 11, Nixa, 417-494-5037). If you're used to jam-packed stores, walking through the double glass doors at Emma Louise Home is a breath of fresh air. The 4,100-square-foot space is designed so that you have room to comfortably walk around without fear of knocking anything off a shelf with your purse. The store's high ceiling also opens the space up and draws your eye upward. Let your eyes wander—there are several striking light fixtures you won't want to miss. The cream-colored walls are cozier than a stark white but subtle enough that they don't distract from the goods on display.
THE OWNERS
"We don't want to be the place that's just so crammed full of stuff that it looks like a flea market," says Eddie deRonde, who co-owns Emma Louise Home with his wife, Teena. The duo is focused on providing a laid-back shopping environment and meeting clients where they are. They stock customizable and one-of-a-kind pieces so customers won't end up with the same pieces as all their friends. And Teena, the design expert behind the operation, offers free consultations and long-term planning services for anyone who walks through the door.
"I've always wanted to do something like this," says Teena, who has a fashion merchandising degree from Southwest Baptist University and has 20-plus years' experience in the design industry. Before Emma Louise Home, she operated interior design consulting firm Treasures Transformed from her home, while Eddie spent 34 years in the food industry. In November 2016, they decided to follow Teena's dream. "We picked Nixa because Nixa really doesn't have any place like this," Teena says. Six months later, the store opened.
The store is named after Teena's grandmother, with whom Teena was very close. "Everything in her house was impeccable," Teena says. Emma Louise was known to regularly use a level in her kitchen to make sure the pictures were straight. Just like she didn't settle for anything but perfection, Teena and Eddie don't want their clients to settle for what works.


THE STUFF FOR SALE
Although items aren't crammed together, there's a lot to find at Emma Louise Home. As much as possible, the deRondes aim to source locally and American-made products. Big ticket items include sofas and chairs from Lebanon-based Justice Furniture, bed frames from Wesley Allen and the store's own line of dining room tables made from reclaimed wood. Teena designs these with Missouri-based artisans. Past tables have used wood from an 1840s table and a 170-year-old barn. Teena hopes that eventually she and Todd will be able to create pieces using antiques and other furniture that people bring to her.
Aside from furniture, you can find textiles such as bedding, rugs, throws; decor pieces like oversized clocks and hanging plant holders; and, most recently, women's apparel and accessories. In September, the deRondes began selling clothes from the Charlie Paige line, which so far has been a big hit. Lastly, there's no missing the large section of floor space devoted to fabric samples and swatches—the key that allows the deRondes to customize shoppers' furniture orders.

THE SUMMARY
Emma Louise Home offers a relaxed, personalized shopping experience whether you're looking to redecorate or pick up a gift for your bestie. Watch for seasonal open houses and other events at this welcome addition to Nixa shopping.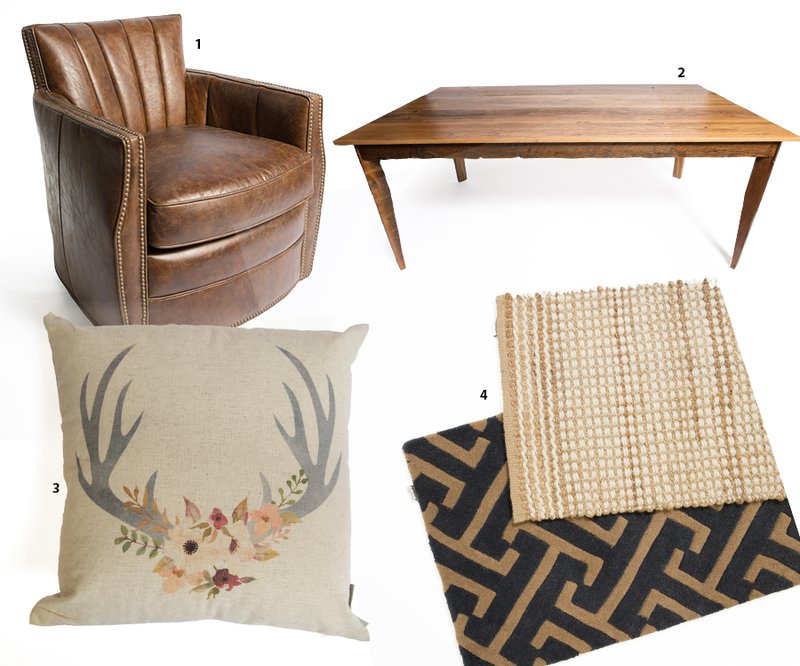 1. Hooker swivel leather chair, $1,239
2. The Calimo handcrafted table from 170-year-old barn wood, $2,500
3. Antler pillow cover, $29
4. Kaleen rug swatches in Revolution (back) and Colinas. Price depends on rug size (2x3 to 9x13).