Home Profiles
Jungle Flair Warms Up Pam Johnson's Sunroom
With warm, earthy artwork and jungle-inspired finds, the formal living room in Pam Johnson's home provides a cozy place to forget your winter blues.
By Claire Porter | Photo by Jeremy Mason McGraw
Nov 2017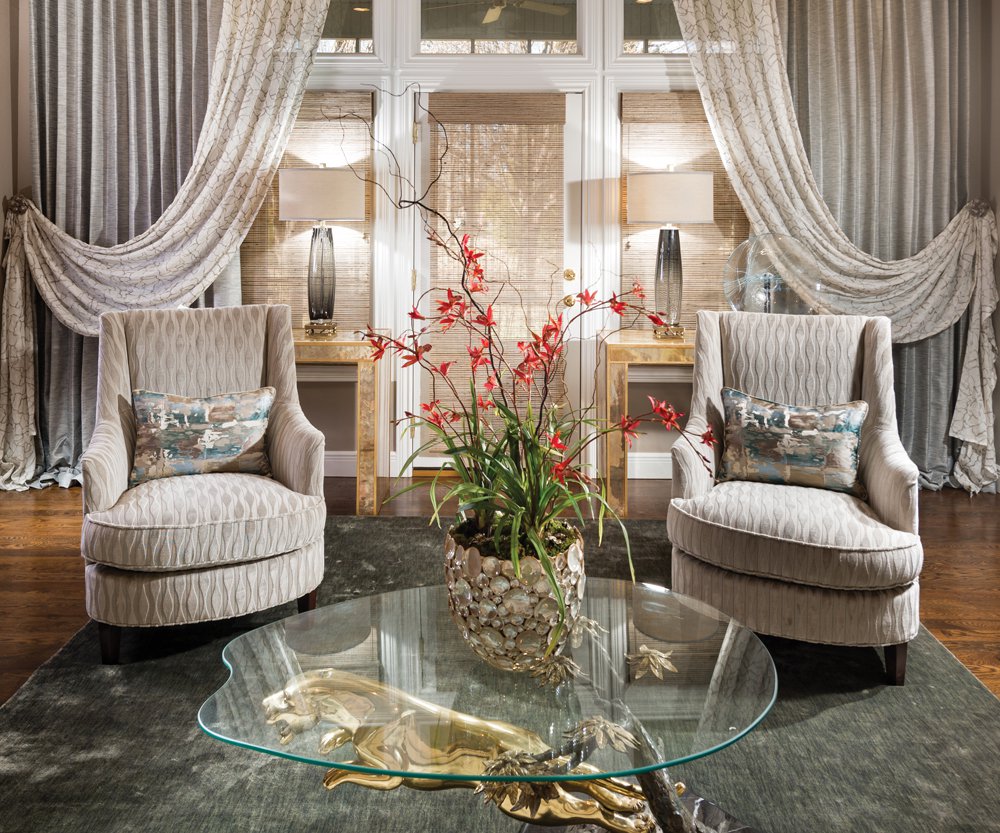 "Each room has its own personality," says Pam Johnson of her Springfield home, which she and her husband, Rick, purchased two years ago. "If I did the entire house one way, I'd be bored." Needless to say, Johnson's watercolored living room is anything but boring thanks to richly textured fabrics and a little jungle flair. 
However, the room wasn't always so perfectly put together. When Johnson first started decorating, she wasn't sure how to tackle the formal living room, which is connected to the family room and the sunroom. Johnson's family room has punchy oranges and vivid blues, so Johnson wanted something a little softer. "I looked around and said, 'Now I gotta put some color in here because it's kind of blah,' so that's when I called Denise," Johnson says. Denise is Denise Wright of DKW Designs, who handled the design in several other spaces in the home. Wright and Johnson modernized the space, whose golden oak floors had been stained a darker brown before the Johnsons moved in. They softened the room by adding antique gold accents and cool shades of blue-gray, brought in through the area rug, upholstery, artwork and the eye-catching drapes.
"Everyone who has walked in has said those drapes are gorgeous," Johnson says of the floor-to-ceiling shimmery gray fabric flanking the sunroom entrance. The window treatments, which are visible from the front entryway, are one of Johnson's favorite elements. 
And although the drapes draw guests into the room, there are plenty of intriguing elements throughout the space to keep them there. Soft, watery artwork gathered from the Johnsons' travels to Florida lines the walls, mirroring the accent pillows on the armchairs and couch. Dramatic gold floor lamps illuminate the space and cast a warm glow on the room's centering element, the jaguar coffee table. The base is marble, and the jaguar is made of brass. Combined with the oceanic color scheme, the jungle cat evokes memories of a warmer climate—creating the perfect little escape from winter's chill.